What is love? Throughout the human history, many philosophers tried to find the answer but it seems to me the question remains open. On the other hand, I can ensure you that love comprises many different ingredients. It is certainly wrong to say love and sex always go together but a connection between lovers involves physical passion. Unfortunately, difficulties in bed can ruin the harmony of your romance.
Why you may face problems in your sex life
Prior to telling you how to improve your sex life, I wanna talk about what makes it less successful than it could've been. To fix something, you should know what actually needs to be fixed! Meet the main five reasons why couples fall apart due to the mutual physical dissatisfaction.
Lack of proper communication
Throughout the honeymoon phase, all of us are just happy to discuss trivia and enjoy new adventures. Yet feelings can't stay the same – they develop for the better or worse. Do you enjoy tête-a-tête discussions of "big" issues? If yes, it should be rather easy for you to freely talk about sex. Otherwise, you and your significant other need to take up trust building ASAP! In particular, this is important for international couples as they have to fill in the mentality gaps. If you are keen on Russian women dating or any other sort of online dating, bear this in mind.
Incompatibility – physical and/or mental
Every third couple, especially if they haven't reached the soulmate stage yet, faces problems like this. Your preferences in bed turn out to be completely different, you have contradictory biorhythmic types, or your libidos are dissimilar – these issues come from pure biology. Well, mental incompatibility is influenced by nature too: partners may have contrasting temperament types, life expectations, and characters. And what is harder to overcome? Is that even possible? Of course, if you are ready to work a lot together. Consider that incompatibility is usually caused not by a single factor but by a number of those.
Hidden or noticeable complexes
There's no person in the world who wouldn't suffer from certain psychological issues. A human life goes through phases – including crises. Hence we receive traumas as children, as teenagers, as well as grown people. You may be the hottest guy on the Earth but this is not enough to build a healthy sex life. "I am not worth this pleasure/this woman/this man/this relationship" – that's what many people are convinced. The most dangerous thing here is that they might not realize something wrong is happening inside their minds. You see, people often ignore what their hearts and intuition struggle to tell them.
Changes in your and your partner's bodies
Since we all are just human beings, we can't fight against aging. We obviously can slow it down by choosing a healthy lifestyle and thinking positively. Yet the fact is that changes happen even from your 20s till your 30s. With time, our metabolism gets slower, our hormones start working differently etc. A great many men, for instance, might lose interest in their women as those gain weight; this can even lead to a breakup or divorce. Ladies also risk losing shape after giving birth to children. Men definitely have their own weak points like hard beer drinking. Yet all these transformations are normal; the way you perceive them is what determines your love life.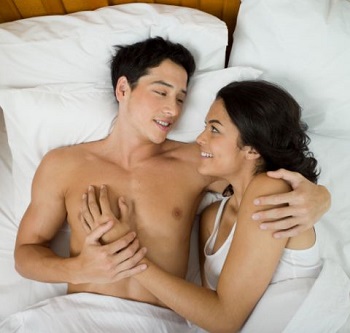 Not so strong skills
Uh, I merely have to raise this subject. Although we live in times, when almost any information is super easy to obtain, not all of us become skilled lovers due to various reasons. Maybe, both or one of you two didn't get enough experience, or you are too shy to try out particular things, or you have preconceptions… A plenty of pitfalls can wait for you throughout the love path. Fortunately, it is 100% possible to work out and get to another level – if you and your beloved one are ready to learn and practice.
Hope that you now realize what issues to keep an eye on. Let's now switch to the ways to improve your couple's sex life.
How to improve your sex life: a five-step strategy
In contrast to the paragraph above, I'd like to present the five solid ways to improve your sex life and give some concrete tips that work for both women and men.
STEP #1 Reconsider the situation. There's absolutely no opportunity to have a better sex life without getting rid of the inner distress. Problems with self-esteem aren't a rare phenomenon today. "I'm not good enough to see my girl in this lace lingerie"; "I don't deserve being worshiped by my men", they think. Despite all the flaws you might have, you are one of a kind. Don't be afraid of talking to yourself on a deep level to understand what restricts you from getting the endless pleasure. The Sexual Revolution happened decades ago yet many of us were brought up by parents who tabooed the theme of sex. But what I want you to know is that it's you who defines the game rules. If you need to talk to your psychoanalyst, do it. Just keep in mind no one helps you more effectively than you yourself. Unleash your fantasy and accept what this life brings!
STEP #2 Boost your talking. True love should go beyond any limits. You may feel comfortable speaking about any issues. But if you fail to discuss sex in the same manner, I have the sad news for you: no proper talking about your preferences and expectations means no fulfillment. In particular, when it comes to having regular sex with a stunning Russian girl, mental intimacy is required. She won't definitely against talking about issues and helping you decide how to handle those. Would you love making out in morning or at night? What keeps you away from turning your fantasies real? What does your sweetie think about oral and anal? Don't run away from talking these matters over. Ah, speaking about oral: have conversations in written too. Leave cheesy love notes and sexy notes to sustain the tension when you aren't around one another. Last but not least, naughty talking is very helpful. Just try it.
STEP #3 Keep it transparent. After setting yourself free from extra control, learn to convey your most secret desires to your partner in the way you feel it – and encourage her/him to do the same. If you are a man who thinks of Russian ladies dating, I should warn you they typically expect males to take first steps first. Whether you wanna her do something with her hands or her mouth, it never hurts to ask (in the right way at the right time, of course). Feel free to shop for adult toys together, discuss what you'd like her to wear or what she'd like you to do during foreplay. Look, by keeping secrets from the dearest people, we encapsulate our negative convictions about sex.
STEP #4 Diversify your bed performance.A variety of techniques for improving your sex life is endless. Getting back to Russian girls dating, remember that it takes more time and effort for a woman to get in the mood. Diversity in foreplay and in sex shows her you know how to please a lady. The missionary position is awesome yet it also gets boring if nothing else is in use. Enrich your experience! Add massage oils and lubrications, special music and lighting. How about vibrators? There's really nothing wrong about those. Vary the tempo: take a hot bath and satisfy one another slowly all night long today and have a quickie on the kitchen table tomorrow… It's all up to you!
STEP #5 Get absorbed by learning. And yeah, reading is one of the ways to advance your skills: from all-time classics like Kama Sutra to the latest publications. But the best part of it is practicing together. For example, to make sex with a Russian woman better, you should get to know her soul – have naked days to break all the boundaries. Or play sexy board games and give special benefits to the winner. Doing it outside the bedroom is another thing to include in your schedule, as well as watching porn along with your lover. If one of you two finds it too cocky, start with erotic films and increase the degree of hotness! Anyway, appetite grows with eating so continue exploring.
We've gone deep enough for today so it's time to wrap it all up. I guess now the question "how to improve a sex life" isn't too bothersome for you. Believe in your strengths and the success will follow!