Porn is a universal encyclopedia for people. Previously, people were embarrassed to admit that they watch these films; they were embarrassed to buy magazines with beautiful girls; they hid videotapes with porn and never wrote "hot" messages to each other. But everything changed in a moment and sex became an ordinary topic for conversation. Nobody will be surprised by anything today. For example, when home videos and intimate photos of celebrities became public, people rejoiced, looked for details, and actively discussed it. But we got used to it and even such a "juicy" content became boring over time. We need new trends and fresh sensations. The society is looking for piquancy somewhere outside the usual reality. So, the porn industry is ready to present new porn trends that are becoming popular.
Most popular porn trends
It seems to us that no one will ever know our secret desires. Nobody will find out what we imagine during sex with a partner or what we fantasize about giving ourselves pleasure in the shower. Statistics show that more than 92 billion videos were watched in 2017. And today is 2018 and new trends are coming. So, what are the latest trends in porn?
1. Lesbians are in the first place
Maybe this is not one of the newest porn trends. But lesbians have been the most popular search queries in the world on porn resources for two years in a row. And people look not only for lesbians but also quite heterosexual women. It is so because they are not against undressing before a man and having sex in any position. Many men think so in their fantasies. This category of girls doesn't play flirting and other "sex games". They are exhibitionists and are ready for any experiments. And, of course, from the point of view of most men, lesbian sex and threesome porn videos are beautiful and aesthetic. If a man has such dreams, then why not? Each of us has favorite stories that help us get hard.
2. Sex in virtual reality is already on its way
Imagine: you are lying on the bed, look around, a porn star comes in, sits on you, and as soon as she does it, you feel her movements… Sounds great, right? Such a video is the embodiment of all your fantasies and one of the most exciting trends in porn. This virtual reality has lifted the world of the sex industry to a new level. Now there are no boundaries in the distance – they are completely erased, allowing you to feel any nuance and enjoy the incredible effect of presence. The modern porn industry has got a unique opportunity. Having played the selected video and wearing glasses, you can immediately plunge into the dizzying world of sex where everything seems real and tangible. A special stereoscopic image allows you to create a unique illusion and embodies the wildest fantasies in life. How does panoramic VR porn differ from the ordinary one? The main idea is to deceive the brain, having "persuaded" it that this experience is real. Now, with VR porn, you can believe that this is a reality: when an actress approaches you or when you initially look at the action, your brain can be deceived.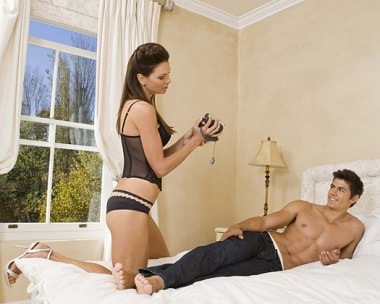 The goal of developers is to provide a toy that can perfectly simulate motion on the screen. Try it yourself and you will immediately feel the difference. Passion, sensual touch, and hot sex completely transform the idea of a quality video.
3. Home video is still popular
What can be more exciting than watching sex videos that are shot not by professional filmmakers but real people, where ordinary couples try the craziest things that professional porn actors simply are not able to demonstrate? After all, a video of home sex is a genuine passion and unrestrained fantasy of the participants in sexual orgies in all its glory. Watching home porn shot by an amateur camera, you will witness incredible scenes of the most free-and-easy sex for every taste. Such videos are always in trend and 2018 is not an exception.
4. Big-budget thriller/action porn gains momentum
Big-budget porn films become very popular. They are among new trends in porn. Sex has long been a taboo subject in the movies. But it is associated with many other human emotions, among which cruelty, anger or just a desire to achieve the goal. Such films open the theme of different relationships between the characters. These are gloomy and tense films that take over your attention and remain in your memory for a long time. Such porn films open the doors to the dark corners of human souls. Here women become fatal, using their beauty to achieve goals. Men become "users" of a female body for whom it is just a toy. And just crazy people who want to be with the object of their passion without asking what they think about it. Here you can find stories about relationships between characters of different ages. Looking for want you want to watch, you can find stories about previously happy families that are destroyed under the influence of external events, for example. And sometimes a failure in love can lead a victim to the world of superhuman strength.
5. Incest is always in trend
As you know, a forbidden fruit is sweet, that's why incest porn is so popular. Many believe that it is better not to cross the line, not to violate the prohibitions, and even more – not to spoil relations with relatives. Parents should show good examples not in bed. But if you look at your sister, mother or aunt, and one of them excites you, this is the section for you! Incest porn is not only a confrontation between generations and different ages. This is a blood bond and it can't have good consequences in real life. But what to do if someone's mother seems more attractive than all the girls you know? Of course, you should watch MILFS and not get problems. You may be surprised, but more than half of men like watching such porn films. So, that is why it is still one of the most popular porn industry trends.
6. Feminist porn attracts women
A relatively new trend among all the porn trends is feminist porn. It is easy to regard it as porn that is made by feminists but with one common denominator: this is videos for women that include the peculiarities of their sexuality, based on the fact that they are so fond of sex. First and foremost, it's a romantic side of the process and even better – a movie love story. And all this is present in feminist porn: meetings, kisses, long foreplay that unexpectedly takes more time than the sexual act itself, etc. The second important fact of feminist porn that distinguishes it from the usual one is naturalness. Actresses don't have silicone breasts, big lips and false eyelashes, but there is cellulite, glasses and unshaven parts of the body. Like real women, they don't prepare for sex as for a contest of young talents. They just come home, wash their hands, fix their hair in a bun and start. In feminist porn, sex is not fireworks in honor of National Unity Day and not a theatrical premiere on Broadway. It's part of life, like a business lunch or scheduled medical examination. In fact, this is life itself. And, finally, feminist porn never ends without feminine orgasm.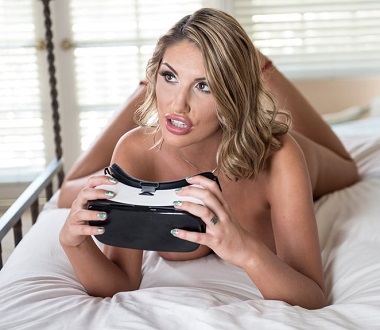 7. Porn made with a drone is a new sensation
About a year ago, porn industry news wrote about the direction in which commercial pornography would develop, saying that this industry has exhausted all possible topics and techniques in its present form. People have to wait for a technological breakthrough, interactivity, and other joys from the category of science fiction. And finally, pornographers demonstrated a certain sensitivity and wit. And drone-porn is probably the most recent and interesting discovery of the porn industry in this year. Thanks to the technological adaptation, the industry broke out beyond imaginary rooms, giving a viewer a sense of how organically two people and any landscape fit each other.
Do men and women love porn equally?
Both men and women like watching sex scenes. It's not a secret that both are very excited at this moment. But sexual preferences of men and women affect differently the excitement from watching explicit scenes. It is believed that men are interested in porn films much more than women. But it has not been proven until now. So, is it really so?
To find out how women and men react to scenes of sex, scientists used the technology of tracking the movement of the eyes. 11 male and 11 female volunteers were involved in a study of different porn trends. They were shown videos of sexual content. With the help of special sensors, the visual attention of volunteers was fixed and then analyzed.
Men and women watch porn not just differently, they watch it, let's say, from different angles. At first, a man looks at the face and only then he looks at breasts, shapes, and genitals. And then again at the face and in the eyes! Men are very fond of looking into the eyes of porn actresses. That's really what can't be said about women. And in general, they have everything much more difficult as you, obviously, have already guessed. So, first, a woman focuses her eyes on a face of an actor, then she thoughtfully evaluates his genitals, and only after that, she is entirely given to the process.
But, anyway, the researchers showed that the representatives of both sexes are attracted by the same visual stimuli. So, it means that not only men like watching porn and wait for new trends in porn. Women need it no less, they just don't admit it!