Asian adult movies are one of the most popular trends in the world of porn, and it's not surprising. Asian girls are real sex symbols of the porn industry. Millions of devoted fans around the world are following these beauties' careers, dreaming about them. So, if you, too, are a fan of exotic films for adults, you should definitely check out our list of Top-10 hottest Asian pornstars.
10. Asa Akira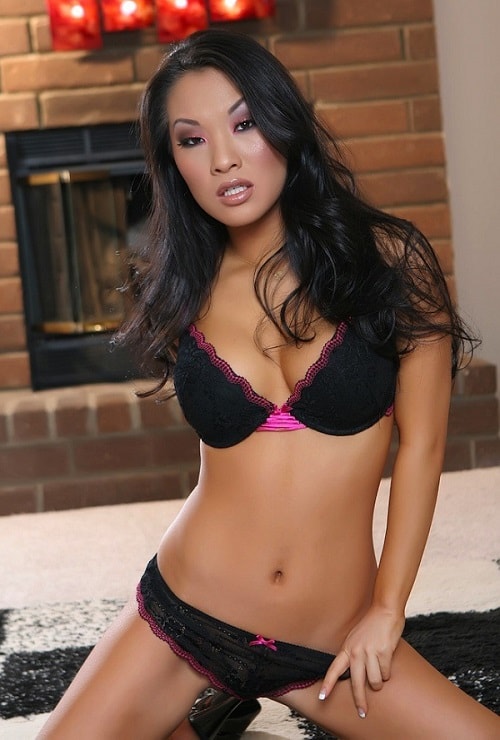 Asa Akira is one of the most successful and famous Asian porn stars at the moment. Directors from dozens of adult movie companies dream of getting her to their studios. And no wonder why, since the girl worked very hard and did her best to earn such an impressive reputation in the industry.
Asa's career didn't go up the hill miraculously after she got into the business. As it often happens with many other actresses of this genre, it all began with a hot striptease shows in nightclubs. Thanks to this experience this hot, good-looking brunette was able to master the basics of seduction, which helped her a lot on set later. Fame came to her immediately after the first erotic scene she starred in. Asa didn't even have to prove anything to anyone because everybody fell in love with her talent the very moment her stunning body appeared in the frame. And since then, hundreds of thousands of fans around the world never left the actress alone, asking for more and more new films.
A few years ago, Asa married a porn actor and director Tony Ribas, with whom she starred in a couple of scenes. The girl always keeps herself in good shape, not allowing any part of her top Asian pornstar's body to look inappropriately. Given her beautiful forms and devotion to the career, Asa has good chances to become one of the most popular porn actresses in the world.
9. Katsuni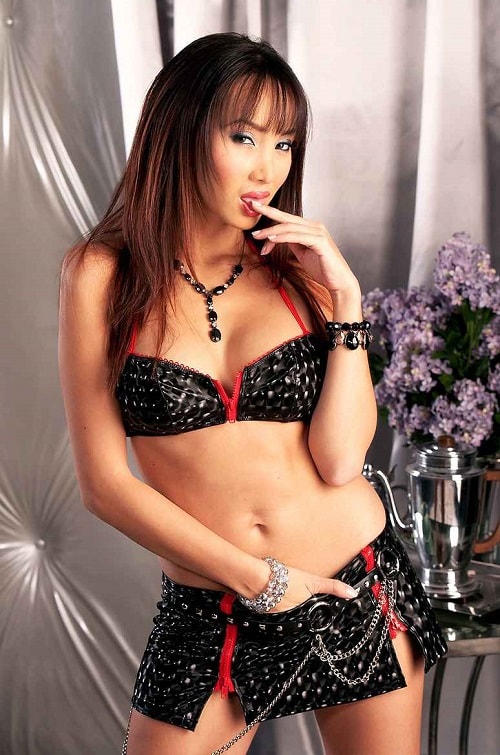 When she was only eighteen years old, Katsuni was dreaming of becoming a professor of modern literature and even entered the university. But soon this beauty, who comes from a Vietnamese-French family, by the way, decided to combine her studies with work, ending up as a dancer in a bar. That's where she was noticed by an agent, who worked for the Penthouse magazine. He offered Katsuni a contract, and she signed it. After that, in 2002, the girl moved to a new level and began to appear in adult movies that made the girl one of the best Asian pornstars. Katsuni began her career in France, but not long after that, she decided to enter the world arena and moved to the United States.
Her popularity is growing with every film, and there are already at least four hundred of them, but Katsuni doesn't even think about ending her career. The actress received a huge number of awards and nominations from various porn awards and magazines. Her body was recognized as one of the sexiest. She worked with the most prestigious world studios, including Marc Dorcel, Digital Playground, 21Sextury, and Brazzers. In 2013, Katsuni was about to quit her career, but fans can still enjoy new movies with this sexy actress.
8. Maya Mona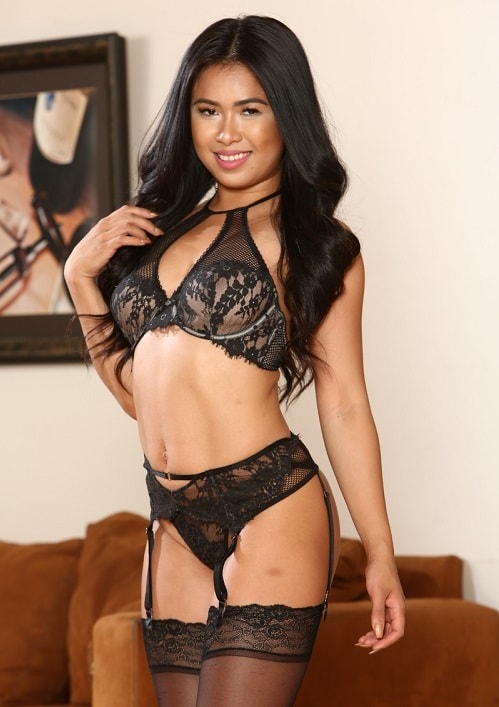 Despite her age (Maya is already 28), this miniature American porn actress with Asian roots began her career just one year ago, having stunned thousands of entertaining adult movies fans with her unearthly aura. Maya's powerful, amazing energy and wonderful charm instantly shocked the audience, and her beautiful forms conquered their hearts. Luxurious black hair, brown, bright eyes with a lustful and sly look, small natural breasts, strong athletic legs, and an appetizing butt assured Maya success in the porn industry. This cutie isn't going to disappear from the list of hottest Asian pornstars anytime soon.
7. Francine Dee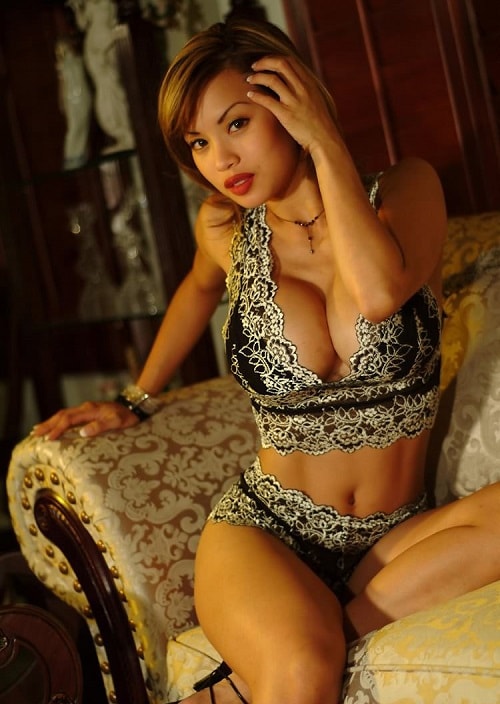 The next cute Asian chick on our list is Francine Dee, a porn actress and model known for her photo shoots for a variety of magazines and speeches on talk shows, as well as a disproportionately large size of breast implants. The girl has Chinese and Filipino roots. In 1983, Francine and her parents moved to Orange County, California. She made her debut in porn industry appearing on the cover of the Oriental Dolls magazine. She also appeared in numerous special editions of Playboy. In 1998, at the insistence of her friends, Francine began to work as a model at racing cars exhibitions.
In 2004, the girl appeared in one of the series of the American reality dating show. In addition, she appeared in the movie called Soul Plane as a stripper. Currently, Francine is studying in college, but the actress doesn't plan to end her hot Asian pornstar's career, so we can be sure that she'll please us with her body again soon.
6. Marica Hase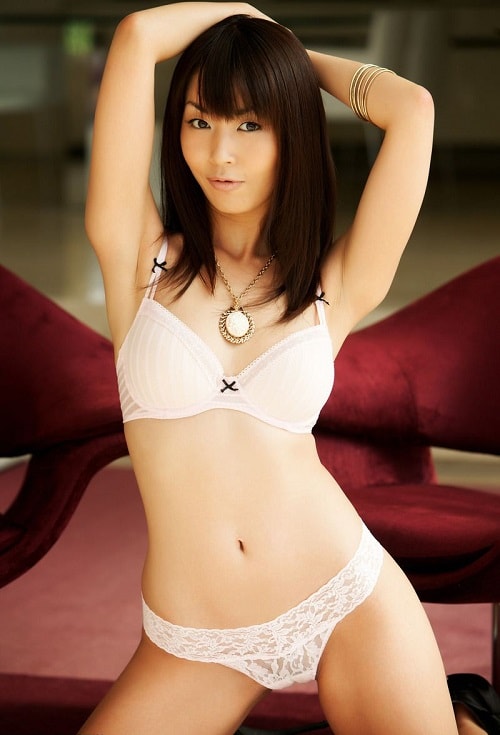 Marica Hase is one of the new Asian pornstars, who just recently stunned the American audience with her incredible talent. With her beautiful, doll-like appearance, the girl fascinated millions of lovers of pretty Asian women. This charming girl has become a real bomb for the world of adult films and a sweet spread for many companies. During her very short career, Marica already managed to work for such giants of porn business as Brazzers, Penthouse, and BangBros.
This beauty comes from the very heart of Japan – Tokyo. All her life, she's been dreaming of becoming an actress and, as soon as she became a graduate, she started working in the modeling business and got small roles in "ordinary" movies. After her first adult movie, she realized that she would achieve great success here, and the producers saw a huge potential in her. After a while, she was invited to work in the US and gladly agreed to discover new horizons.
5. Gianna Lynn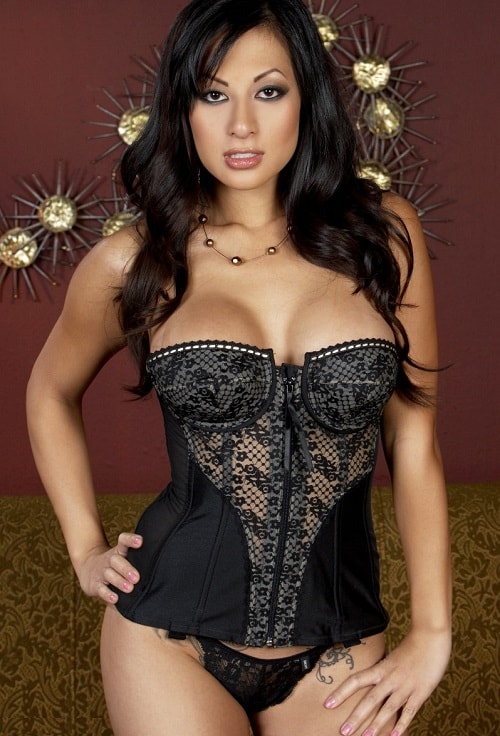 The next girl from our list of top 10 Asian pornstars was born in 1985. Beautiful shapes and fascinating looks made Gianna one of the most famous Asian porn actresses. Gianna has Filipino, Spanish, and Chinese roots. Having such unusual genes, the girl was doomed to grow up a real beauty. She moved to California with her parents when she was 4 years old and spent her childhood in San Fernando Valley.
In addition to filming in porn movies, Gianna often appears in men's magazines. In May 2008, the actress also appeared in the episode of TLC's Miami Ink and got an angel tattoo around her neck. This stunning beauty is proud of her body, amazing beauty, and enormous sexual potential, which helps her pave the way to the future where she'll become a real world-class actress and one of the best Asian porn stars.
4. Kaylani Lei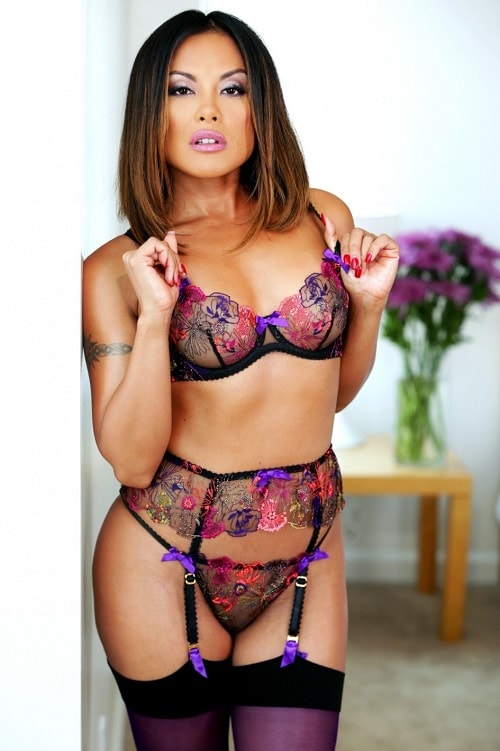 Never underestimate a miniature woman and what she's capable of, especially if you're dealing with a mega porn star from Singapore, the magnificent Kaylani Lei. This busty Asian pornstar's career began at the age of 19 when the girl signed a six-year contract with Wicked. Agents of this porn studio saw great prospects in her and weren't mistaken, as Kaylani fascinates men from the first sight. Before joining the porn industry, the girl even worked as a flight attendant on international flights. She dreamed of traveling around the world and decided to take stewardess courses. Kaylani thought that she would be able to see the world this way, but, alas, the reality turned out to be much more prosaic, and all that she saw was the aircraft cabin, airports, and hotels.
During her fifteen-year career, she has learned a lot, and now, she's planning to open her own porn studio. Her goal is to discover new stars, help them take the first steps in this business, and introduce ready-made models to different studios. One of the hobbies of the actress is esotericism. She also participates in different charity events. Apart from her career in porn, Kaylani also took part in various advertising campaigns which made her even more popular.
3. Alina Li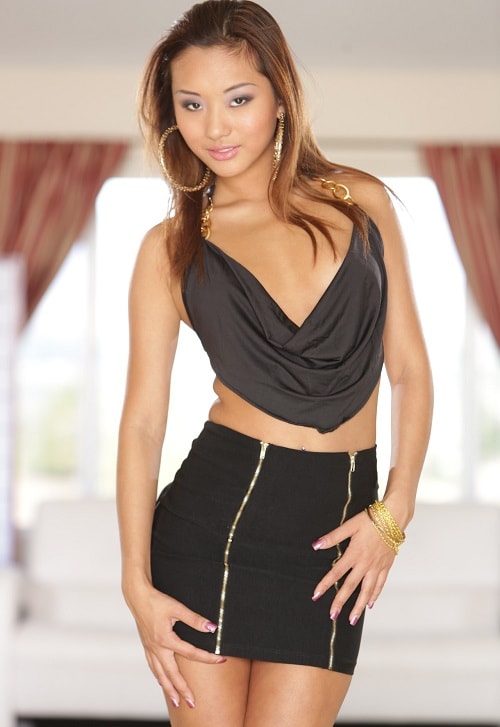 The beautiful Asian porn actress, whom we now know as Alina Li, was born on February 21, 1994, in Shanghai. The actress's real name is carefully hidden from the press. This elegant Chinese woman, who looks more like a porcelain figurine, makes an indelible impression on fans of passionate and sophisticated Asian porn. Alina got into porn business in 2013 and immediately achieved success with the audience, which granted her the third place on our list of Asian pornstars. The moans and unconcealed passion the actress so successfully demonstrates never leave anyone indifferent.
During interviews, Alina always says that her plans for the future include acquiring a more prestigious profession. She also wants to build a big, happy family. Despite her work, the girl is very strict and serious about such concepts as home, family, responsibility, and loyalty to the partner. Li believes that these things have no relation to her profession and will never have in the future. But these are long-term plans, and for now, the beauty will keep delighting us with new movies in which she fulfills secret desires of tens and maybe hundreds of thousands of men with incredible passion.
2. Evelyn Lin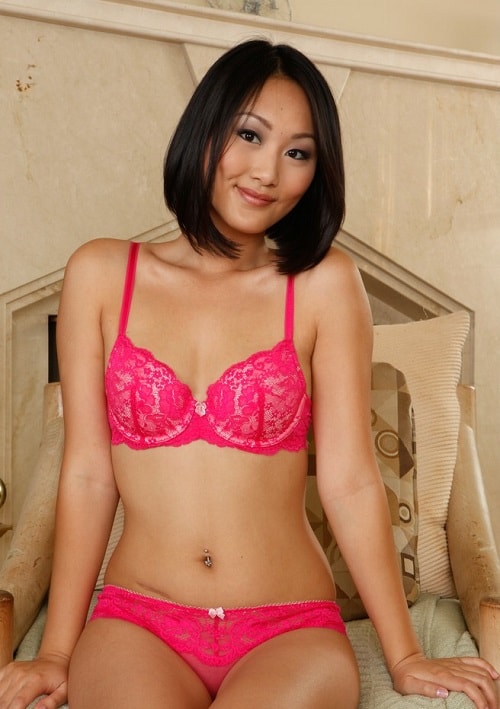 The next spot on our list of hottest Asian porn stars goes to beautiful Evelyn Lin. She began building a career as a porn actress at the age of nineteen. Unforgettable brown eyes and black hair, tender and cute facial features, and beautiful skin – all this can win the heart of every porn lover.
Parents took Evelyn from the Chinese province of Hunan to California when she was still a child. The freedom-loving views of Evelyn were formed precisely under the influence of American sexual revolutions. During her years in the porn industry, Lin appeared in more than 30 adult films, working with such pornstars as Jesse Summers and Lindsay Meadows.
1. Annie Cruz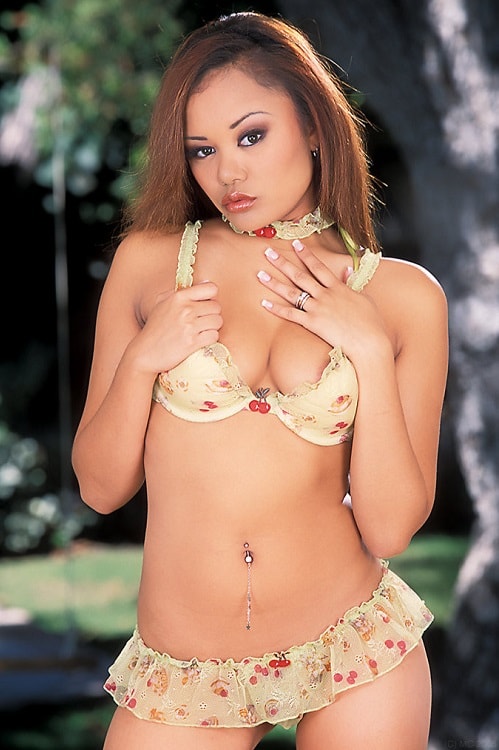 Delightfully sexy and cute Annie Cruz has been in the porn industry for quite a long time. Her career began back in 2004, and it has been going on for more than fourteen years. Annie was born and raised in Stockton, California. From the earliest years, she was interested in everything related to sex and porn, so it's quite obvious that she made her choice not by chance. In addition to the passion for porn and filming in adult movies, the actress has many other interesting hobbies. She was almost professionally engaged in boxing. However, the beauty had to leave this hobby, as she was afraid of getting injured, as this could put an end to her career. Apart from kicking asses and posing in front of a camera, Annie likes to play drums.
Annie moved to San Francisco and studied at the university, but she didn't finish her studies and preferred to build a career in the field of porn. Her folks already know what their daughter does for a living, but they have accepted it. Annie's career began with lesbian scenes. The actress felt confident and relaxed, so her debut was successful. Then, Annie's career went up the hill, and quite easily. An exotic actress with big breasts was doomed to success with the audience. Besides, she always looks stunning in every frame and does her best to impress her fans. Gradually Annie mastered other genres of porn and showed herself in a good light in each of them. That's why we grand her the first place on the list of sexiest Asian pornstars.