Southern Latin women have become synonymous with sexuality. This happened long before the media, mass culture and porn appeared. However, it was porn that had created a very special pedestal, to which ladies from Latin countries climbed without much effort. Today we publish a list of the hottest Latina pornstars. Watch, enjoy and dream only of the sexiest beauties!
Franceska Jaimes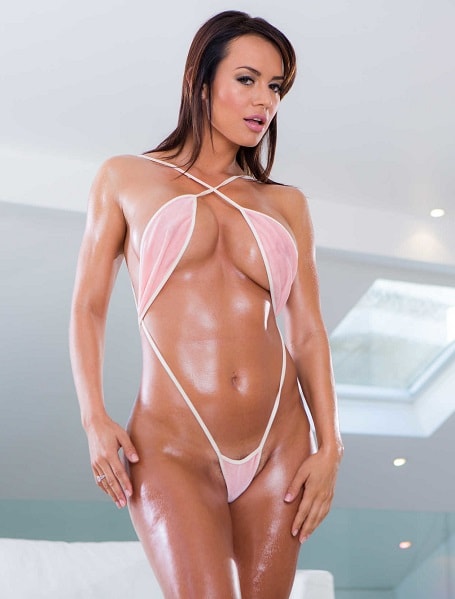 If you ask me, I'll say that she is a brilliant among the best Latina pornstars. ​This girl is completely unfamiliar with the notion of shyness and modesty. Do you want to see her fucked in front of an audience of several dozen yelling men who pour tons of beer into themselves? You are welcome! Do you want your ideas about anal sex to survive a global regeneration? No problem, friend! Franceska will gladly do everything that you (well, not you, but the producers) wish, the main thing is that the fee for all this chic action is attractive.
A few facts from Franceska's biography: she was born in the city of Bogota, Colombia. She's 32 years old. She grew up in a large family, so her desire to stand out from the background of others is quite natural. For a while, Jessica worked as a model in Madrid. There she met her future husband, with whom she has two children. It was this cheerful guy without complexes who suggested Jessica to try her hand at porn. And she could not refuse the beloved. What was the result of this? Franceska takes 1st place on our top Latina pornstars list.
Raylene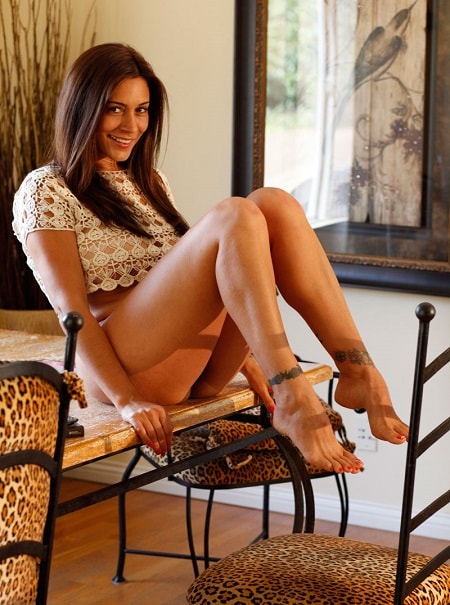 In the far 1997, an important event happened in my life. I was sitting at home, sadly switching channels, eaing cheese popcorn and wondering how television can be so boring (spoiler: in few a seconds I'll discover the queen of hot Latina pornstars). Suddenly, I once again switched the channel and Lady Raylene appeared in front of my eyes. I will not tell you what exactly she was doing on the screen – you understood that without my help, I guess. I'll just say HOW she did it. Like a wild beast. She growled and literally squeezed all the juices from her partner. And what is most interesting, this spectacle was not looking disgusting. On the contrary, in this image of sex-psychopath, there were shades of such femininity and sexuality that I literally fell in love with this beauty. Yes, at some point I even began to feel jealous of that guy on the screen.
A short excursion into the bio of Raylene for the most curious: she is 41 years old, she was born in sunny California and does not exaggerate her Latin origin, although the blood of her forefathers gave Raylene a particularly southern sexuality and facial features. In 2001, she announced the end of her career in porn and became … a real estate agent. What for? – you ask. To return to porn in 2009 – I will answer you!
Diamond Kitty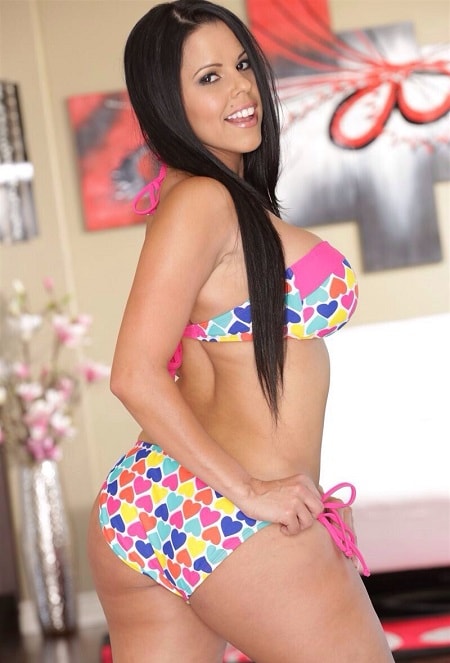 Number 3 on our top 10 Latina pornstars list is sexy Diamond Kitty. There is no such porn genre in which Diamond has not demonstrated her skills. God, I'm not even going to list these genres. Some of them cause sincere bewilderment and a desire to be born in a completely different universe, even in our cheerful, progressive time. But the fact is that Diamond is filming a lot in regular porn for nerds like you. She is also good in this genre, as well as in hardcore scenes involving dozens of men armed with gynecological items invented by the charming Dr. Mengele in the Second World War period.

Bio: born April 2, 1985 in Cuba. She grew up and became who she is in Florida, USA. In 2012, she was nominated for the AVN award as "Best Latin Performer". She has huge tits, which you should take a look at. So do not waste your time! By the way, do not miss this girl if you like thick Latina pornstars​. She is not as thick as you dream, but she is not skinny Thumbelina too.
Daisy Marie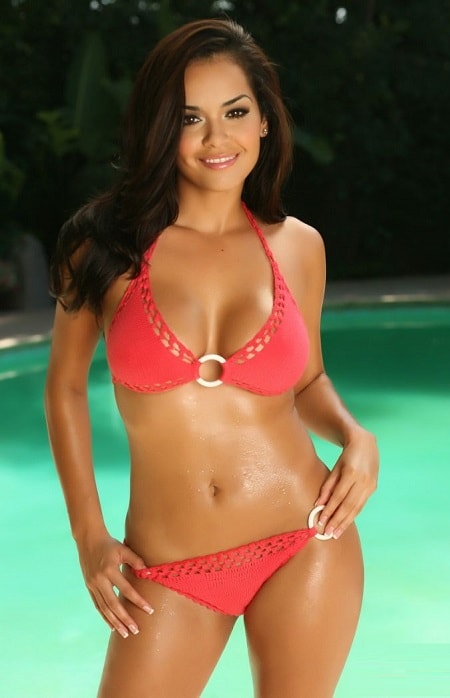 If your moral qualities have not yet suffered from the cynicism of modern times, then you should have another thing associated with Latin women – this is sensuality. The same sensuality, which is also closely related to sex, but on completely different poles with animal passion. So, Daisy Marie is the personification of this kind of sensuality. If you want to experience a sexual-aesthetic pleasure, look at her lesbian scenes. It's worth noting that not all pornographic material with Daisy's participation is sensual and erotic – she often starred in regular fuck porn, so do not let Daisy out of sight anyway!
Bio: She spent her childhood, basically, in the city Salem of Oregon, often stayed with relatives in the city of Zacatecas, Mexico. Since 2002, she starred in 382 adult films, posed for many adult magazines. In 2005, she starred in the scandalously frank video of the rapper 50 Cent for the composition Disco Inferno. Daisy is one of the best Latina MILF pornstars​.
Alexis Amore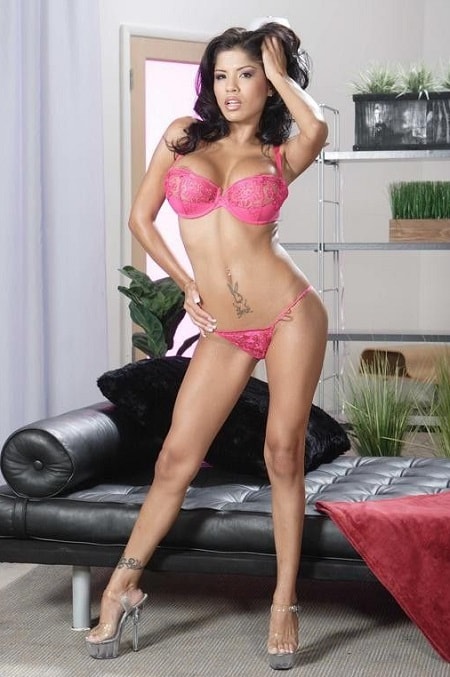 World Porn Pantheon is a very harsh place. To become a part of it, you need to work very hard. But even if you are still a workaholic, a place among the gods must be earned by such things as appearance and sexual charisma. Well, Latin girls can achieve it much easier in this regard. If you are a young lady, Latin blood is flowing in your veins and you are not averse to demonstrating to the whole world that your thing between your legs is very interesting and entertaining, then welcome to the casting of future members of the world Porn Pantheon. And if you are a bit like Alexis Amore, the place among the gods is exactly yours. I do not know if you really like giant tits implants, but Alexis owns such. And she also has full lips, a sensuous outline of her mouth and a languishing look. By the way, you can go crazy with it. Be careful.
Bio: Alexis Amore was born in 1978 in Lima, Peru. As often happens, her porno carrier began with a move to the United States. Today she is considered one of the best Latina MILF pornstars​.
Yurizan Beltran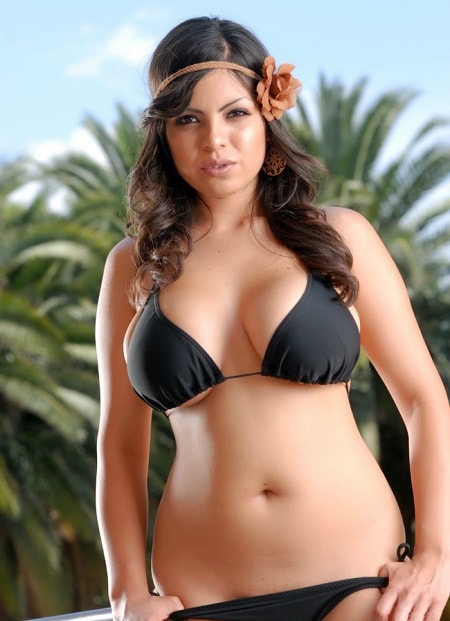 Honestly, this is a very strange name and nickname. Most likely, her parents were great jokers. Although, perhaps, in this way they wanted to honor some of their Eastern European ancestors, about whom all have forgotten. In any case, the name of this girl is not the main thing. The main thing is her thirst for sex. Do you remember how your ex was behaving before the onset of the great and terrible PMS? She looked like a sexually anxious maniac, right? So, this girl behaves in this way all the time. And when she is on the set, in the light of floodlights and in front of the cameras' lenses, her sexual concern goes beyond any limits. And it cannot be stopped. The thirst for sex is overflowing. At some point, people watching sexual intercourse with Yurizan Beltran find that they are willing to have sex with everything that moves and is adapted to sex. Especially if this "something" is talking with a Latin accent.
Bio: Yurizan Beltran was born in Los Angeles, the daughter of a Brazilian and a French-speaking Canadian from Quebec. The first shootings in the film for adults were in 2005. Since then, she appeared in more than 200 pornographic scenes and films. When she started her career, she was considered one of the best teen Latina pornstars. In 2017, she was found dead in a rented apartment.
Bridgette B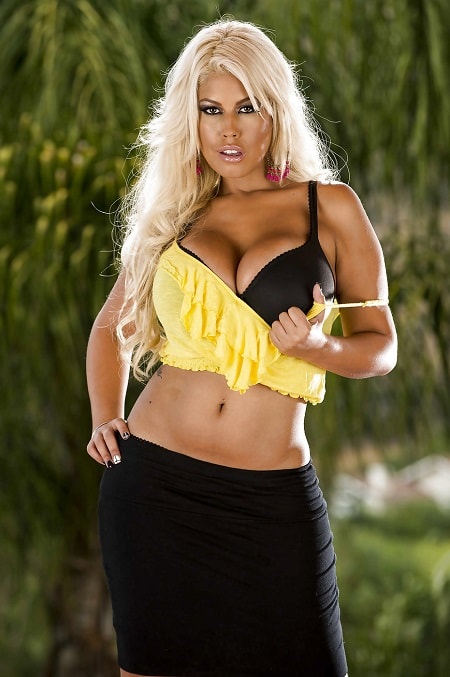 How about the sexiest Latina pornstars from Spain? And what about the huge, beautiful boobs? If these two questions made you nervously twitch on a chair, this girl is just what you need. Every guy who had the honor of sharing the set with Bridgette B tried to communicate more with her boobs. Even if it was not in the script. Well, we do not blame these guys. No one could resist such a temptation. Bridgette works with exceptional dedication. Each time when you finish watching the next video with this girl, you have a feeling of devastation and fullness at the same time. Like after a good sex. And you will look like a real Spaniard.
And now a bit of a boring biography for those fans of porn who need to look erudite at a gathering of fans of popular Latina pornstars: Brigitte was born and grew up in sunny Barcelona. She graduated from a Catholic school. Well, perhaps the Catholic schools in Spain are a bit different from our Catholic schools. The future career of Bridgette B is a vivid proof of this fact. In 2003 she went to study to the USA. She received her Bachelor of Science degree in Fashion Merchandising from Ohio State University. Even while studying, Bridgette danced striptease in bars. Well, then everything was as usual – an accidental acquaintance, the offer to film in porn and so on. She is my favorite blonde and a real decoration on the list of Latina pornstars.
Mari Possa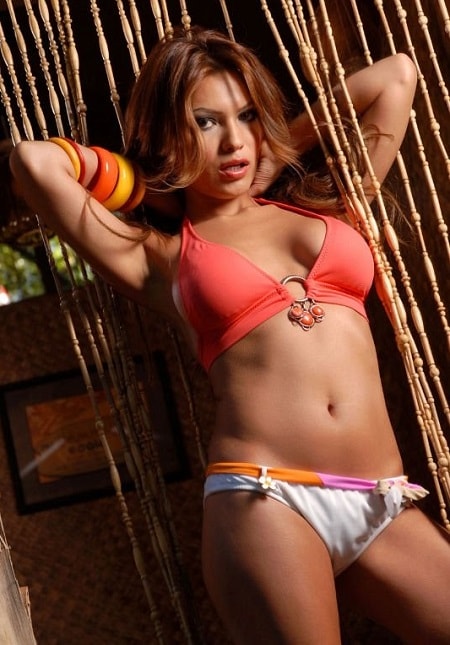 And here is another Spanish conqueror of penises and vaginas. The name of this princess is translated as "butterfly". Well, her beauty is really comparable to the beauty of some species of butterflies. But the similarity ends with this. Behind the external fragility of the green-eyed Mari is the lady of group sex. There are no many films in her CV, but each of them is a masterpiece of porn. At least because we can see our sexy butterfly in them.
Bio: Mari was born on January 21, 1980, in San Miguel, El Salvador. Before she started acting in porn, she worked as a secretary in a law firm. This work seemed boring to her, so when she was offered to become an assistant to porn director, she agreed with pleasure. In some unknown way, the director and producers suspected that Marie had a porn talent. She was offered to try herself as a porn actress. The rest you already know. If you are looking for tiny, beautiful Latina pornstars – Mari is waiting for you.
Sativa Rose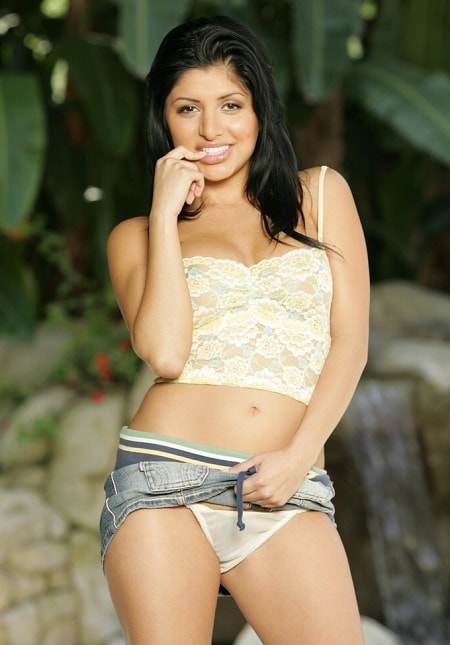 And now it's time for really famous Latina pornstars. Sativa has 11 years in this business and she is not going to stop for a second. There are still so many unconquered peaks ahead! Her full lips yearn for adventure, and the owners of studios will gladly find them for her, there is no doubt about that. Well, better for us! We after all never mind to see how a charming, petite girl from Mexico demonstrates what a real sex charisma is!
By the way, her real name is Tanya Macias. Sounds no less sexy, really. This girl is a big fan of various sexual perversions. Her main fetish is sadomaso. If you also despise sex in a missionary position and dream of an old good orgy with torture and whips, watch movies with Sativa. I bet you'll want more! But do not forget about the stop word – who knows what this girl really is capable of?
Esperanza Gomez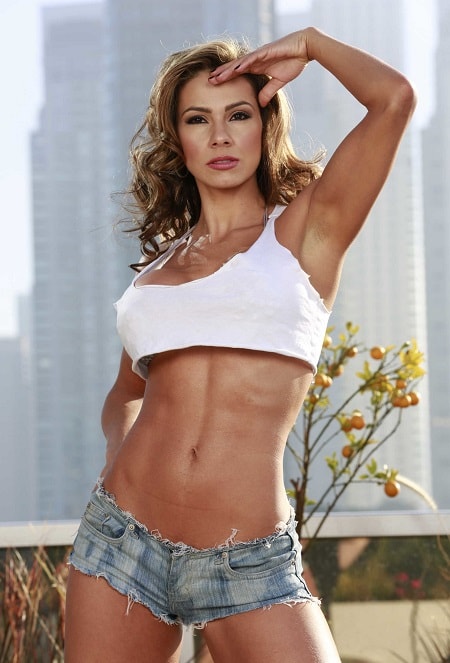 Not all top latina porn stars use banal, Americanized aliases. This girl knows that Latin female names excite men even more than thick Latin asses. Yes, you will not see much oral sex with Esperanza, but you will see how girls can saddle bulls. And everything looks like this: tiny Esperanza jumps on the giant men and gets such pleasure from it that it is already enviable! This is a real bullfight, mate!