Privacy? Never heard of that! Posting nude photos is a common thing today. Everyone knows that the hotter the pic is, the more likes and comments it gets. Besides, every now and then, celebrity leaked nudes cause a scandal on the Web. That's why such celebrities as Kim Kardashian, Emily Ratajkowski, and Kendall Jenner tease their fans with fresh pics all the time. We've picked 17 hottest nudes in 2018. Enjoy the view.
17) Bella Hadid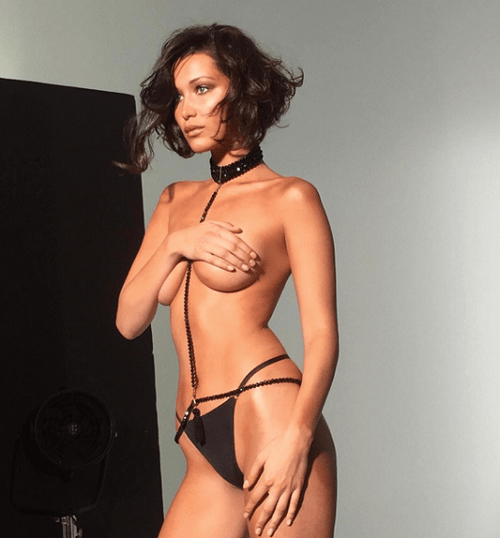 We'll begin our list of celebrity nudes 2018 with a charming model Bella Hadid. Bella is an active (and sexy) Instagram user. Not so long ago, the star a couple of blurry and dark topless photos, showing off her perfect body.
Bella is the ambassador of the Italian jewelry brand Bvlgari and the face of the Swiss watch brand TAG Heuer. Apart from that, she's one of the most famous Victoria's Secret Angels. Her full name is Isabella Khair Hadid, and she's the younger sister of the model Gigi Hadid. In 2016 and 2017, Bella was the winner of the Model of the Year award according to the modeling website Models.com.
16) Gillian Anderson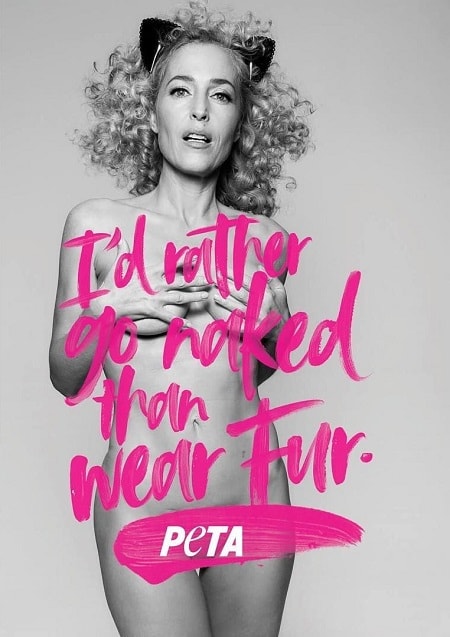 The American actress posted two naked photos on her Instagram as part of the PETA campaign. This way the celebrity helped the organization's fight for animal rights.
Gillian's name is most often associated with The X-Files. As an FBI agent Dana Scully, Gillian instantly gained popularity throughout the world. In the mid-nineties, her career was at its peak, but now, it's gradually going downhill.
15) Céline Dion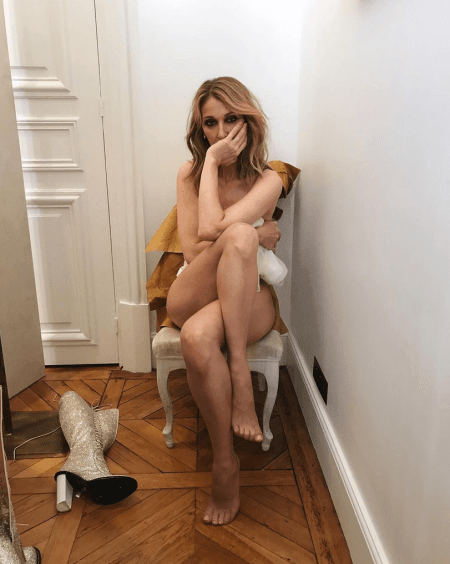 49-year-old Celine shared a very erotic pic, posted on the official Instagram page of Vogue magazine. The photo was accompanied by a short story about what clothes the singer prefers.
Celine Marie Claudette Dion is a Canadian singer, who became a star in her teenage years. She sings both in her native French and English. Dion is believed to be the most successful French-speaking musician, and her album D'eux is the world's best-selling album among all non-English-language studio recordings.
14) Chrissy Teigen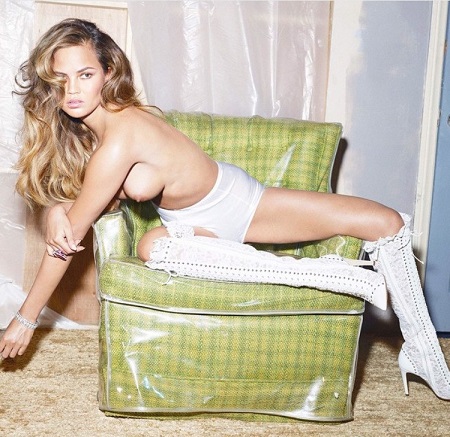 Chrissy was never known for being shy. She wouldn't even care if her name got on the list of leaked celebrity nudes of 2018. Chrissy regularly appears on the red carpet in sexy dresses and posts nude photos. It looks like she believes that even pregnancy isn't an excuse to give up her image. A few months ago, Chrissy posted a topless photo of her making a salad.
Chrissy is an American model and TV presenter. She made her debut on the pages of the annual edition of Sports Illustrated Swimsuit Issue in 2010. Teigen is also the host of Lip Sync Battle together with LL Cool J.
13) Heidi Klum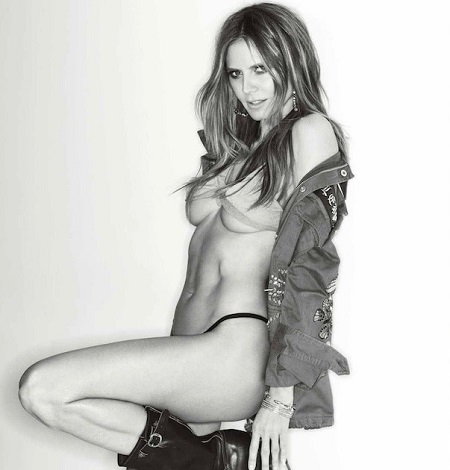 Having such a beautiful body, 44-year-old Heidi can afford anything she wants: a photo in underwear, a pic in a transparent dress, or a nude photo shoot. A couple of days ago, the model proved this once again, posting a photo on which she appears completely naked, covering herself with a blanket.
Heidi Klum became popular in 1992. At the age of 18, the girl won the national Model 1992 contest. But she decided not to stick to the world of fashion only. Soo after the contest, she began receiving offers to play in TV shows. A little later the model gradually moved to the roles on the big screen.
12) Kylie Jenner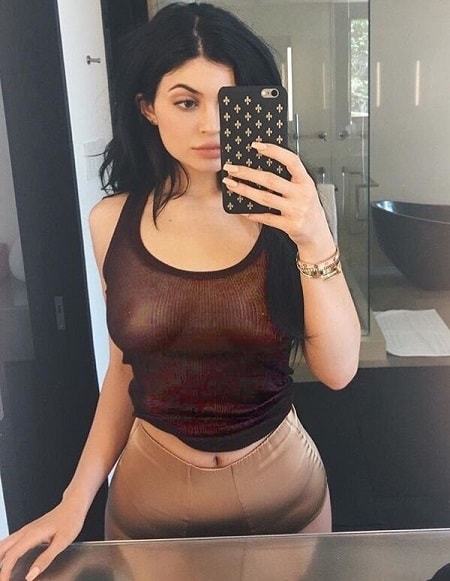 Check out new celebrity nudes by Kylie Jenner. A 20-year-old American TV star and Kim Kardashian's younger sister, Kylie has recently shared a new pic. You can see her posing naked, covering herself with a towel.
Kylie is an American model and the actor of the TV show The Kardashians. She and her sister Kendall were first mentioned in Paper magazine in 2010. Kylie started her modeling career, advertising the Crush Your Style clothing line and doing photos for OK! and Teen Vogue magazines. Kylie was also a model of the company producing clothes for her cousin Natasha.
11) Demi Rose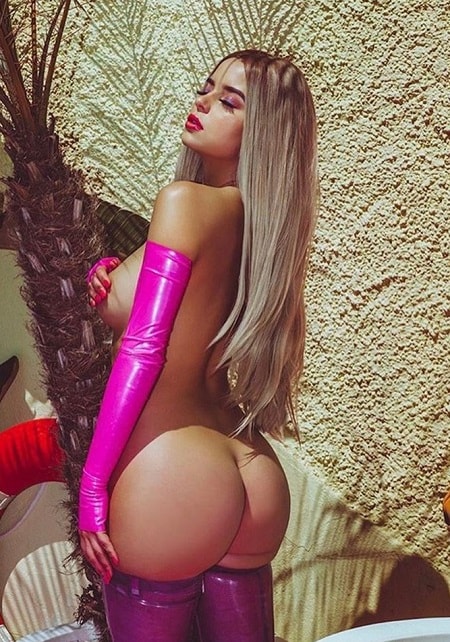 22-year-old Demi likes to emphasize her beautiful breasts, so her entire wardrobe consists of tops and blouses and dresses with large necklines. So it's not surprising that she constantly pleases fans with new naked photos. In this pic, for example, Demi emphasizes her buttocks.
Demi Rose can't be called a classic top model: her parameters are far from the standard 90-60-90. But this didn't stop her from gaining millions of fans not only in the modeling world but also online. The girl's Instagram photos get thousands of likes in minutes, and the number of her subscribers reaches 7 million.
10) Monica Bellucci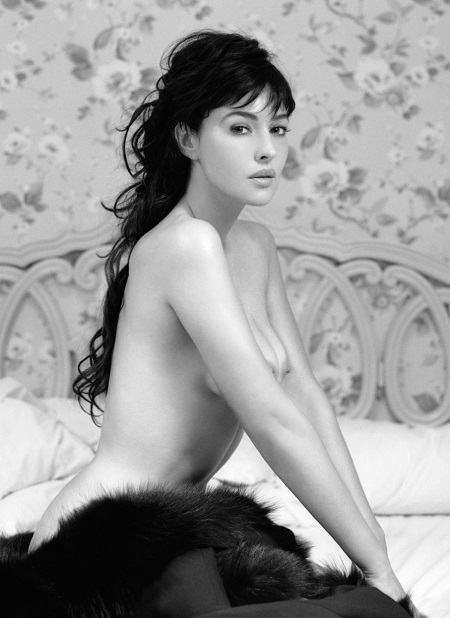 Monica's nudes are the hottest celebrity nudes. Her followers can't wait to see her new pics. Well, actually, this photo isn't new. It was taken in the late 90's for the 30th Anniversary of the Cover Story of Elle Italia. Looks like Monica hasn't changed at all.
Monica Bellucci is a world-famous Italian actress and model. For many fans, she's the embodiment of true beauty and femininity. At 16, the girl was already walking along the catwalk at Liceo Classico. Wearing glamorous dresses and stealing glances turned out to be much more pleasant than Monica thought, so she abandoned her childhood dream of a career in law. Her debut in acting happened in 1990.
9) Alessandra Ambrosio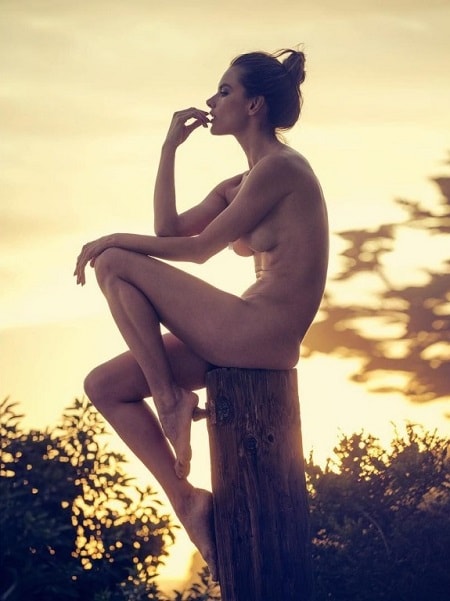 This Brazilian Instagram model's nudes appear now and then, pleasing the army of followers. At this time Alessandra published an intimate photo from the bathroom. The picture of her reddening her lips completely topless is really hot.
Ambrosio is best known for working with Victoria's Secret. She became the first model of Victoria's Secret brand called PINK line. Currently, she's the former Victoria's Secret Angel and the face of such brands as Next, Armani Exchange, Christian Dior, and Ralph Lauren. Ambrosio is also the Goodwill Ambassador of the National Multiple Sclerosis Society.
8) Bella Thorne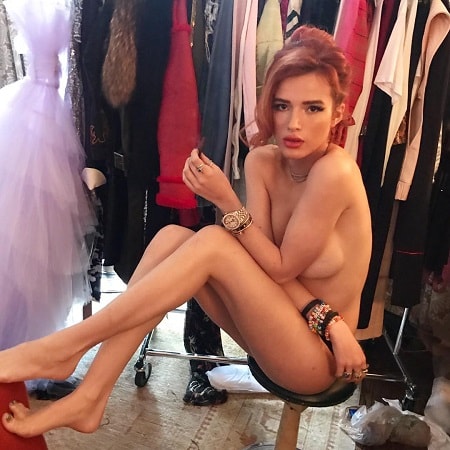 This 20-year-old American actress and singer likes teasing her army of whopping 17.5 million fans on Instagram. This time, the girl showed her bare breast, covering it with her hand. This photo is one of the backstage pics from her photo shoot.
Bella is a rising Hollywood star, model, actress, and singer. She's best known for her role in the drama series My Own Worst Enemy, Big Love, and the comic project Shake It Up. In 2014, she made her debut on the big screen, playing alongside Drew Barrymore and Adam Sandler in the comedy Blended.
7) Elsa Hosk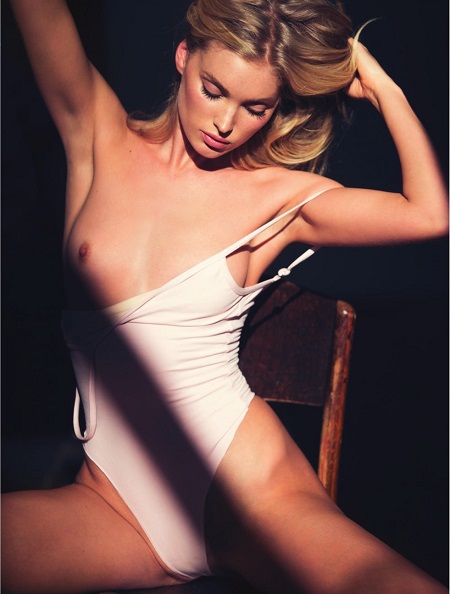 When porn fans want some real celebrity nudes, they google Elsa Hosk. This Victoria's Secret Angel shared an awesome pic of her completely naked which got a lot of likes and comments.
Elsa's career began after her father sent her pictures to modeling agencies in Sweden. She starred in commercials for ACO, Aerie, Boomerang, Bik Bok, Country Road, Casall, Fornarina, Dagmar, Gemma, H&M Divided, Guess, Ichi, House of Dagmar, and many other brands. Elsa's photos appeared on the covers of such magazines as Elle, Cosmopolitan, Damernas Värld, and Plaza Magazine.
6) Kendall Jenner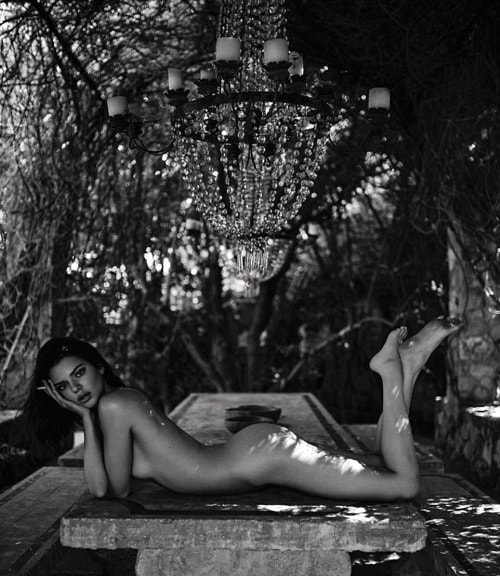 The younger sister of the American sex bomb Kim Kardashian, 22-year-old Kendall Jenner loves Instagram as much as her sisters. Her pics appear on various lists of famous celebrity nudes all the time. Not so long ago, she pleased her subscribers with a new photo of her drinking wine in the bathroom practically naked. The photo got a few million likes, although Kendall was accused of using Photoshop.
Kendall is one of the most popular young models. At the age of 19, she managed to get out of the shadow of the Kardashian family fame and become a star of the modern modeling business. At the age of 14, Jenner signed a contract with the famous agency Wilhelmina Models. In 2010, she starred in a photo shoot for the brand Forever 21, introducing its new collection.
5) Kim Kardashian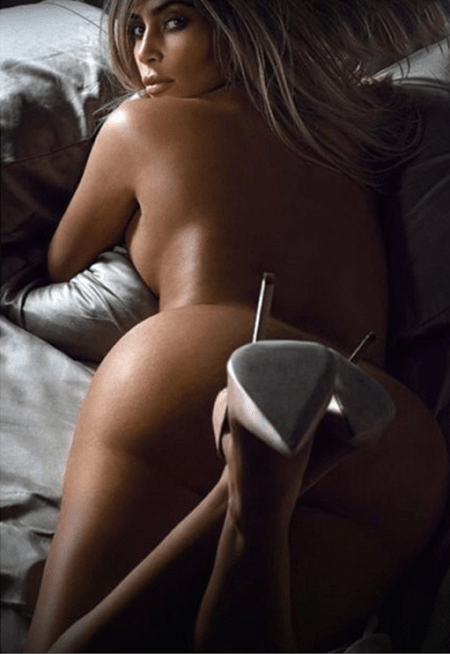 This list wouldn't be complete without Kim Kardashian's Instagram nudes. The world-famous model and socialite loves to show off her forms, often posting hot photos on her Instagram. Although this topless pic in the bed looks cool, seeing Kim naked is a common thing now.
In case you spent the last 10 years under a rock, Kim is an American reality star, an actress, and a fashion model. She's a member of the seventh season of the reality show Dancing with the Stars and The Kardashians.
4) Nina Agdal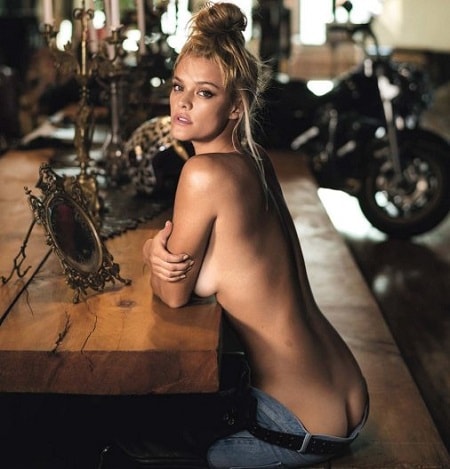 26-year-old model Nina Agdal, who has been dating the Hollywood womanizer Leonardo DiCaprio, shared a new nude photo of her lying completely naked on the bed. A hot pic appeared on her Instagram page. Not every model could boast a body like Nina's.
Nina Agdal, a fashion model from Denmark, is quite famous in the modeling business due to participation in the photo sessions for such famous brands as Victoria's Secret, Frederick of Hollywood, and Macy. During her high school years, Nina took part in the Elite Model Look contest and made a positive impression on the jury. In 2016, Nina Agdal began working with the IMG Models agency. The same year, the model became the face of the Leonisa brand's Christmas advertising campaign.
3) Kourtney Kardashian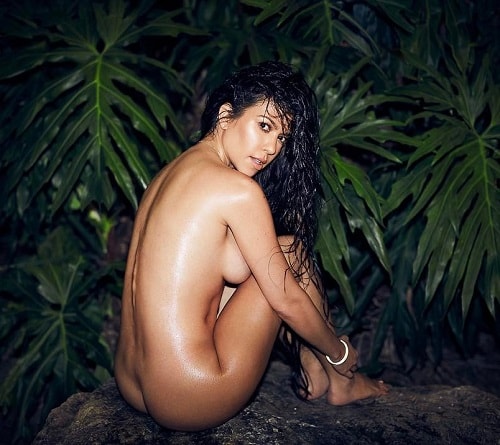 All right, this is the last Kardashian on our list. We swear. 38-year-old Kourtney loves sharing photos from her family's daily life and even more. In May, a hot snapshot of Kim's sister posing completely naked appeared on her Instagram page.
Kourtney Kardashian is one of the most famous women in the American show business. A socialite, a successful businesswoman, and a happy mother of three, Kourtney has gained many admirers and haters all over the world. This charismatic Instagram model's nudes leave no one indifferent.
2) Emily Ratajkowski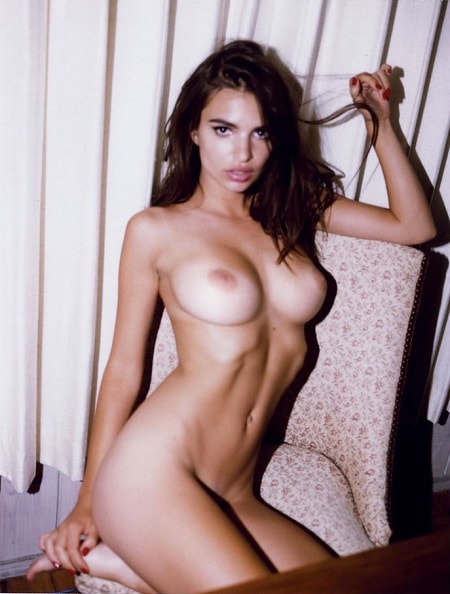 American model Emily Ratajkowski is now at the peak of popularity. Her sexy Instagram photos get millions of likes and attract new followers every day. She loves posing naked so much that her nudity is no longer surprising. Emily would rather surprise her subscribers with a regular picture than a selfie without a single piece of clothing on her body. Back in the day, Ratakovski used to take naked pictures by herself, but after she married, she made her husband her personal photographer. If you want more of Emily, check out her Instagram leaked nudes. There's plenty of them on the Web.
Emily is a popular model, an actress, and the owner of the title of the third most desirable woman of 2014. She gained popularity as a movie actress after performing the main role in the movie Gone Girl, and also after participating in the TV show Project Runway.
1) Alyssa Arce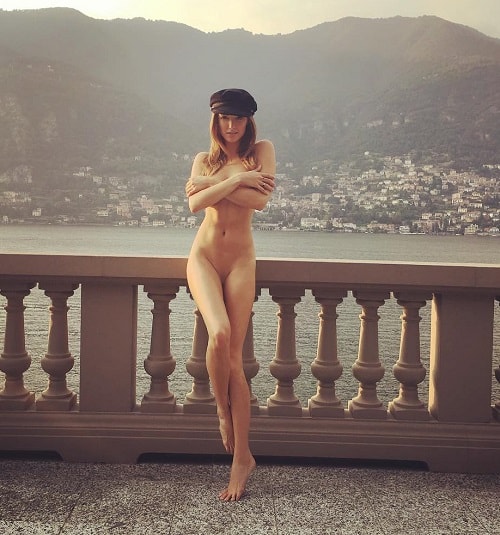 The first spot on our list of best Instagram nudes goes to Nude Alyssa Arce. She regularly appears on the covers of magazines and loves to take topless photos and post them on Instagram. Apart from this pic, you can find a few more nude snaps on her account. This picture is only one of many.
Alyssa is an American fashion model that became Playboy's Playmate in July 2013. Arce worked with such modeling agencies as Wilhelmina Models and Ford Models, took part in photo shoots for FHM, Sports Illustrated, Maxim, and several other magazines.