What's the main problem with online dating services? They are boring. Most of the online dating sites are all about pictures, brief info, and your preferences. And while it is completely okay, when you get your "perfect match" on a service like that, you get disappointed. Mainly because matching algorithms don't give you enough freedom to show who are you looking for. But things are different with OkCupid.
OkCupid.com is a modern dating site that is better than any other service out there. First of all, it is not a dating site, which is designed exclusively for straight or LGBTQ people. There are few dating services that are offering to date for all users, but there is always a risk for LGBTQ person to run into a homophobic straight user. LGBTQ, especially gay-dating platform often come under fire for being useless for finding your perfect match, as most users are looking there for sex. To learn how OkCupid.com is different, we offer you to check out our review.
OkCupid Review
From the very first sight, OkCupid looks like an extremely edgy and well-designed platform. It shows that it celebrates diversity, by showing both straight and LGBTQ couples on its front page.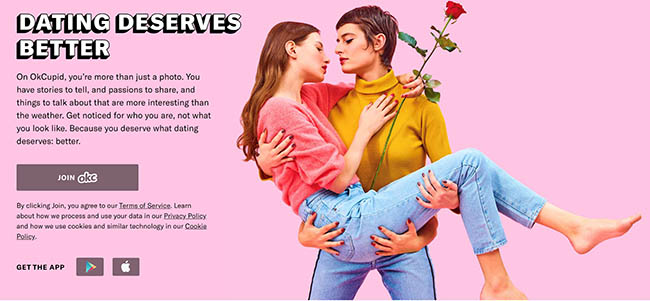 Diversity doesn't stop there, as unlike most of the sites OkCupid gives you more variants on types of relationships you're looking for. While other sites offer you to choose whether marriage is your ultimate goal or not, OkCupid offers you a vast array of options ranging from hook-up and friends to long-term dating and marriage.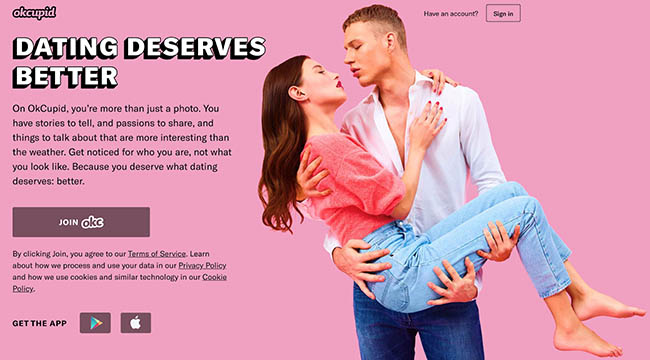 Another interesting thing, that while the vast majority of online dating services offers to answer a few basic questions about yourself that, actually, don't reveal anything useful, OkCupid is absolutely different. Here, upon signing up you have to answer in-depth questions that clearly reveals your personality. You can give personalized responses to the questions, which discloses your personality even further.
Aside from all that and the fact that OkCupid is available as both mobile app and site, using this dating service is a lot of fun. All the activities are free, you need to pay only if you want to know who liked your profile. Sounds quite interesting? So, let's figure out how OkCupid sign in works.
OkCupid.com Sign In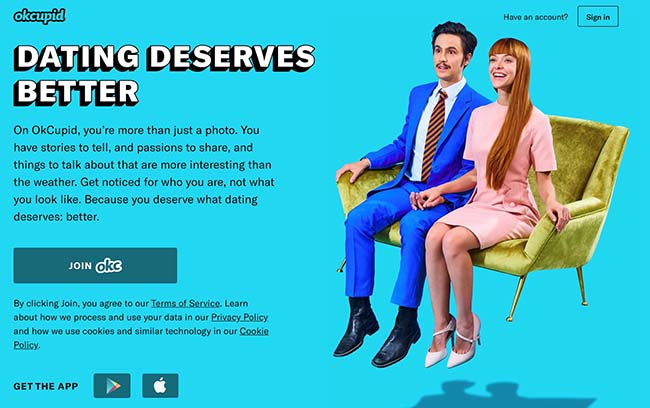 So, you go on OkCupid's site or download the mobile app. After reading all the information that you are "more than just a photo," you can click on "Join OKC." While making a small search on the web shows that OkCupid is a trustworthy site, you should check out "Terms of Service" before joining the service.
After getting acquainted with "Terms of Service" and figuring out whether you are okay with them, you may think that you can click that "join"-button, but actually, you need to make one more step before registering. Your next step is to figure out how the site is going to process and use your personal data. In order to do it, you need to click the "Privacy Policy" link.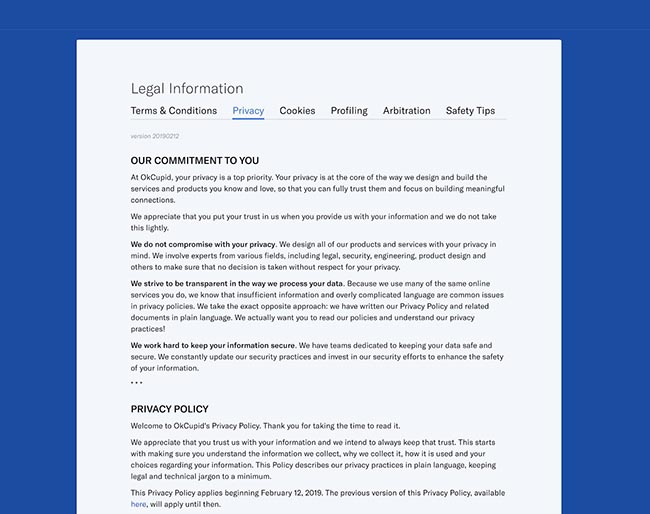 While you can get frustrated by that enormous long read of "Privacy Policy," you should go through it. Still, we can shed some light on the OkCupid's privacy policy. The service promises to keep your personal data secure, and as of now, we have no information about OkCupid's users experiencing data leakage. Of course, your data is not going to be transferred to third parties.
The best thing is that OkCupid manages to be different even with the privacy policy. When you check privacy policy information on other sites, generally it's extremely boring and confusing. OkCupid uses the simplest language. Thus, you don't get confused by the legal terms.
After getting acquainted with Terms of Service and Privacy Policy, you can finally click that "join" button.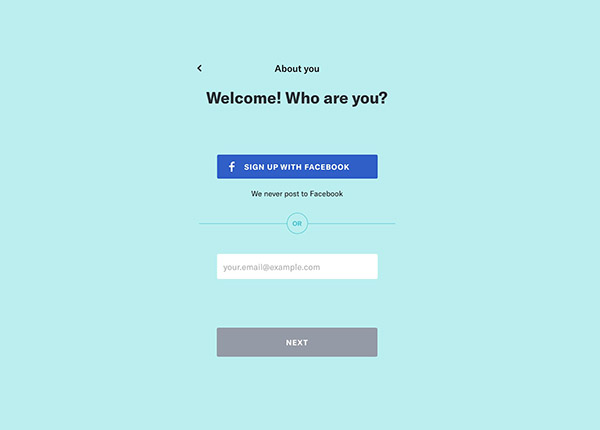 As you can see, there are two ways that you can register on OkCupid. Either with your email or with your Facebook account. Everything depends on your own preferences, although joining in with Facebook will save you from creating passwords.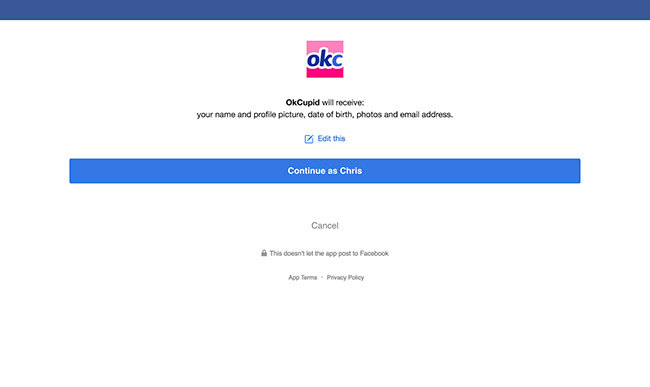 If you click on sign up with your Facebook account, all you have to do is to click "Continue as…" button. But that's the only difference between registering via Facebook and email. Filling in your profile is the same in both cases.
Another option is to fill in the email.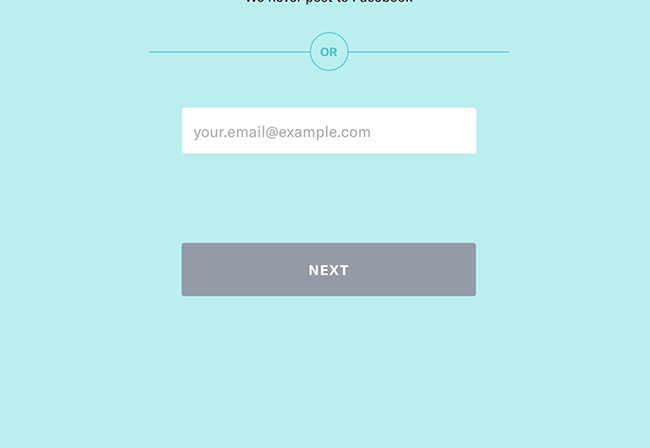 After you fill in your email address, you'll be offered to create your password.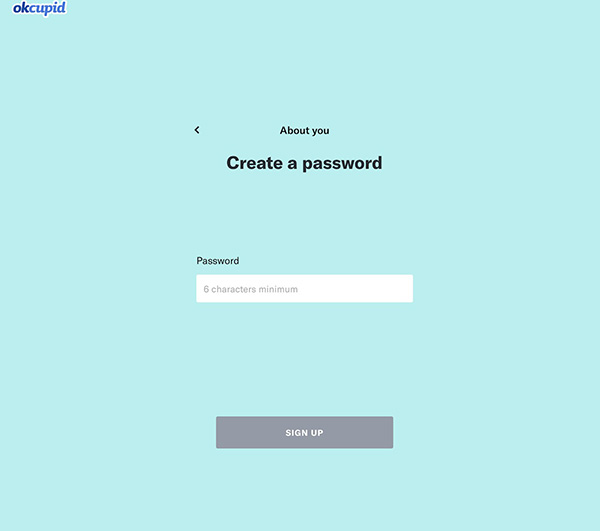 The passwords must be at least six characters. After you create the account, you'll need to prove that you are not a robot.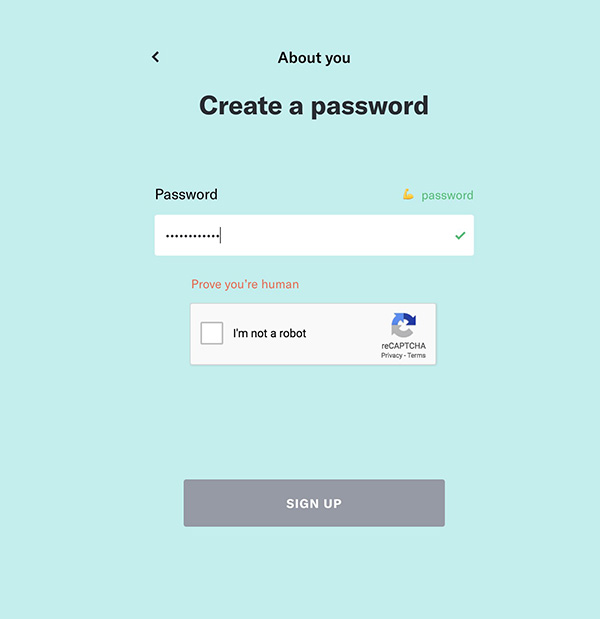 Just put the high mark and press the sing up button.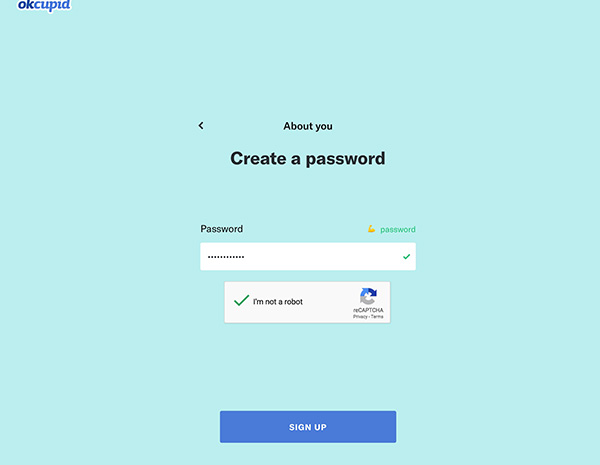 After you press the sign-up button, you start fulfilling your profile with your personal information. You go through the above-mentioned questions, which vary from how long you are planning to date to whether you prefer or not discussing politics with your prospective partner. You can set your preferences. Whether you are looking for women who like men or men who like men, or women who like women, etc. As well as age and type of relationship you are looking for. Whether you are looking for friendship or for short-term or long-term dating, or just a hook-up. And after filling in all that you can go ahead dating. Soon you'll discover that OkCupid works not only as a dating site but as a social network as well.