Share your inner warmth when it rains outside
Suffering from unrequited love or looking forward to meeting your soulmate? Why pass up a chance for good luck during the most intimate season of the year? Get out there and share all the brightness you have with your crush. Whether you're a people person or got used to keep yourself in yourself, we have something really special for you. Try these fall date ideas and select the ones that suit you.
Get lost in a cornfield
The most incredible option among fun fall date ideas for couples of all ages is getting lost somewhere in a field. Just imagine that you are the only people on the Earth! What can be more relaxing and funnier than wandering among the thickets of corn, breezing fresh air, telling jokes, and smelling heady scents of autumn and harvest. Forget about your problems at work, unpaid bills, quarrels with colleagues and daily routine during these hours. Add this activity to your list of fun fall date ideas and let the whole world wait!
Explore parks and botanical gardens.
Another point in our compilation of date ideas for fall is wandering about local botanical gardens and parks. It is a perfect way for both starting a conversation or keeping silence and admiring views. Enjoy delights of nature, discover unique plant species, or take selfie against marvelous backgrounds, and become closer to your better half. Besides, you can recommend some places to your friends and mates just by sharing a location on Instagram or Facebook. Look through the list of best botanical gardens in the world every nature lover must visit: The Master-of-Nets Garden (Suzhou, China); Koishikawa Korakuen Gardens (Tokyo, Japan); Na 'Aina Kai Botanical Garden (Kauai, Hawaii); Denver Botanic Gardens (Colorado); Biltmore (Asheville, North Carolina); Brooklyn Botanic Garden (New York); Jardim Botânico (Rio de Janeiro, Brazil); Royal Botanic Gardens, Kew (Richmond, Surrey, England).
Go to a Carnival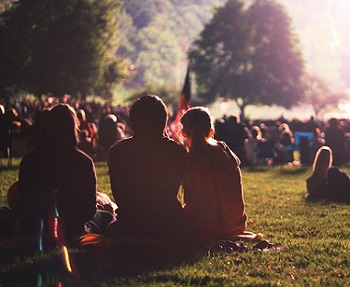 Get back to your childhood and buy tickets to a Carnival! At first, it sounds banal and not interesting for adults, but that's only at first. Surprise your chosen one and buy tickets to one of the world's largest carnivals. Delve yourself into that breathtaking atmosphere of loud sounds, bizarre and bright costumes, parades, strange rituals, flamboyant parties, and of course the sweetest cotton candy. And don't forget to make your own obscure costumes! If you haven't chosen the country to visit yet, here are the names of world's best carnivals: Mardi Gras – New Orleans, LA, US; The Carnival of Venice – Venice, Italy; Carnival of Santa Cruz de Tenerife – Tenerife, Canary Islands; Cologne Carnival – Cologne, Germany; Rio Carnival – Rio De Janeiro, Brazil; The Carnival of Oruro – Oruro, Bolivia; Carnival of Binche – Binche, Belgium.
Chose what you like and start your amazing journey with the love of your life.
Go Shopping Together: Tips For Fall Date Outfits
Definitely, changing your look or style is one of the most exciting things for both girls and boys, even though the latter don't like to acknowledge this. Usually, we try to change ourselves with the arrival of summer but fall is just as good season for doing this as summer (and maybe even a better one). The process of selecting outfits (and especially date outfits) is enormously nerve-wracking. When you want to attract someone's attention you try to do your best while choosing a look.
Obviously, first impressions are the strongest and we always rack our brains in order to look flawless and shipshape. Fall weather is a way too much unpredictable, changing from heat to rain in about a couple of minutes. That's why you always have to be ready for any developments. So these are the most practical ideas for the fall day&night date outfits: firstly, define what sort of date you are preparing for. There is a big difference between a late night date and an afternoon rendezvous. If you're about to go out in the first half of the day, find out the outfit that shows your personality, makes you feel confident and beautiful, and is comfortable enough. So jeans with a shirt, dresses of bright or restrained colors, trouser suits are equally good options for stylish and cute fall date outfits. And be sure that you didn't forget to take an umbrella.
If you're going to spend the night out, then clearly switching out your blazer for a warm casual jacket and mixing it with something minimal underneath is a perfect choice for the fall date night outfit. And remember that the main thing about every fall date night outfit is it being warm enough to prevent your date ending up with pneumonia.
Аfter finding out the main trends of this fall, ask your lover to go out shopping with you. You can try to select clothes for each other or present your beloved a gift certificate for a certain store. End up your shopping day in a cozy café drinking coffee and chatting.
Listen to live music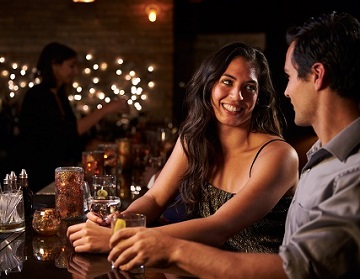 Pretty sure, attending an outdoor concert is a win-win situation for fall date night ideas. Who doesn't like listening to music, visiting concerts and singing along with a whole audience? And the perks of a live gig are the breathtaking emotions and unforgettable atmosphere. Moreover, you have a huge choice from a classical music session to a rock concert of some band. So if your other half doesn't share your interest in loud concerts of famous rock bands, invite him or her to check out the jazz club, where except from listening to lovely music you can drink cocktails. Such a date won't leave your soulmate unsatisfied.
Discover new cuisines at a Food Festival
If you and your mate are gourmets or just like to eat, you definitely should attend a Food Festival. The popularity of such festivals increases every year and now more than 30.000 visitors attend them. These festivals offer a wide range of special events and tastings with a focus on the food of a particular culture. Visitors of all ages can be found there, that's why it's a great opportunity not only to taste new dishes but to communicate and make friends. You can experience many different areas ranging from discovering plants for cooking or catching fish to tasting cold beer. Such festivals give you a diversity of opportunities in one weekend so both you and your crush won't be bored. And this is our compilation of the best Food Festivals for true foodies:  Wildfoods Festival (Hokitika, New Zealand) ; Annual Golden Spurtle (Cairngorms, Scotland) ; The Onion Market (Bern, Switzerland) ; Watercress Festival (Hampshire, England); Salon de Chocolate (Quito, Ecuador) Bacon Festival (Sacramento, California); Blue Food Festival (Bloody Bay, Tobago); PoutineFest (Ottawa, Canada); Castagnades chestnut festival (Ardeche, France).
Drink tea in a tea room
Tea is the main beverage of fall season. Imagine you sitting wrapped in the coziest plaid, drinking your favorite warming tea and listening to the calming sound of drops banging on the window. What are your feelings? The perfect option for those loving tea is to visit a tea room. Such establishments usually serve different kinds of tea and other light refreshments. Some teahouses can serve a range of food as well (as British Café for instance). As well as coffeehouses most tea rooms are made as places for social interaction. You can learn more about tea ceremonies of different countries while sipping teas and feeling relaxed. Here is a short list of the best teahouses for you: The Milestone Hotel; Bettys, York;  Browns, Manchester; Crewe Hall; Carters of Moseley;Annies, Manchester;  The Caledonian Hotel ; Titanic Belfast;  National Dining Rooms ; Kingsway Hall Hotel;  The Bertinet Bakery;  Bea's of Bloomsbury;  The Orangery at The Fan Museum; Cuthbert's Bakehouse;  Essex Rose Tea House. Going to the teahouse is the best idea for couples who are tired from city noises and bustle.
Walk your pet together
Having a dog is a great thing and knowing that your crush loves domestic animals as much as you do is even better. If you have just met someone you like and don't know anything about courtship, than this paragraph should definitely take place in your fall first date ideas list. Take your puppies out to the nearest park and make fun while running with them, watching them barking at cats and strangers, and making futile attempts to train your dogs. But it would be a bit stressful and exhausting if your pet is not well-behaved, or being too dynamic. Anyway, that gives you a lot of unforgettable memories and heaps few problems on your head (perhaps).
Have a picnic
Probably the simplest variant of spending a day with your beloved is packing a picnic. It actually seems to be the most popular date idea for all seasons as it is always actual and don't make your brain blow during the preparations, but at the same time let you show creativity, love, and care in such a simple way. Picnics don't require huge expenses as you just take your favorite food and beverages, find calm and charming place and spend time talking to each other while admiring the nature. And if you want to surprise your soulmate with culinary skills just take a look at a recipe book or surf the browser for the best picnic recipes.
Create shared memories
If you are looking for cute fall date ideas, there is nothing better than organizing something special only for you two. Find out the most picturesque places in your hometown, visit the oldest godforsaken buildings, spend a few hours at a local flea market, or just plant flowers around the house – but be sure to take photos for a future family album. The fallen leaves and colorful autumn landscapes will turn any picture into a work of art.