Not too long ago, millions of TV viewers watched passions in Mexican series with a sinking heart. Actresses of such soap operas seem incredible beauties. They have amazing skin, beautiful tan, long eyelashes, and thick black hair. Nowadays, every man has the opportunity to visit Mexico and compare the television story with reality. Consequently, many foreigners fall in love with hot Mexican women, but they do not know how to date such a woman. Let's consider Mexican dating, figure out how to attract a Mexican girl, and discover some tips on how to build a happy romantic relationship.
Dating Latina Women: Here's What We All Need to Remember
There is nothing easier than dating a girl from Mexico. In fact, this task is much simpler than building relationships with a girl from any European country.
A very important skill that you should learn to date Latin women is the ability to read between the lines and understand the meaning of their words both verbally and in written form. Typically, Mexican girls hide the true meaning of their words with the help of beautiful words and metaphors.
Latin girls are very polite, respectful, and gracious. Even if such a woman refuses you, most likely, the refusal will be pronounced without explicitly calling it that. Politeness is especially noticeable when beautiful ladies start using expressions such as "I am much obliged to you" or "your wish is of great importance to me." So, do not forget to be polite and hospitable when you become acquainted with a Latin girl.
Moreover, Latin girls are really incredibly feminine. Perhaps this is the secret of their phenomenal appeal in men. They move very gracefully and know how to behave to show themselves in the best light and attract the attention of the opposite sex.
How to Meet a Mexican Girl: Mexico City & Online Dating
Almost all the best bars, nightclubs, and places for dating in Mexico City that you can visit to get acquainted with single girls are located in the three most popular areas of the city. These are Condesa, Polanco, and La Roma. These areas for hectic nightlife are considered some of the most top-class and expensive in Mexico City. There are many good places to make an acquaintance with girls and plunge into Mexican dating. Some of the nice romantic restaurants and cocktail lounges in Mexico City are:
Rosetta
El Lago Restaurante
Dulce Patria
Loma Linda Plaza Carso
Huset
Azul Historico
Contramar
Sartoria
Maison Artemisia
Café Paraiso
La Clandestina
Licorera Limantour
Limantour
However, not all men like to get acquainted with women after dark. Some guys prefer to go out during the day to meet single girls from Mexico City and arrange a date for a later time. Some of the best places in Mexico City to make an acquaintance with hot Mexican girls in the daytime are:
Plaza Universidad
Paseo Acoxpa
Plaza Luis Cabrera
Perisur
Galerias Insurgentes
Centro Comercial Santa Fe
Reforma
Oasis Coyoacán
Antara Fashion Hall
Online Dating
Another good way to get acquainted with beautiful Mexican women is through online dating sites. Although, you should use only verified and reliable Mexican dating sites to achieve the best and fastest results. We can say that Mexican women don't mind dating men from other countries as they are happy to register on foreign dating sites and communicate with guys from across the globe with great pleasure. Mexican Cupid is the best dating site in Mexico. And since it is a fairly large country, thousands of single women use this dating service. Thus, you have an opportunity to find a lot of Mexican women for dating there.
If you are not a huge fan of nightclubs and do not want to get acquainted with strangers on crowded streets, then online dating is the perfect option for you. Even if you like to meet women face to face, online dating is a valuable experience in dealing with cute Mexican girls.
Tips to Date a Mexican Woman
Mexican culture manifests itself through fascinating traditions and extraordinary customs. No matter how strange the Mexican way of life may seem to you at first glance, in the end, it turns out to be incredibly surprising and attractive. This country impresses tourists with the abundance of swinging parties and the ability to enjoy life to the fullest. If you want to get acquainted with a beautiful Mexican lady and build a strong relationship, you should know some dating Mexican women tips.
A Thing Or Two to Know About Dating Culture in Mexico
It is not all that simple in Mexican dating culture. In the past, it used to be the norm to get married before the age of 25 and to be the mother of a large family. Nowadays, Mexican girls are striving to be more independent and get on their feet to be dependent neither on parents nor men. Mexicans marry at the age of about 30 years and later. Also, they give birth to a baby after 30 years, sometimes even closer to 40. Before getting married, the Mexicans date for about 5-6 years. Moreover, civil marriages are becoming popular in these recent times. It happens that loving couples do not live together at all before the marriage, as Mexican girls are comfortable with living at home and in no hurry to leave the house of their parents.
As in many other countries, there are interracial marriages in Mexico. A man or a woman often chooses a soul mate from the Scandinavian countries, for example, from Sweden, Finland, and Norway. Children of such mixed marriages are incredibly beautiful.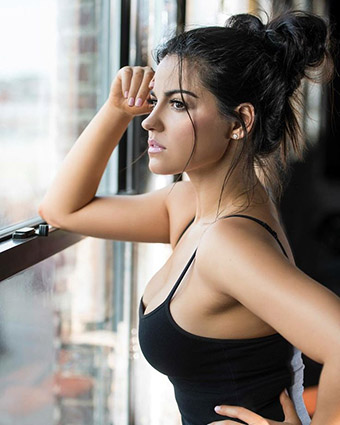 She's as passionate as it gets
All men in the world know that Mexican women are passionate, hot, and seductive. Moreover, these ladies fall in love easily and quickly. For a man who knows how to seduce a woman properly, it does not take long to get a hot Mexican girl into bed. However, she can lose interest in a partner as easily as to fall in love with him. Because of such a passionate nature, you should beware of the wrath of a Mexican lady in the event of a dispute or controversy, as Mexican women have a quick temper and are easily annoyed.
Healthy lifestyle's in vogue
Mexican ladies live a healthy lifestyle and take good care of their bodies. Therefore, if you want to build a long-term relationship with a Mexican woman, you should get used to eating healthy food and drinking herbal tea! After all, Mexican women are the best when it comes to home remedies: they use a great number of various herb waters, tea with lemon or honey as cold medicine, chamomile to relieve stomach pain and fall asleep faster, valerian to steady nerves, and so on. Also, Mexican women are familiar with all kinds of diets for weight loss.
Take the lead
Mexican women of all ages are very conservative and strongly believe that it is a man who should take a dominant role in both romantic relationships and family life. Women from Mexico highly respect the strong and self-confident representatives of the opposite sex who can provide for their loved ones. A Mexican girl always listens to the opinion of her man, supports him in all his undertakings, and puts full confidence in her loved one. So, be ready to take the lead in a relationship with a Mexican woman.
She's a little miss party 24/7
Mexican girls are sociable, friendly, and always in the mood for having a high time. They love to visit swinging parties and can dance all night long. Going to such a party, Mexican girls change beyond all recognition. When the heat is slackened, they can afford bright make-up, chic hairstyles, high heels, and extravagant dresses. Mexicans love to emphasize their figure: a deep neckline, miniskirts, cuts and tight things. They are not afraid of bright colors and experiments in clothes. A Mexican lady looks very natural during the daytime: she wears light dresses (or jeans), puts little make-up, and usually wears her hair in a bun. But in the evening, she transforms into a temptress with beautiful loose hair wearing a tight-fitting dress that emphasizes the perfect figure of a Mexican girl and makes her sexier and more attractive to the opposite sex.
She might be very attached to her mother and family in general
The Mexicans are family people. The bands of the family are very important to them. It is very pleasant for Mexican people to commune together on different holidays. And besides, family gatherings with or without reason are quite a normal thing in Mexico. To say more, Mexican families are so big. The word family means not only mom, dad, and children but also grandparents, aunts, uncles, all cousins, second cousins, and so on. Therefore, if your Mexican girlfriend invites you to a family dinner, be sure that it will be a huge dinner with an incredible amount of people.
Mexican Traditions Are Amazing and Somewhat Strange
Mexico is rich in small daily rituals. The very "Hello, how are you?" which you have learned in the first Spanish lessons, will be your most used phrase in Mexico. And you will hear the only answer to this question, "That's perfectly fine, thanks. What about you?" Typically, you are okay too, even if the truth is that your things are not so good.
When you leave the house of a Mexican family, you need to say goodbye even to those people with whom you have not exchanged a word for the whole evening. Do not forget to hug them and say, "See you later" even if you are both sure that you will never meet again in the future. The main thing you should keep in mind is that such small ceremonies, which make no sense for you, are very important for every Mexican citizen.
Another cultural shock is that Mexicans consider redheads a kind of talismans that attract good luck. Thus, they even have an interesting belief: a person who is the first to give a pinch to their friend at the sight of a redhead will be lucky.
Moreover, Mexicans usually stand close to their interlocutors during a conversation. So, do not stand off a Mexican when speaking with them – this is considered rudeness and unwillingness to communicate. Interlocutors of the opposite sexes can slightly often touch each other during a conversation.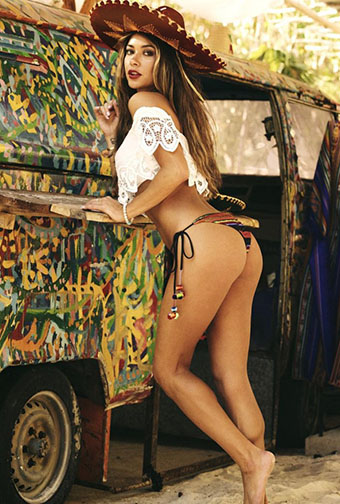 She's great at running the household
In a traditional Mexican family, a woman does not work and takes on household responsibilities and raising children. Such a way of life is gradually becoming a thing of the past, but this state of affairs is still can be found in Mexican society quite often. Many men believe that deciding financial matters and providing for a family are purely male duties. A man in Mexico is considered strong, but it does not mean that he can do any household chores on his own. So, every Mexican woman is great at running the household.
Mexican mail order brides: is it worth it?
Many men doubt whether to start Mexican women dating. Therefore, we offer you some facts that prove that building a romantic relationship with a woman from Mexico is a great idea.
You will break through the language barrier fast and easily
You are unlikely to have big language barriers if you are dating a girl from Mexico. In this country, many people know English and have a more or less good level to understand what you say.
She is the perfect wife
If you marry a woman from Mexico, you can be sure that you will always have: delicious food, a clean house, a warm welcome when returning from work, and an excellent domestic goddess who will love and respect all your friends and relatives.
She is very caring, gentle, and loyal
Although Mexican women are passionate and hot-tempered, they are always very caring and gentle towards people they love. So, a Mexican girl will pay a lot of attention to you and become the best caring wife you can imagine.
Get the Most of Dating Mexican Women
A Mexican woman can become a great wife for a foreign man. You definitely will not regret it if you decide to start a relationship with a girl from Mexico. Such a lady will make all your friends jealous because she can amaze everyone with her incomparable beauty and cheerful disposition. Dating a Mexican girl brings a lot of adventure and passion to your life, so you will never get bored with such a woman. Your life will become bright and interesting. Moreover, a Mexican girl will be a trustworthy wife, a caring mother for your children, and an excellent domestic goddess. So, get the most of dating Mexican women and be happy!