Dating apps and sites have long ceased to be considered the last place where successful people are looking for a partner. It is no longer an indicator of total despair. It's pointless to deny the fact of their existence. Not to use them now is like to ignore smartphones or social networks. Of course, it's possible to live without them, but it's a good way to make life simple. The mechanisms of communication and dating are changing every second, but it isn't bad, and, in the end, it is a little pointless thing to try to resist these processes. Nowadays, Tinder is the most popular online dating application, so it is necessary to study the guide to Tinder to understand how it works and how to get the best of it.
How does Tinder work?
It is the well-known fact that initially Tinder was conceived as an application for fast dates, but as any phenomenon that gains a mass character, it has long lost its specific goal. People use it to look for everything, from a one-night stand and meeting a future spouse to a guide in a new city or a way to dull loneliness.
This dating app is not tied to a specific city. It literally searches for a soul mate within the range specified in the settings. Tinder does not force you to create any complicated profile. You can just upload a couple of photos and write a few words about yourself to start searching for a partner.
Registration
To get started with the app, you should be registered on Facebook. This is a necessary condition for working with Tinder, so it's impossible to use Google+, for example, to log in. After downloading, you need to enter your data of the account on Facebook (e-mail and password). So, Tinder is quite a safe thing compared to other dating apps, nobody can be completely anonymous there because it's linked to Facebook. You will also have to verify your phone number via SMS. A search will begin immediately after starting the application.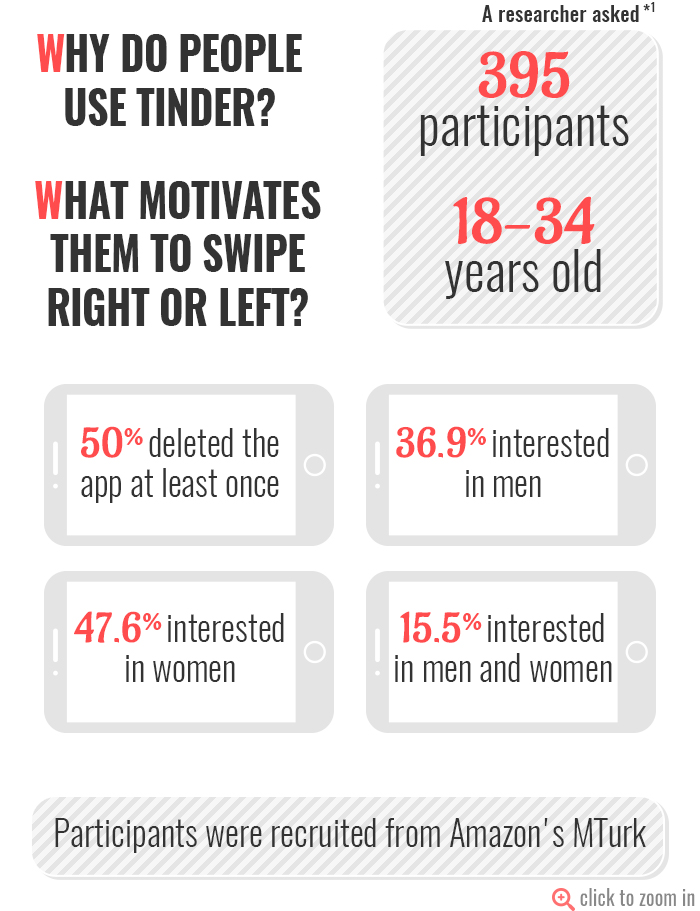 Selection
The most interesting is that if the girl is in the zone of your fluids, the program will show your potential partner. No other methods of communication are given to you. So, you just need to swipe right over a profile if the girl seems to be attractive to you or swipe left over a profile if something is wrong. Information about the user is limited to a couple of photos, short profile information, location, and the last seen.
How to use Tinder?
Here you can see the principle of "love at first sight" in action. The person you've "liked" sees your profile, and if they also swipe right, then you will be able to write a private message, and in the interface, there will be an inscription, "Congratulations! You have a new match!" However, if the correspondence has disappointed you, you can remove it from your pairs. Another feature of the application is that you cannot find out who swipe right and who does not. In short, correspondence will not begin until both people show mutual sympathy. There is a big audience, so you will hardly have no matches on Tinder.
In the settings, you can hide the account from new acquaintances if you already communicate with a sufficient number of people. You can specify a search range and age limits. Don't forget to configure notifications.
Treat it right
Many people describe Tinder as an application for a one-night stand. However, this isn't right. You will not meet only sexually voracious young ladies on Tinder. In fact, the girls you meet on Tinder don't differ much from the girls you would have met, for example, in a bar. Here, it may be much more difficult to draw her attention because you need to convince a girl who's never seen you in person to spend time with you in private. Besides, do not forget that the lady should prefer meeting with you instead of meeting with a familiar man or with the millions of other guys who are also users on Tinder.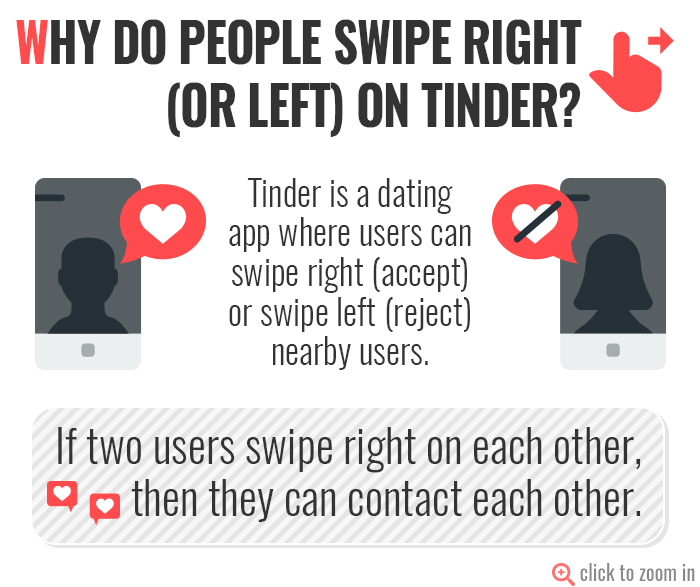 Nonetheless, there is good news. According to the law of large numbers, you will achieve much more success on Tinder than in a bar. Besides, there are various Tinder hookup tips that will help you increase your chances of success.
Tinder profile tips
Pay particular attention to the quality of the photos in your profile. Your photos should be of a good quality. You should be the only person in the photo. The absence of strangers in it ensures that the viewer will not be distracted by anyone. Don't upload only selfies. Choose a photo where you are smiling and looking into the camera.
Don't overdo with Photoshop. Of course, you can use various photo editors to correct small defects of appearance like pimples or to correct brightness of a photo. However, do not overdo it trying to be the best version of yourself. Make sure that a stranger with whom you have a match on Tinder will be able to recognize you on the street. Don't neglect these Tinder picture tips.
Write about yourself on Tinder. Talking about Tinder bio tips, don't forget that the profile information also directly affects your communication. If you have an empty profile, then nothing good will come of it. If you write a few words about yourself and your hobbies, the girl will be able to imagine you better reading your profile. Thus, she will understand whether she is interested in such communication and whether you have similar interests.
Set the optimal search range. Do not look for a girlfriend who is thousands of miles away. Start small and increase the search range gradually. So, you will prioritize and multiply your chances of success.
Don't be online all the time. Of course, you can view photos and swipe right and left at any time. Nevertheless, you should better do that in your spare time, for example, when you are waiting for something or someone. Or when you simply cannot find a more useful way of spending time. If you combine being on Tinder with some important things, then you will not pay due attention to your activity in the app. In addition, some people can view the time of your last visit on Tinder. And when they notice that you visit it every five minutes, they will immediately think something like, "Don't they have anything better to do?" and so on.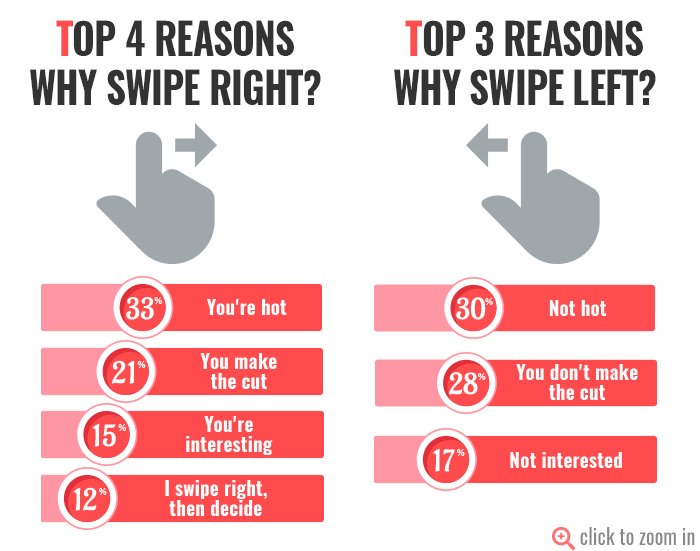 How to start a conversation on Tinder?
How often have people faced the situation when they have a match on Tinder, but the story doesn't develop further? Nobody starts a conversation despite the fact that they both have swiped right. You don't know what to say on Tinder, do you? There are several useful Tinder message tips.
Gather some information
Click on the profile of the person you are interested in, view their photos and provided personal information. It will be indicated in the app how to properly view the user's page. You will be able to imagine the person's interests and use this information to send the Tinder first message.
Be polite and open-minded
If you haven't set the optimal search range, you can come across some interesting people from another country. You can still write them. Start a conversation with the question about their culture, and if you know that they are planning a trip to your city, offer to make an excursion. You never know what it will lead to.
Be spontaneous
Try to discourage a girl with some bright phrase. Instead of "Hi" ask something like, "Do you like shrimps?" or "What pattern do you prefer on the socks: diamond or strip?" Do not be afraid to be funny, girls will appreciate your creativity. Let someone else write, "How are you doing?"
Best Tinder openers
If you are going to start talking to a beautiful girl, your Tinder icebreaker should catch her attention. She should experience some emotions because bright feelings lead to attraction and make her agree to meet. The best Tinder pickup lines vary according to the age of the girl you like because a message that makes a beauty in her 25s smile will make a mature 45-year-old woman facepalm and remove the pair.
Does this mean that we were made for each other?
In several years there will be many married couples whose story has begun with, "We just swiped right." It's so exciting, isn't it?
Send a funny GIF, it is one of the best icebreakers.
What would you choose: a chocolate muffin, a cheesecake or a cherry pie?
How to talk to girls on Tinder?
Tinder conversation guide doesn't differ too much from the conversation guide on any other dating site. So, be original with your initial lines. Try to avoid simple "Hi" and "What's up?" Using these trivial openers, you risk making the girl lose her interest from the very beginning. Carefully review the profile and photos of the girl you like to find an interesting clue. For example, if you see a girl with a surfboard in the photo, ask her about her favorite places to swim.
Make sure that your grammar is correct, especially when you just start communicating with a new person. Remember, the first impression is the strongest one.
Ask her questions. Try to ask more questions to get to know the girl better. What are her hobbies, interests, etc.? Avoid questions that can be too personal.
Behave naturally and at ease. Communicate, as if you are talking with a friend who has known for many years.

Tinder tips for guys
One of the main tips is to remain yourself. However, there are also several additional tips that will not be superfluous.
Try to catch her attention. After you have attracted the attention of the girl you like, and you've found out a little about her, you should understand how to maintain her interest in you.
Do not be afraid to compliment. Even if you still do not know a woman very well, make compliments during the conversation. The simple, "I like our talks" can be a good start.
Try to avoid extremes. Tinder is designed for fun and easy communication. Using too coarse or vulgar phrases will lead to the loss of the woman's interest and will bring to naught all chances of continuing flirting in the future.
Smile in the photo. Smiling people seem more kind and open. The facial expression reflects your inner world very well. For example, men with a soft chin are considered more kind and understanding.
Bumble vs Tinder: what is better?
For a number of reasons, it is possible to say that Tinder is better while the main "trick" of Bumble hurts the chances to have a match because only women can write the first message. Therefore, men have to wait until some beauty will write to them. While on Tinder both men and women have equal chances to write the first message. Bumble is good for feminists and men who don't want to take the first step and come up with catchy Tinder openers.
Is Tinder worth it?
One in two who decide to use this app wants to know, "Does Tinder work?" Such apps as Tinder make life easier. There are a few million users who want to have a match.  Spending about an hour a day on Tinder, you can review a few thousand users in a week and increase your chances to meet someone special. However, you should make efforts to get a worthy result. It is not about Tinder, it's about life and human relationships.