Do Profile Pictures Really Matter That Much?
We will try to determine the role of photos in the context of dating sites. You will find out what kind of photos will prevent you from achieving the desired results, and which will help.
As they say, "First you judge how nice, then you judge how wise." Of course, the rich inner world is a jewel hidden in a person whose appearance may not be that remarkable. However, we are talking about online dating, and in our case, the appearance on a photo determines success more than anything else. First of all, looking through a profile of a proposed candidate, a user pays attention to the appearance. And only then studies the basic information: interests, hobbies, type of activity, personal qualities.
However, there is, of course, more to it than just being pretty. It is also worth using a photo as a confirmation of your hobbies: a person who loves nature will (and should) post a photo or two in which they are interacting with the nature, a person who likes to travel should a have a photo in which they are in a foreign country (to the one in which they live).
Here are some statistics on which parameters are given the most attention among the users of dating sites.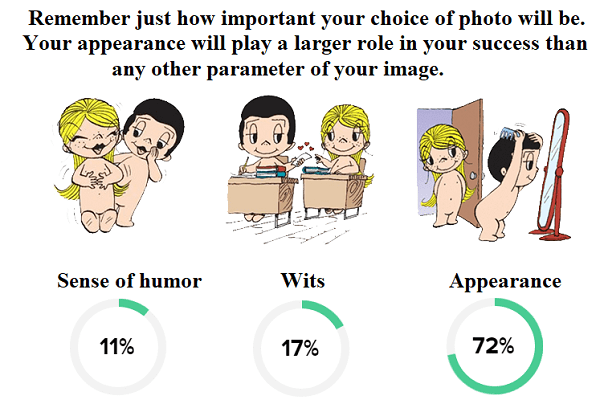 Profile Picture Do's and Don'ts
Do not hide your face
It is important not to cover your face with sunglasses, handkerchiefs, hands, or flowers. A person is unlikely to get to know your personality without understanding and seeing who is depicted in a photo.
One of your profile pictures should present your facial features in the best way that is possible. Women should wear makeup, men should care for their skin since your face is the most important aspect of your appearance, you should care for it.
Smile and express positive emotions
The emotionality of photos will undoubtedly be a huge advantage. It will be great for you to choose the best photos to depict your nature. A smile and a lively gleam in your eyes, inspired thoughtfulness or sincere joy – these will all add more reality to your profile, and an interlocutor will have no doubt that they are communicating with an actual person. And this, in turn, is a pledge of productive, closer communication. And the chances to find "the one" will increase tremendously.
Avoid selfies
Selfies are suitable for your Facebook page or various messengers for your close friends, but such a generic profile picture is not the best option for a dating profile. If all your photos are taken in front of a mirror in your bathroom, then people might think that you are bored and don't go outside that often. In addition, it is difficult to get the best angle with such a picture since the face may seem unnaturally elongated or distorted. And again, you can rarely get selfies of decent quality. If you have no one to photograph you, then put the timer on the camera of your smartphone or camera and pre-compose the frame. Then take a few pictures and select the best one.
Don't bring other people into your photos
Men, as a rule, are extremely illogical and unethical in showing photos with their ex-girlfriends or spouses, unless they are set to search for virtual friends, which is a rather rare phenomenon among men. Women should not upload pictures of their newborns – let your private life remain private, and not be exposed to all hundreds of thousands of site users.
An image should look natural
Good profile pics are those that look natural. Do not abuse the various photo editing programs. Sure, you can change your skin tone and remove all of your pimples, but by completely removing wrinkles, giving the face an unnatural expression, will spoil an image. A person's age and life experience are reflected in the appearance, and everyone is able to understand that. For example, a woman between the ages of 35 and 40 will not, unfortunately, lack all of the signs of aging, and it will certainly look weird if she looks like as if she is 20, while her profile states that she is 38.
The quality of the photos should be good
This is a simple one, all the details (face, eyes, smile, body) should be clear, and not blurred due to the fact that a small picture was enlarged, or a photo was taken from a rather large distance. If you want to upload a photo from a social network, then make sure that you upload the original photo, and not its thumbnail. To do this, open a photo in a separate window/browser tab.
To ensure that your photo is of the best quality possible – get the best camera that you can get your hands on. This may not require any financial investment from you if you have a friend who has a professional camera.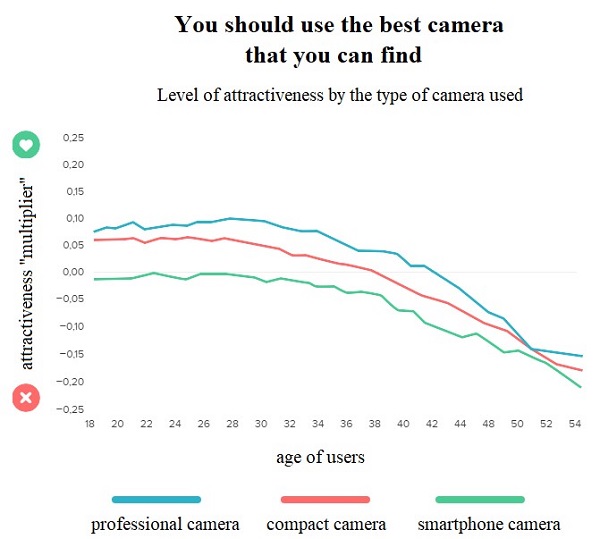 Avoid intimate photos
First of all, if we are talking about all-out nudity – most of the biggest dating sites out there forbid uploading nudity on their websites. And even if it is not forbidden, this is not the best of practices, just imagine how many users have been fooled by all the scammers and fraudsters out there… If you are planning to establish a serious relationship with someone – avoid such photos.
Naturalness and honesty
The best profile pictures are those that depict you as you are. Now, while sure, you will be quite popular by looking up to all of the biggest celebrities out there, copying them in all sorts of ways and being someone else. But you won't be yourself if you are using dating sites to find a partner in life – it's not just about having a date with someone, it's about establishing trust, and you cannot establish long-term trust with someone by lying about yourself. Here's a thought experiment, ask yourself, how would you react to finding out that a person you came on a date with turned out to be quite different both in terms of appearance and character. I don't think that you would be quite happy with such an outcome. Also, it will be quite easy for you to create the most awesome profile pictures just by being yourself and not pretending to be someone else.
Make sure the picture is focused on you
It is, of course, great if you managed to visit Paris with your friends and you all took photos with all of the greatest pieces of architecture in the world. However, firstly, a person may not know where you are in a photo. Secondly, they can have some suspicions about in exactly what relationships are you with other people in a photo. Especially if you took a photo with one person, this may seem like that one person is your partner or ex.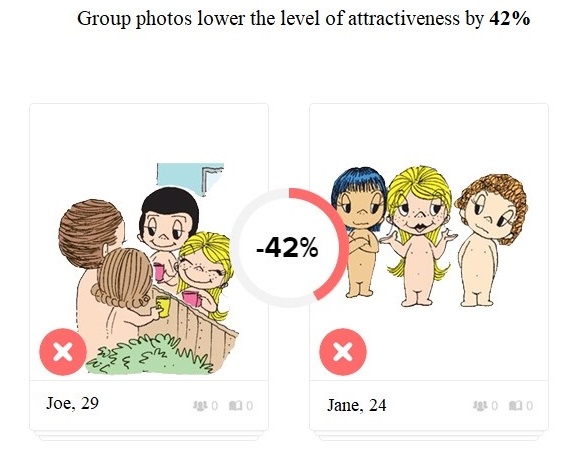 Don't overdo it with the depth of field
This is quite simple thing, just make sure all of the attention is focused on you. All of the most awesome profile pics have a great level of depth of field.
Attach at least one photo in which you are depicted from head to toe
Women love tall men, this should surely be reflected in a full-length photo. Your body proportions will speak for themselves. In the case of women, it is important to show all the beauty that your body has to show to all the male users out there.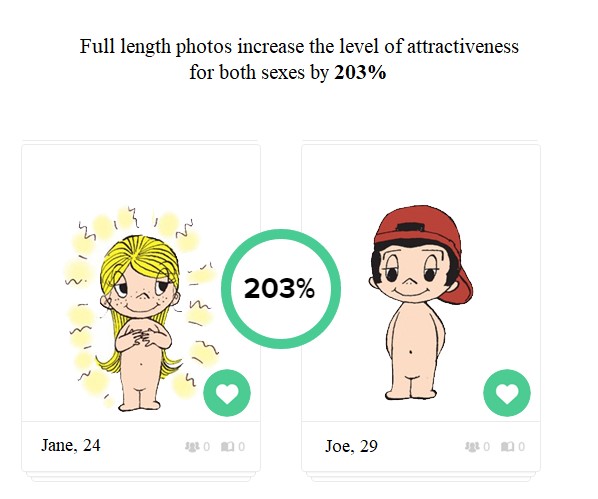 Profile Picture Ideas
Use the seasons to your advantage
Good profile pictures are those that utilize the current season. Let's take autumn as an example. There are lots of potential beautiful backgrounds to choose from, everything has a certain feel to it. The color of the leaves is gorgeous, so there is no better background to find than a simple forest. No additional editing may be required, but if you want to add something to a photo, use Snapseed, it's fairly easy to use, and it has a lot of features to find in it. The idea of using leaves is certainly not new, but it's not always an option to make a professional photo, so you have to work with what you've got. Summer is bright and has a lot of strong natural light sources (well, one, but you get the idea). Winter is gorgeous with all of the picturesque views that the snow creates. Spring is beautiful with all of the blossom and bright colors. So, as you can see, all the seasons have their own strengths, and you should use them to your advantage to create the best profile pic. Also, if you think that you are changing your avatar too fast, this is a great way to do it.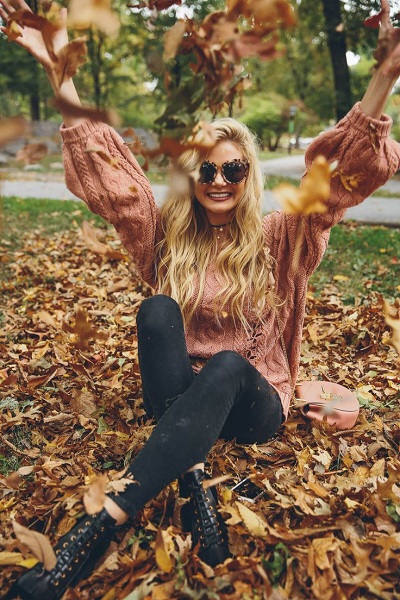 Use weather conditions
For example, you can arrange a photo session in the rain. To make this all work out, you need a large umbrella cane with a long handle. Be sure to take care of the safety of your photographic equipment. The camera can be protected with a regular plastic bag. Put your camera in it with a lens to the bottom of a bag, make a hole in a bag and stretch it to the size of the lens. This way, water won't fall on the mechanical parts of your camera. It is the same with any other weather, the most important thing is to choose the right one, depending on which one is better to accent your character. Here's one of the best professional profile pictures, which utilizes weather conditions.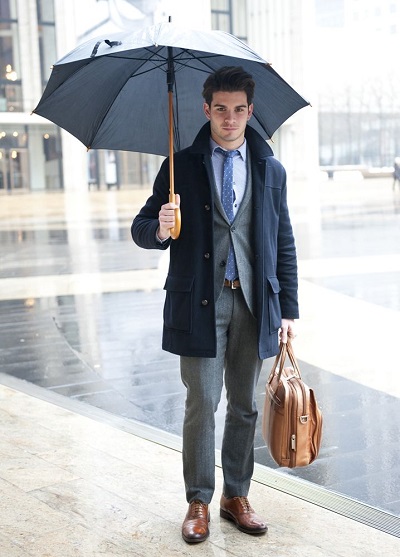 Add smoke
Bright spots of smoke in a picture will look stunning no matter what camera you are shooting with, even if it is just a phone lens. You can make lots of cool profile pics by using such effects. Lots of suitable smoke bombs are sold at pyrotechnics or football merchandise stores. Smoke bombs are safe for both humans and animals. True, you will need an assistant who will keep a lit bomb next to you. Take photos with minimal blur in your background. You should have a monotone-colored background, like a chromakey or a wall, this way you will be able to focus all of the attention of a person on yourself and the smoke.
Use leading lines
How to make a profile picture truly stunning? Some photos have a line that draws a viewer's eye to a specific part of the frame. It allows you to lead a viewer. It can be straight or curved: stairs, railway tracks, roads, paths in a forest. Leading lines are great for creating a sense of depth in an image. Some of the best profile pics out there utilize this technique.
Use natural light
The best profile picture is the one that is naturally lit. A simple example: it would be difficult for you to find an excellent photograph that has been made with a simple smartphone, taken with the flash turned on. It negatively changes colors, and faces become blurry. Take advantage of the natural light sources that you can find even after it's dark. This gives you the ability to play with shadows or create a silhouette with other light sources, such as traffic and surrounding buildings. Once you have taken a picture, play with the Exposure tool in your favorite photo editing application to see if you can make an image a little brighter without turning it too grainy. Here's an example of a cool profile pic that is naturally lit.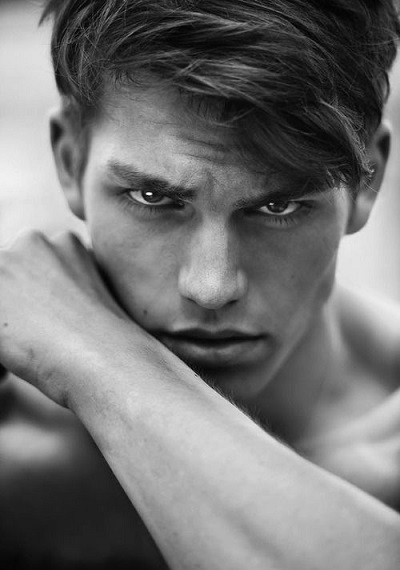 Bring in your pet
A cute profile picture is the one in which there is a cute fluffy creature involved. This is quite simple since everyone loves pets. Sure, there are some people who despise these cute creatures, but you don't need the attention of those people anyway. It has been known for a long time that a pet in a photo increases your level of attractiveness, and even though it may sound like a cheap tactic – it will surely work on a subconscious level. Also, a pet will make you look like a better person.
Play with contrast
Urbanism is a well-established trend in photo art, and you can make quite a cool profile picture by using it. Test it on yourself. Find a uniform background in the city. A suitable concrete wall, stairs, high fence. And you need monochrome clothes and one bright accessory or object: a scarf, balloons, flowers, shoes. Then all attention will be directed exclusively to you.
Photos depicting physical exercising
You may not be the most athletic person in the world, but the vast majority of people associate physical exercising with success, so strive towards self-development and a sense of self-control. If you feel like your profile lacks these things, then be sure to upload a photo like that.
Photos from various art exhibitions
It is the same as the latter point in many ways. The environment that you choose for your photo will add to the emotional impact that it brings to its viewer. Physical exercises make you look tough and determinant, while photos from art exhibitions will make you look smart and creative, even thoughtful. Don't overdo it, otherwise, people will perceive you as a rather snobbish person, obsessed with their supposedly high level of intelligence.
Photos from the workplace
The last of our profile picture ideas is to show off who you have decided to be in life. Now, this will not really work if your job is bound to an office space. Offices are associated with boredom, lack of creativity and thus, these associations get projected onto you. If your job consists of more creative things, like painting, designing, training people, playing music, etc. Military jobs will do as well, especially for men, as the uniform makes them look tougher, stronger and well-organized.