Is Spain Actually the Coolest Country?
Spain is one of the largest and coolest European countries that almost completely occupies the Iberian Peninsula and has a centuries' old history, its own traditions, and unique, interesting culture. Those who go to Spain at least for one day are often surprised. It seems that people here spend all their time in cafes, restaurants, and bars. And this is the case. According to statistics, there is the largest number of catering establishments per capita in Spain.
In addition, Spain is a country that presented the most eccentric geniuses to the world: for example, Salvador Dali and Antonio Gaudi. This is the birthplace of flamenco and ham. If you ask someone about Spain, most likely you will hear something about a bullfight, conquistadors or a football team because these things are associated with Spaniards. And all these aspects are somehow connected with struggle, spirituality, and ardent temperament. The same can be said about beautiful Spanish women, who are as passionate and emotional as a bullfight.
Here Are Some Reasons to Date a Spanish Girl
Talking about European women, it is hardly possible to put the hot Spanish women with them in one row since the latter stand out qualitatively against others. European ladies are usually modest, sophisticated, and elegant. Spanish girls have a big number of unique and interesting qualities, and if you describe them in one word, choosing between "love" and "passion," then "passion" will be the perfect option.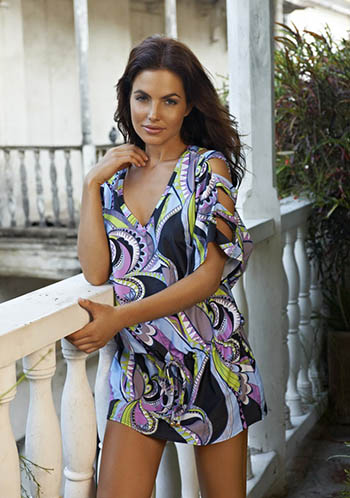 She's Extremely Beautiful
Hot Spanish girls have long been the stuff of legend. Brightness, emotionality, and passion of Spanish women in combination with an amazing appearance act magically on members of the opposite sex, especially on men of the Nordic type. For them, all these factors are exotic. Of course, not all women resemble Carmen, and there are many well-known Spanish women who do not have the distinctive features of this nation in their appearance. However, thanks to the natural vivacity, all Spanish ladies are incredibly charming. In addition, they know how to take care of themselves, and they just adore all these procedures. It is manifested in putting on a spectacular makeup, the ability to create an image, perfect taste in choosing the most appropriate accessories and clothing. Spanish women will never say that visiting beauty salons is a waste of time, and this approach brings amazing results.
She's Family-Oriented
Despite the fashion trends on the part of feminism, Spaniards are still family-oriented. Committed relationships always come first, this is just a part of their national tradition. If you are involved in dating a Spanish woman, you should be ready for the fact that there are high chances you will meet her relatives quite soon. The very fact of such a meeting can tell you a lot about her interest in you. Don't be surprised that her family will actively participate in her life even after you tie the know. Your biggest mistake will be an attempt to criticize her relatives. A Spanish woman is a caring mum and wife, there is a real cult of children in the country. Spaniards adore kids and do their best to bring them up in a healthy and positive environment. Spanish people have quite large families that consist of representatives of different generations living under the same roof. And women always occupy a central place in the family.
She's Passionate
It's not a secret that when you are involved in Spanish women dating, you get a big portion of tempestuous showdowns, heated debates, and equally heated reconciliation. Amazing Spanish girls are very passionate representatives of the female half of the population. We can say that such a temperament is coded genetically in them. It's not that easy with such girls, but they know how to steal your heart and soul as well as how to inspire you for new achievements. Just think about how many images of Spaniards are captured in works of literature, music and visual art! Somebody will say that they are hot-tempered, full of pride, completely consumed by their emotions, and this is true, but it is also necessary to add that they calm down very quickly as well, forgetting what annoyed them several minutes ago.
She's a Gourmet
They say that the way to a man's heart is through his stomach, but this statement is pretty common for a pretty Spanish girl as well. In general, Spaniards are famous for their impressive passion for delicious food. It's like a cult there, which has long been a part of the lifestyle. You will hardly meet a girl who is not good at cooking. Mealtimes have a special place in the life of every Spanish family since it's time when all family members gather together, discuss fresh news, share experiences and emotions. It helps maintain a strong bond between relatives. If you are involved in dating a Spanish woman, you will become familiar with the art of eating, which can be called a popular social activity. So, you should be ready to eat a lot if you are going to be engaged in dating a Spanish girl because you shouldn't refuse the offered meal.
She Speaks a Melodic Language
A rare person will argue the fact that the Spanish language sounds extremely pleasant and resembles a delicious dessert, which everyone wants to try even if they keep a diet. So, when you date a Spanish girl, you can enjoy the sweet sound of her native language every time you ask her to speak it. It will be great, of course, if both of you speak Spanish, but it's not that obligatory since many Spanish girls speak English and communicate fluently. So, if you really like that your girlfriend speaks such a melodic language, and you want to listen to it much often, don't hesitate to tell her about your desires.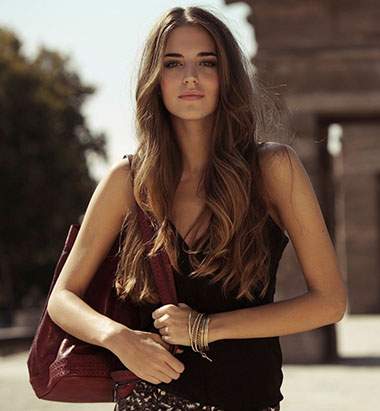 She will surely be happy to talk to you in it. Spaniards are extremely open-minded, and they adore their language, so just try your luck.
What's It Like Dating a Spanish Woman?
Romance is the second nature of a hot Spanish girl, so if you want succeed in a relationship with such a girl, you should be ready to do your best to make every minute of the meeting memorable. A woman should certainly feel like the center of attention and a very unique person in your life. Gallantry and good manners will help you win some extra points.
She'd Give Her All for Her Family
As it has already been mentioned, a family is of paramount importance for a Spanish girl, and family ties are very strong here. In Spanish families, people are used to treating seniors with respect, and Spaniards live in large families under the same roof very often. So, if you think about dating Spanish women, you should be prepared for the fact that you can be offered to live with the girl's family that she loves so much. The most common tradition in Spanish families is to gather with the whole family to celebrate any holiday or important date, so we highly doubt you'd celebrate her birthday in a small circle of friends. And the presence of all the relatives or at least the maximum number of them is important for the families, so birthdays can be celebrated in a month or two after the very date because the main thing is to get together. So, Spanish girls give them all for their families, and you should accept this fact. Traditionally, families in Spain have many children, but now there are families with one or two children. Therefore, if you are in a relationship with a charming Spanish woman and are going to marry her, then you will get a trustworthy friend and a loyal partner who will always support you. In addition, she will surely become a caring mum who loves her kids to the moon and back.
She's Overly Expressive
On the one hand, Spanish women are quite thin-skinned and tender-hearted, but as soon as they get upset or annoyed by something, there are high chances to face the other side of their personality. Considering their passionate nature, it's not surprising that they fall in love extremely quickly, and give themselves to this feeling, but you should be ready for the outbursts of jealousy. Being extremely upset, they can make a scene and become drama queens, expressing their feelings and emotions with the help of dynamic gestures. However, don't be afraid as these episodes will only have a temporary effect.
She's Always Late
If you are interested in Spanish dating culture, then you have already found out that a rare Spanish girl comes on time. They are always a bit late, and it doesn't matter whether it is about a date or some other appointments. You might have heard about that Spanish attitude, which is characterized by excessive laid-backness, so they just don't keep an eye on the time. They don't do that on purpose, they are used to such order of things. If you don't have enough patience to wait for a girl who is late for a date, then relationships with Spanish girls might be not for you.
She'll Take You to the Beach
Like all beautiful girls, Spanish women like to spend their free time on the beach, and it will be the first thing she thinks about when planning her holiday or vacation. So, if you are going to date one of these hot Spanish ladies, make sure you like sunbathing, swimming and, in general, spending time on the beach. Otherwise, the difference in views on leisure can become a stumbling block on the way to your healthy and happy relationships. However, if you like such pastime and don't mind being taken to the beach, then you can become a perfect couple.
Best cities to meet Spanish Girls for dating
Barcelona
The capital of Catalonia, the pearl of the Balearic Sea, the center of party life, and incredible architecture. This is all about Barcelona – the second biggest city in Spain and the first in our list to search and date Spanish girls. Because of the multiculturalism of the city, women in Barcelona are very different, but they are all united by a strong temper, great beauty, and openness. Try to meet a cute Spanish girl on a local beach, or test your luck in the evening in a tapas bar.
Madrid
There is a great chance to meet your beauty in this huge 3 million populated city if you want to date Spanish girls. Opposite to the previous city, Madrid is more for people who are looking for sophisticated cultural vacation and to look for beautiful women here, it's better to look around beautiful squares and parks during a siesta. Of course, don't forget about clubs, cafes, bars, and cultural events. In the capital of Spain is very hard not to find a decent girl for dating if you try.
Seville
If you want to meet a Spanish woman for dating and relationships without any fuss of oppressive megapolis, Seville is a perfect city to visit. Even if you don't have a luck to meet a woman of dreams there (in which we have doubts), this great place will inspire you to more adventures in this terrific country. But still, we recommend looking for your destiny near one of the hundreds of picturesque fountains in the city.
Bilbao
Basque Country is one of the most peculiar regions not only in Spain but in the whole Europe. Quiet and very exotic city, Bilbao will definitely give you a chance to meet a very cute, delicate, and moderately traditional girl.
Some Tips to Help You Date Spanish Women
Sometimes we all need a friend who will give us useful advice and lend a hand. If you don't know where to start your acquaintance with Spanish girls and what things you should know to succeed, then you should learn the following tips that will point out the most important ingredients of your success.
DO Be Patient
In a loving relationship, loyalty and patience stand in second place, right after love. If all these qualities are together, then the couple can start a happy family. If there is love without loyalty and patience, then only casual relationships will work out.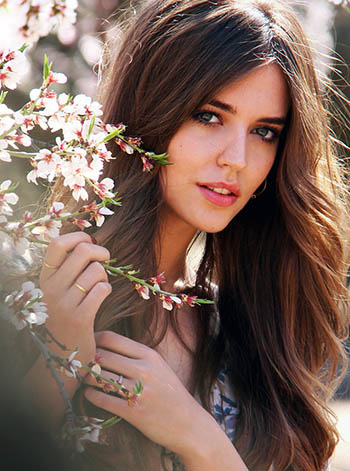 After all, passion and love are great feelings, but they will not be able to make people stand together to the end of life. Considering the fact that Spanish women are quick-tempered, and they can be late on dates on a regular basis, you should be patient to treat such things with calmness and smile.
DON'T Talk About Your Exes
In the new relationship, it is not worth talking about your previous partners since such talks can negatively influence them. Don't forget that Spanish girls are very passionate about everything in their lives, and relationships are not an exception. That's why such talks can provoke unnecessary questions and jealous rage. Most people believe that if you talk about something, then it automatically means that you are extremely worried about these things. That's why talks about ex-partners should become a taboo.
DO Remember She's Always Right
Dating a Spanish girl, a man may face situations when the woman does not want or does not know how to admit mistakes she's made. She may try to prove her opinion by any means, standing their ground to the last. The representatives of the fair sex, while defending their position can blame their men. There are many examples when it is useless to argue with a Spanish woman or logically prove something to her because in any case, she will consider herself right.
DON'T Rush into Physical Closeness
Every relationship should pass through the whole range of stages without which it is impossible to create a foundation for the development of healthy and harmonious relationships. Spanish women, being passionate by their nature, can easily fall in love, but it is not a reason to skip the initial stages of a relationship. Besides, if a man is extremely pushy about having sex, a charming Spanish girl may perceive such behavior as a sign of carelessness and unwillingness to have committed relationships. So, let things take their natural course.
Have You Found Your Señorita?
A rare Spanish girl wants to start a family at a young age. These girls love dancing until the morning comes, and entertainment for them has been in the first place for a long time. In addition, not every man can cope with the rebellious nature of the Spaniard. One the one hand, they seem fine with making new acquaintances, but at the same time, they can maintain a "hard-to-get" image for a long time. Of course, these women adore flirting, which means that a man will have to feel like a conquistador conquering new lands.