Sometimes, the best way to bring a little romance to a relationship is to take a journey to a romantic vacation spot for a week or two. An unusual stylish hotel can cheer you up and make your vacation much more pleasant. Therefore, the choice of the right hotel is as important as the choice of a good holiday destination. If you are looking for ideas for a romantic getaway for two, take a look at these ten best hotels from around the world that guarantee you a dream vacation that will be remembered for a long time.
Ritz Carlton Half Moon Bay, California
The Ritz Carlton Half Moon Bay is a luxurious 5-star hotel located 23 km southwest of San Francisco International Airport. It is one of the most romantic hotels in California. The hotel is located in an amazingly picturesque place – right oceanfront in the Half Moon Bay. A high cliff commands incredible views of the bay and well-kept golf courses. The exquisite beauty of this place wins the heart of each traveler who decides to stay at this hotel.
The hotel has 261 comfortable rooms with simple but stylish furniture and beautiful marble bathrooms. There are 6 magnificent tennis courts and 1,500 square meters of the spa zone. Also, the guests can relax in the heated pool with sun loungers, sauna, and Jacuzzi. In addition, the hotel offers surfing, diving, kayaking, basketball, tennis, golf, horseback riding, or simple walks in the charming surroundings of the hotel.
The Navio Restaurant serves fresh seafood and offers panoramic ocean views. Moreover, they use only healthy, organic products grown by local farmers. Also, there is Cork Wine Bar which interior is decorated with over 5,000 bottles of wine. So, you have an opportunity to taste the best wine in an unusual cozy atmosphere.
Marina Bay Sands, Singapore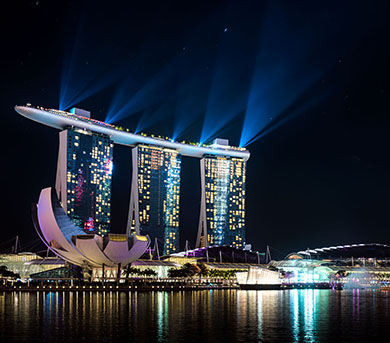 Do you consider the most romantic hotel getaways in Singapore? Then Marina Bay Sands is the perfect option for you. This hotel is called the eighth wonder of the world because of its fantastic architecture. It resembles a huge ship crowning a complex of three skyscrapers. Moreover, there is the world's largest sightseeing platform located at an altitude of 200 m. So, it offers breathtaking views of the city, the ocean, and lush futuristic gardens.
On the territory of the Marina Bay Sands hotel, there is one of the largest casinos in the world, exhibition halls, theaters, different shopping centers, several restaurants with world-famous chefs, and an unusual museum reminiscent of a lotus flower in its architectural design.
The distinctive feature of the hotel is the famous rooftop swimming pool, built in such a way as if it goes beyond the horizon, creating a sense of infinity. Another amazing thing is the water channel inside the building where you can swim on a gondola.
Marriott Marquis, San Francisco
The magnificent Marriott Marquis Hotel is the epitome of modern luxury and convenience in the very heart of San Francisco. The hotel is located near the Moscone Convention Center, Yerba Buena Gardens, famous museums, cultural attractions, shops on Union Square, and AT&T Park. Thus, there are a lot of things to do with a loved one in this San Francisco romantic hotel. For example, you can enjoy superb views and your favorite drinks in The View Lounge of the hotel and taste modern cuisine in the Mission Grille restaurant.
The Marriott Marquis has 1,500 rooms, 5 restaurants, a bar, an indoor pool, a Jacuzzi, a gym, a spa, a business center, conference rooms, banquet facilities, an ATM, currency exchange, babysitting services, concierge services, dry cleaning, car rental, and various shops. The services of this hotel, as well as luxuriously equipped rooms, will make your romantic vacation unforgettable. Thus, it is one of the most comfortable and romantic hotels in California.
Conrad Maldives Rangali, Maldives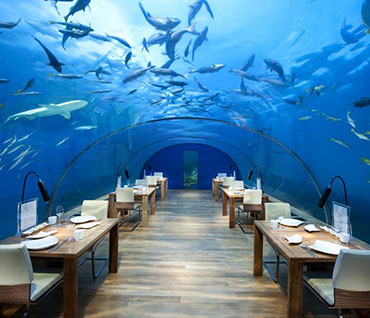 If you have always dreamed of being in a tropical paradise somewhere far in the middle of the ocean, then you should visit the Conrad Maldives Rangali hotel. These are 150 luxury villas located on two secluded private islands connected by a footbridge. This is an ideal place to explore the underwater world of the Maldives: at the bottom of the lagoon, there is an incredibly beautiful coral reef inhabited by white sharks, manta rays, dolphins, and turtles. The hotel offers cruises on a luxury pleasure yacht, picnics on the uninhabited islands, night fishing, and scuba diving with mantas.
A killer feature of the Conrad Maldives Rangali hotel is the world's first underwater restaurant Ithaa Undersea. There you can enjoy delicious dishes and, at the same time, observe the inhabitants of coral reefs. Also, the hotel is proud of the world's only spa on the water. The floor is completely transparent, so you can overwatch colorful tropical fish there.
The Ritz-Carlton, Chicago
Famous architectural landmarks, an abundance of restaurants, ingenious landscape design, and a wide range of museums are just a small part of what attracts travelers to the Windy City. The Ritz-Carlton Hotel stands out from other Chicago hotels with its luxury and convenience. In addition, this is the most romantic hotel in Chicago.
The Ritz-Carlton is located from the 15th to the 30th floors of the famous 74-story Chicago skyscraper called Water Tower Place. This luxurious hotel of the prestigious brand offers high-quality services – from elegant rooms with panoramic views of Lake Michigan and Chicago's cityscapes to a gastronomic restaurant, spa, and fitness centers.
The hotel's Spa center has five treatment rooms offering a variety of massages and treatments using natural ESPA cosmetics. There is a 24-hour fitness center with an indoor pool, newest fitness equipment, and stunning panoramic views of Lake Michigan. In addition, you can do yoga on the roof of the Water Tower. Moreover, the hotel offers entertainment for children, educational games, and films. All these facilities make the Ritz-Carlton one of the most romantic hotels in the US.
Emirates Palace, UAE
Do you want to get into a real oriental fairy tale? Then you definitely need to spend at least one night at the Emirates Palace luxury hotel: there are an impressive luxury, unusual Arabian architecture, and a picturesque bay.
On the territory of the Emirates Palace, there are more than 10 restaurants and bars and a private 1.3 km long beach. The hotel offers camel rides, yoga classes, and other sports activities. However, the real decoration of this hotel is two chic swimming pools with controlled water temperature. One has amazing water slides, an area for entertainment, and a "lazy river". The second pool is created for a calmer and more relaxing repose – it is equipped with a huge whirlpool in the shade of a charming gazebo. Also, there is a bar with cooling drinks.
Emirates Palace's business card is coffee with golden shavings. However, this precious drink will not deal a major blow to your budget: for just 50 dollars, you will get a cappuccino with chocolate pattern in the shape of Emirates Palace sprinkled with edible gold powder.
Le Burgundy, Paris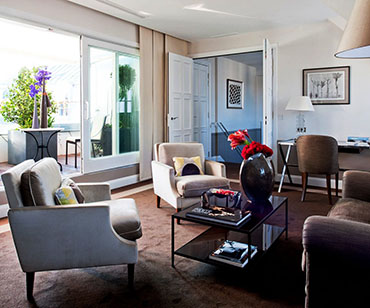 Le Burgundy is one of the best hotels in the center of Paris located near the Champs Elysees. Don't be afraid of possible fuss and constant noise. Despite the fact that this is the very center of the city, there is always a cozy silence and pacifying tranquility in the hotel. It makes Le Burgundy one of the most romantic hotels in Paris.
In addition to elegant and luxurious rooms and suites of this romantic Paris hotel, one can also find here a spa center (with a full range of services), a fitness center, a swimming pool, and a stunning interior garden where you can taste delicious pastries.
The hotel itself is well-placed 50 meters from Saint-Honore Street which is famous for chic boutiques, antique shops, and art galleries. Thus, the true connoisseurs of beauty can visit the Tuileries Garden and the Palais Garnier which are located very close to the hotel. In addition, you can take your favorite pet with you on your journey, as domestic animals are allowed at the hotel.
Eden Rock, Caribbean Islands
Eden Rock hotel is not like the other typical luxury hotel facilities in the Caribbean. Eden Rock pays particular attention to details, striving to create a unique cozy atmosphere for its guests. It offers the highest service and meets the needs of the most demanding tourists from around the world. Moreover, it is one of the most romantic Caribbean hotels.
This luxury hotel is located on the northeast coast of the island of Saint Barthelemy, on a small peninsula surrounded by the azure waters of the ocean. Cliffs, the snow-white beach, and sky-blue waters around – the amazing and unique hotel has become history and one of the symbols of Saint Barthelemy. Eden Rock combines three distinctive elements – pictorial art, music, and excellent cuisine. The main building of the hotel, cottages, and light-colored villas with pink tiled roofs and spacious wooden terraces are built in a classic seaside style. The interior of the hotel combines modern style and traditional Caribbean decoration.
The solitude, comfort, spaciousness, and unusually beautiful nature of the island make a romantic vacation in this hotel truly paradisiacal. In addition to traditional swimming pools, spa and fitness centers, a beauty salon, restaurant, and tennis court, Eden Rock has a library with a reading room, a professional recording studio, and an art gallery.
La Sultana Morocco, Marrakech
La Sultana hotel is located in one of the four royal cities of Morocco – Marrakesh. Just imagine: gardens and palm groves, the shadow of mosques and the noisy polyphony of markets, the coolness of fountains and the crowding of squares – maybe you will be lucky enough to find a magic lamp with a genie here? Undoubtedly, the La Sultana hotel will enhance your impression of a fairy tale. After all, this is a real Arabian palace from the "One Thousand and One Nights" stories.
La Sultana hotel is located in the heart of the city, next to the royal palaces and the famous Jemaa el Fna square. This hotel offers an exquisite combination of traditional oriental luxury with the latest technology. Soundproofed rooms with efficient air conditioning, satellite TV, DVD, and Internet are equipped with fireplaces, marble bathrooms, luxurious beds, and antique furniture. Moreover, the hotel is decorated with magnificent paintings and sculptures. A spa center offers hammam, balneotherapy, and outdoor massages. In addition, there are top-class restaurants where you can arrange a candlelight dinner with your loved one.
Titchwell Manor Hotel, United Kingdom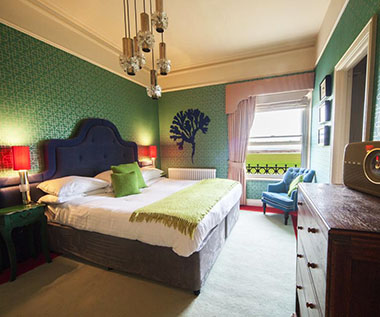 Romance hangs thick in the air at the Titchwell Manor Hotel. You can book a sea-side room or locate in a wooden house that overlooks a wonderful garden. In the rooms, you will find a warm bathroom, soft slippers, and a remote-controlled stove that can help you to make fragrant coffee or tea. Handcrafted sweets, chilled champagne, and tasty breakfast in the room create an unforgettable romantic atmosphere. And, of course, there are beautiful fresh flowers that will definitely please your beloved girl! Consequently, you can come up with a lot of romantic things to do in a hotel room.
The nearby sandy beaches are so wide and imposing that during a walk with a loved one, you can feel as if it is your personal beach. Also, you can listen to the songs of birds living in the neighboring reserve.
In addition, you can arrange a romantic candlelight dinner in one of two restaurants in the hotel. Experienced chefs always create a special menu of dishes that can fill you with tender feelings and love.
So, now you know that the choice of a good romantic hotel is very important for a successful getaway with your loved one. All you should do is to choose one of the 10 best hotels in the world. Discuss with your beloved what you would like to do on the vacation: enjoy the boundless ocean from the world's largest sightseeing platform, arrange a picnic on a desert island, drink coffee with golden shavings, dine in the breathtaking underwater restaurant, or just hang out at the magnificent beach. Have a good rest!