Dates are extremely valuable for maintaining long lasting relationships. They are like the small pauses from a daily grind that allow you to look at each other from a different, fresh angle and fall in love again with a renewed vigor.  And, of course, first dates are the most important ones as they can determine the further development of your relationship. There is nothing wrong with going to the good old cinema or to a café, but wouldn't it be better to spice up your dating routine a little bit? By the way, for most people, dates are associated with big expenses and unrealistic fairy-tale like surprises. But it doesn't need to be this way and this article will show you how to come up with creative ideas for a date even on a budget.
Creative date ideas
Prepare each other's favorite dishes. Who doesn't love to eat? Especially when you know your lover's specific food preferences and want to prepare a meal on your own, sure he/she will appreciate it.
Devote a night to watching nostalgic movies. Watch your favorite movies that you liked at school or when you first met. This will arise all the memories and remind you of the moments you have spent together.
Watch a street performance show. Get lost in an unknown city and observe occasional performances. They can be peculiar and arouse mixed fillings, so the following discussion is always a good way to get to know each other more.
Prepare delicious food and go on a picnic. Similar to the point mentioned above, a surprise that includes food is always a good idea! And if the sun is shining and you are lying on the blanket in the middle of the remote glade, what a better place for a romantic time spending could you ever imagine?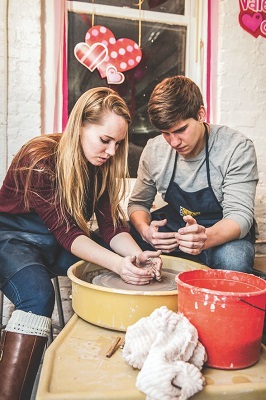 Go to the farm fair, drink freshly made juice and try delicious snacks. Ideal place for shopping for organic food and breathing in that rustic kind of atmosphere of the countryside romance. Surely one of the fairs like this takes place in your town from time to time.
Visit museums you have never been to (preferably on those days when the admission is free, for example during the "Night in the Museum" international action). Absorbing new information and art tendencies can be extremely interesting. As well as comparing your point of view with your partner's.
Go to the evening of free karaoke and open your hearts to the song. If you cannot sing, this will be only funnier. The most important thing to remember: do not be afraid, sing as if no one hears you and there is no one in the karaoke apart from you and your lover.
Visit an anti-cafe with board games. In large cities, shops selling board games, theme clubs and libraries arrange weekly events where you can come and play for free as well. In the long run, Twister and Jenga are really fun.
Arrange an evening of quizzes and sparkle erudition. This is a great way to spend time together if you want activity and communication. You can also invite friends and get to know the closest people of your partner and the way they are interacting, being involved in such an activity requiring quick thinking and creativity.
Make your own tour around the city or join the excursion as if you were tourists. This can be applied especially to joining the love story-connected and romantic places based tours. Fall in love with your city and learn some new romantic legends about it.
Select a documentary and discuss it after viewing. Not only comedies and drama films can be exciting. If you are keen on science or have a particular subject you both love talking about, a cozy date spent at home watching BBC or Animal Planet documentaries sounds quite right.
Visit orphanage, a shelter for the homeless, or some other non-profit organization that needs your help. Giving away some basic things to the inmates of such institutions and sharing positive emotions always brings people closer together. And if your partner is a volunteer or has always wanted to start doing this kind of activity, surely this will melt his heart.
Swim in the sea naked. Or just lie on the beach gazing at the stars. When no one is watching, not only bodies but souls can get naked too.
Look at the stars and try to name the constellations you see. Take a star-map with you or use a special app. The most suitable occasion for having a night date would be during the lunar eclipse. It is believed to have a magical influence on people and as it happens not so often, this would be a date to remember.
Grab your favorite books and go read to the park or a quiet café. Sounds weird, but this is every introverted couple's dream date.
Watch the sunset or sunrise. Look out for the tallest building in your city and sneak into its roof a few minutes before the sunset. All that is left to do is turn on your special song and kiss. In case your beloved is an adrenaline junkie, he/she will love that.
Buy fresh fruit and vegetables and surprise your loved one with a small fruit picnic in the park. If the weather is not sunny – no problem! A thermos with hot coffee or mulled wine and a warm blanket will only add up to the romance!
Visit a zoo. Preferably a petting zoo, where you can interact with the animals. Girls adore animals and taking photos with them. Seems to be too expensive? Go to the nearest animal farm and play with pets.
Perfect cinema at home. Choose a romantic family movie, make sweet popcorn (you can even do it in the microwave!), prepare juice, tea or home lemonade, wrap yourselves in the blanket and enjoy the evening together. By the way, no one knows how romantic can watching a film end up being.
Flying a hot air balloon. The classic romantic idea majority of the girls have at least once dreamed of. So, if you are ready to spend a little more, be ready for the balloon flying season which starts in March and finishes in the middle of October.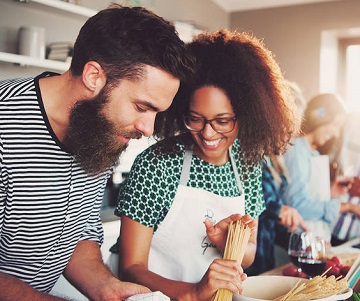 Find an inexpensive outdoor concert, grab folding chairs or blankets, lie down on the lawn, and enjoy the date in the summer night. And if there is no concert, the night in the park under a warm blanket and the starry sky above your head is a no worse alternative.
Spend a day in the countryside or plant a cute flowerbed near your accommodation. Buy seeds and think of how to plant them properly. The process of growing something together and giving your heart and soul to the future mini-crops can bring you closer.
Plan a vacation together. This can be a small trip, the goal of which is to see as many sights as possible within the limited time and take hundreds of photos at the places everyone would want to visit.
Buy a guidebook about the country you are dreaming to visit. Remember to read it and get inspiration for future journeys. It is very important that this is a country you are both obsessed with and you can always surprise each other with small presents connected with this particular place.
Go to the library and read something together. It does not necessarily mean you will concentrate on reading some serious scientific work. You can find your favorite childhood book and share with each other emotions that arise, as well as recall some cute stories from your childhood.
Enroll in a free meditation session. Or take a yoga lesson. This is especially great for couples that currently are going through the hard times. Arranging your thoughts and cleaning up unnecessary bits of your life will lift your spirits up. So, surprise your beloved with a yoga lesson, maybe it will become your new shared hobby one day.
Ride bikes around the city or suburbs. Most certainly, your city has a bike rental, and even if it doesn't have one, this is not an excuse. Discover places you have never been to and have a lovely picnic afterwards. Also, don't forget that a day of riding a bike is a great work out too.
Limit yourselves to a specific sum of money and buy each other presents. You can dedicate a day to this special shopping, choose one big shopping mall to buy everything at and split up. It would be interesting to see who managed to spend their money more reasonably and come up with a better idea.
Build a cozy blanket tent inside your room and fall asleep in there. We have all done it when we were children, why don't you revive these pure memories? Build yourself a small retreat from the outer world and enjoy the company of each other. This one just beats all other creative date ideas.
Ride a skateboard. This is especially romantic if one of the couple or both of you do not know how to skateboard. If your beloved has always dreamt of getting a skate, you can present one to her/him. This will not only give you an opportunity to learn something new but also a day in the fresh air and funny activity as such.
Go for a free tour to the factory. This can be practically anything because factories today are more open for customers and arrange free excursions to their manufacturing. So, you can choose any sphere you like or products you would like to know the making process of.
Play bowling. Try to beat each other's score, but do not let the competitive spirit get you into a quarrel. This can be a great idea for those who love sport and are sick and tired of going to the same cafes and cinemas and can be applied to any sport practically.
Have a parachute jump. A crazy experience that many people dream of but would never dare to arrange themselves. This is an unbelievably cool present if you know your partner would like to try it, and performing it together would surely be your brightest memory together.
Cook a dessert for each other. Especially the one with a lot of whipped cream that you can later use to have some kind of a romantic game.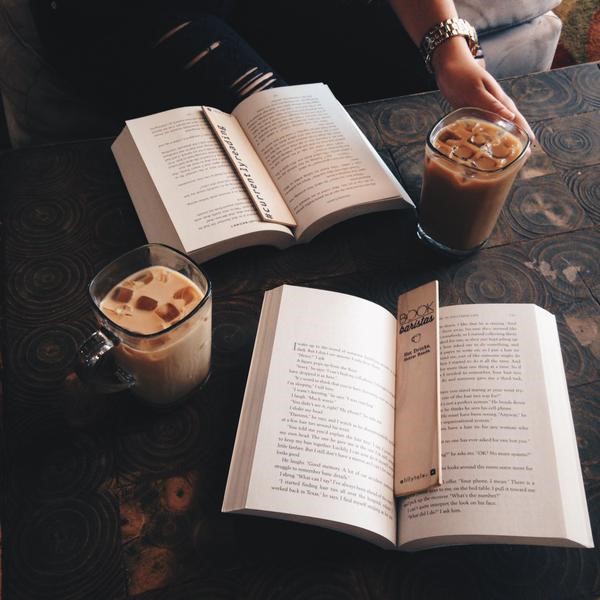 Play games you used to play in your childhood. Seek and hide, twister or just a regular singing of cute songs from your early years. Imagine yourselves not being adults for one day and free your inner child.
Visit a rock concert even if you do not listen to such kind of music. The atmosphere there is absolutely amazing and conducive to freeing you hidden energy. Sing as loud as you can and dance as if no one is watching! A perfect surprise for those who adore music.
Prepare a quest for your loved one consisting of the places which you have special memories related to. Recall your cutest moments together, the place where you first met, your favorite park or the first cinema you have been to together.
Write your lover a song or a poem in case you cannot sing. You can perform it on a musical instrument, learn how to play a few simple guitar or piano chords or just find some ready melodies on the Internet.
Barbecue date: make hot dogs, soft drinks (fruit and juice punch, ice tea or mint cold tea) and enjoy a warm afternoon, sunbathe and laugh together.
Buy your lover a star! Registration of the orb named after somebody is a common thing and actually not wildly expensive. But this will surely be the most creative present your partner could ever receive.
Funny date ideas
Arrange a dinner with fondue, experiment with the ingredients. One of the easiest funny date ideas for those who love to eat. Experiment with toppings and flavors and, maybe, you will come up with something extremely delicious.
Go fishing. Many men are interested in fishing, so if you show respect to his hobby and genuinely volunteer to take part in it, maybe you will find it interesting. Cooking the caught fish on the open fire near the lake afterwards is an exciting experience.
Add new details to your room decor. Prepare your room for Halloween or Christmas. Hang out the garlands and buy some new pillowcases. Everything that makes you happy counts! And this can take up a whole day – a great activity to be done together.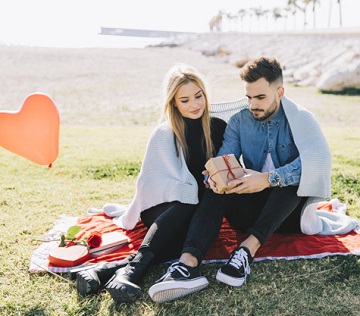 Devote an evening to the spa-procedures. Make some face masks, drink green tea and, as a final touch, have a relaxing bath with bath bombs and shower gels. Because men need a small glamorous rest from time to time too.
Go to the jazz bar. Drink mulled wine, enjoy the chilling atmosphere and relax. Soft light and calm music will only add to the general romantics. And you may discover a cool local jazz band you have never heard of before.
Organize a home coffee shop. Try new coffee recipes and bake something sweet to serve with drinks. Come up with new coffee tastes and surprise your lover, or you can even make your own signature beverage and give it a name. And the next time you argue, one of you can make this coffee and apologize to the other in such a cute way.
Go shopping having very little money and look for sales and discounts. This can be funny to find out who is better at budget-planning. You can also set a small task for such a shopping, for instance, to buy products for a meal for two consisting of five ingredients under $2.
Go to the flea market and try to find things that you can then restore or decorate. Nail a new leg to the chair, clean a vintage mirror so it shines or repaint a huge bookcase – the whole process of bringing new life to the old stuff is an exciting way to spend a cozy winter evening.
Light a fire in the fireplace. Drink hot cocoa and read your favorite books. If you do not have a fireplace, head for the nearest forest, find a remote lawn, and make a fire.
Go to the club and dance your legs off. Even if you do not know each other well, suggest your partner go to a night club. You will find out how easy-going he/she is. As well as it is a great opportunity to spend a cool night out with his/her friends on a neutral territory.
Hiking in the mountains or on the nearest hills. Providing the weather is good, set out for a few-day trip to the mountain. That kind of holidays will show all the strong and weak sides of your partner's character and coping with some unforeseen circumstances together is a real trial by fire.
Draw together. Grab pieces of paper, crayons or gouache and set a specific theme, for instance, ask your beloved to draw your future family or let him only use his non-dominant hand. This can be an extremely fun experience, especially to see how someone's individuality opens through creativity.
Have a tea party. You can do it at home or visit a special tea ceremony. Luckily, today there are many tea schools and yoga courses that provide such service.
Come up with design mugs for each other. Or T-shirts. Or make up a special handshake you will do every time you meet and attract the fascinated gazes of the passers-by. Practically you can come up with your own special symbolics or signs and make some décor or clothing items with it.
Take up learning something new together. Know that your lover wants to start attending language, cooking, or programming courses? Join him/her in their new experience and present them with a certificate to the courses they are interested in.
Show each other photos from your childhood. Tell the story behind every picture and get to know your partner's life more.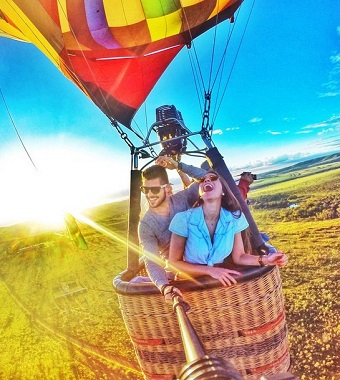 Visit the culinary master class and cook together an unusual interesting dish together – Mexican burrito or Japanese sushi. It doesn't matter whether you can cook or have never cooked anything different from a boiled egg – this will be a useful experience anyway.
Take any bus or train and get off in an unfamiliar place. Discover some new places and try not to get lost. Pretend to be strangers in a different city, explore local restaurants and bars, go to the shops you have never been to and enjoy the company of each other.
Take a ride on the ferry or hire a boat to float around the river or lake. If there aren't any water objects in your area, make a spontaneous trip to the place where you can do this.
Make a water pistols fight. A great idea for the summer midday heat. And who loses buys an ice cream for the winner!
Teach your lover to do something she/he has never tried before – shoot a bow, go roller-skating, play the guitar, or even bake an apple pie. Just be patient and prepare yourself that not everyone can be as good at something as you are.
Hold a night series "marathon". Watch your favorite series or TV show together all night and fall asleep in a gentle hug.
Do gardening. You can plant a tree in the park or flowers in the flowerbed near the house. And if this idea appeals to you, then you can paint the benches near your house in a new color or make any other small things that will improve the general look of your house.
Take a walk with the dog. Make your way through the park or visit an open area, like a field or a forest, when you can set your animal free and have a nice talk while looking at the dog running around. Visiting a dog park will bring you some new acquaintanceships.
Visit the exhibition of animals. Make your lover a surprise if you know they are keen on animals. Dog show, cat exhibition or a butterfly conservatory – it is always great to observe graceful animals closely, and your partner will appreciate your attention to details.
Create an album with your best-shared memories. Present it to your sweetheart in a romantic atmosphere, look through the pages full of your most memorable moments, and make even more plans for the future.
Take photos of each other. Which you can also print afterwards and put into your album. Or just take a few shots for your social networks, because no one knows your best angles and poses better that your partner.
Visit a free lecture. Choose the subject you are both interested in and enjoy! Who said that dates should always be intimate and romantic? Spending time together can be educating and extremely useful.
Go to the meet N greet of your favorite author. Your partner loves reading? Then find a special edition of his/her favorite book. Or bring them to a meeting with the author they are fond of.
Fly a sky lantern during your evening walk. See it fly far away into the starry sky and transform into a small dot against the darkness of the night.
Go to a dance lesson. If you do not want to pay, then before the new group is set up, each dance school usually holds free open lessons. You can try bachata, which is an extremely sensual and passionate dance.
Visit a party in the 80's or 90's style and choose the appropriate costume. Think through your outfit, details and the general image. You can dress up as a famous couple from that time and have fun.
Decorate pottery objects. Visit a pottery class and make a cute pot or bowl together. Each time you use it, it will remind you about your experience.
Attend a theatrical play together. There are many places where you can watch performances on a budget. This relates to the amateur and beginner theatres.
Play video games. There is nothing a man would appreciate more than your genuine interest in his hobbies, so try playing some video games with him. This would be a great idea for you to suggest staying at home and diving into the world of GTA or Mortal Kombat. And you may love this too.
Go to the airport and look at airplanes taking off. You can plan your future journey, talk about anything you want and just let the whole world wait.
Stroll about the IKEA store. The puzzled mazes of IKEA can get you into a few-hour-long journey around the store. But spending time together, doing some silly things or running away from a security after you broke something – what can be better?
Make a snowman, make a snow angel, sledge, and throw snowballs. All of these free and so fun activities available during winter are an absolute must for every couple that lacks amusing memories.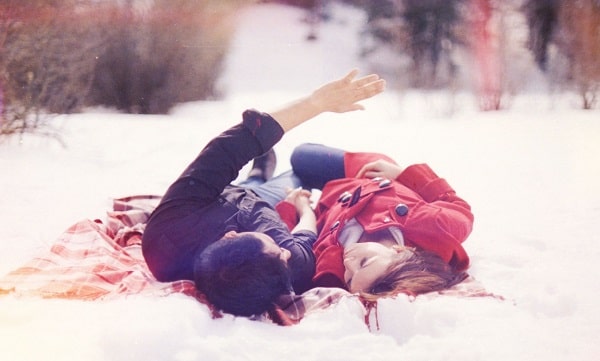 Play "Truth or Dare" with each other. This one is great for the couples that haven't been together for long. Get to know each other more and free your craziest inner wishes you would like the other person to do.
Write a letter to each other. Practically the most romantic thing to do in a modern world of digital technologies. Convey all of your warmest thoughts and make a declaration of love written with your own hand.
Things you should keep in mind before a date
Plan in advance
If you are worried about the prolonged silence, think over a few topics for the conversation in advance. Make a list of your best stories and things that you would like to talk about the most. But before anything else, be open and genuine, this way the conversation will be easy and sincere. If you want to reduce stress, it is always good to have a backup plan. This will give you peace of mind and free you from anxiety that the topics for the conversation will end.
Enjoy the moment
You only live once. This is not your last date, so if something goes wrong, you will just have a few more funny stories to tell in the future. Just enjoy the moment. Eat, talk, and kiss as if you are not expecting much from this experience – you won't get disappointed afterwards.
Everyone makes mistakes
Are you worried that you will spill your drink or sauce on the jacket? Things like this are unpleasant but they occur even before the date and will happen after. Because this is life. If your date condemns you for something, then you shouldn't be with him/her. You need to find someone who will love you even after such troublesome moments.
Choose the outfit that flatters
You have enough time before the date to prepare. When you are in a hurry looking for clothes, it brings you even more stress. Appearance is not the most important thing, but it will help you feel comfortable. Wear the outfit which will make you feel attractive. It is surprising how significantly the stunning outfit can boost your self-confidence.
Listen to the music
Music can invigorate anyone. Turn on your favorite song on your way to the date. Dance, sing, and just have a good time. Listen to merry and energetic music that will leave you excited throughout the date. Stay away from depressing lyrical melodies, they only worsen the situation. By the way, music is a great topic to talk about on a date.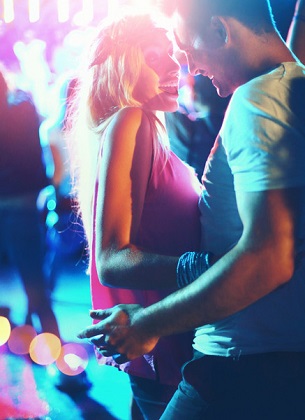 Practice relaxation methods
Before the date, you are tempting to think about all possible events of your future night and what can go wrong. Will you kiss? Will you go out on a second date? Right now it doesn't matter, so try to focus your attention on something else. It's no time to leave the house, open the book or check your phone as if nothing is going to happen soon. Switch your attention to the things that will dispel anxiety.
Things you should remember during a date
In no way can you criticize the partner, her/his appearance, a manner of speaking. It does not matter what date it is – the first or the tenth, it is doomed to become the last. No one likes being pointed out at their imperfections. This can hurt the person and by the way, the things you don't like about someone can be the main details they will be loved for by their future partner. So, do not put your opinion higher than anyone else's.
You should not raise complicated, technical topics, talk about computers, cars, etc., unless your partner perfectly understands the subject of conversation. This can grow into an interesting talk and the prolonged silence will be the last thing you will worry about. Just let your date speak their mind and do not try to correct them even if they said something wrong.
Avoid an outrageous and slang vocabulary, because the reaction of any normal well-mannered person will be negative. If such a style of communication is dictated by the lifestyle of a person, you should think twice before starting to date such an individual. Of course, no one speaks a perfect literary language in everyday life, but the first date is certainly not the right place to show all of your cussing skills.
Sincerity and genuineness should be the basis of your talk, emotions, and future relations. Do not try to mislead your date and pass yourself off as another person, because the time will show everything. And thus it is not necessary to brag, telling about the rescued cat or about protecting the girl from hooligans.
During the conversation on the first date, it is not advised to touch upon the topics of religion and politics, which everyone has diverse opinions on, which lead to controversial discussions and can provoke quarrels. You should not talk about your illness, lack of money, problems at work or university (well, who needs a poor, sick, unemployed partner with unfinished education).
The most important taboo is the stories related to exes. It is worth saying that if the partner is not devoid of any manners of propriety, then he (she) will not bring up such a topic. Because a person can feel as if being compared to somebody or will do it her(him)self. Instead, you can talk about your plans for the future or what is important for you in the relationship.
Interesting ideas for night date
Night at the theater
No, not the movies. The theater with live actors and actresses. This is our favorite dating idea. A theater is not always considered a great place for a first date, as it is thought to be old-fashioned and not creative. But people who think so just do not realize what amazing emotions it can give you. Definitely better than any movie! If your companion is a creative person, she(he) will appreciate the idea of staying for a night performance or festival inside the theater.
Make dinner
They say that the path to a man's heart lies through his stomach. Why not try this tactic with a girl? Don't cook dinner yourself but do it together. Find something special with a variety of ingredients so that the cooking process is long and you can enjoy the time together. At first, it may seem difficult, but believe me, the more efforts you put into this meal, the prouder you will be when tasting the delicious dish you have made on your own.
Light a fire
You need to find a place where you can light a fire, but if you have a fireplace, it will also work. The fire has special, attractive properties, it cleans and brings together. After dinner or a few snacks, sit and enjoy the flames of crackling firewood. If there is certain embarrassment or tension between you, this is a great way to let go of all of your anxieties and a majestic place for a first date.
Set your inner child free
Find a large playground and play as if you were back to those days from your childhood. Play hide and seek, ride on the swings, run after each other – the options are various. This is one of the best ways to get to know each other, without fear of looking stupid, because at such moments the life is uncovered and we are the real true selves. All that will bother you in that moment will be to hide better not to be caught straight away. And let the whole world wait.
The progression game
One of the best date night ideas is to change places. The idea of the progression game is to change places with each serving. Start with an aperitif in one place, choose a restaurant with a panoramic view of the city for the main course, and find a place with a fireplace for dessert. And the possibilities are endless if you decide to apply such a creative gastronomic tour to your next night date.
Cheap date ideas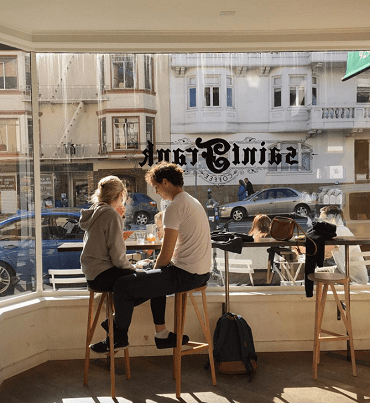 Coffee date
One way or another, but arranging a completely free date is hard. You will buy your lover at least a cup of coffee and then head for the nearest park or cute location where you can sit and talk for hours. Easy as it is! One of the most popular and widely applied cheap date ideas.
Photo session
Even if you do not have a camera or professional technical devices, you can organize a photoshoot with your partner and take a ton of new photos for them. If your beloved is obsessed with social networks and constantly uploads new photos into his/her profile, he/she will absolutely love this kind of activity. So, this is how you can bring your date positive emotions and spend lovely time together by spending zero money.
Volunteer together
You know that the best surprise for a person with a big heart is visiting a charity event or dedicating a day to voluntary work together. Come to a shelter for poor people, animal rescue center, volunteer to play with children in an orphanage, or help in a shelter for women. Helping others shows the person's greatest qualities and powerful character, so choose what interests you both and spend an unusual date devoting your time to those who are in need.
Hot bath
Probably this is the best option for the cold winter period! Enjoy a hot bath, do some masks and drink cocoa or red wine laying in the warm water and talking about everything that comes to mind. Light candles, bring chocolate and add some scented foam to the water. After a few hours in such a romantic atmosphere, you will feel relaxed and will not want to leave the bathroom.
Street festivals and other free events
Run out of ideas of how to spend time together on a budget? Look out for the culture, music or modern art events taking place in your city in the near future and plan to visit them. There must be some free ones among them, so choose the event your loved one would be most excited to visit: a rock concert, free exhibition in the gallery, or even food festival.
As you can see, if you suffer a lack of creative ideas for the date, there are tons of options. The only thing you should always remember is that a creative date does not have any value if it is not your partner's cup of tea. For example, if you take your sweetheart to bungee jumping, and on the tower, you find out that she is afraid of heights, this will be your last date, so always think twice before arranging a surprise for your beloved.