While love triangles generally lead to the ruination of a relationship, a threesome can be quite innocent fun. Still, a threesome is much more complex than sex that involves two people. Sex is not about being selfish, it's about giving and receiving at once. A threesome will double your responsibility, as you must keep in mind not just your and your partner's pleasure but your satisfaction and the pleasure of two other participants at the same time.
So, if you are emotionally ready to try something new, as a threesome may improve your intimacy greatly, you still need to learn how to have a threesome to get the maximum pleasure from this experience. Without further ado, check out our top 10 best threesome sex positions.
1. The Double Cowgirl Position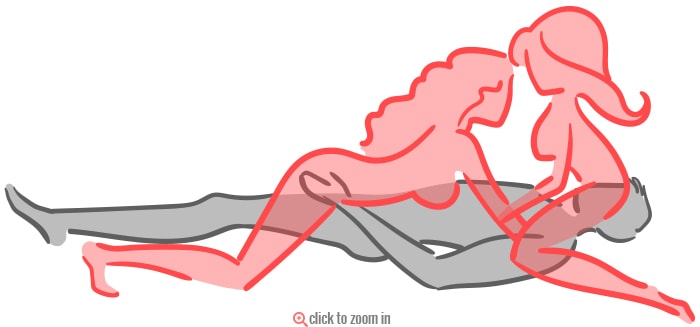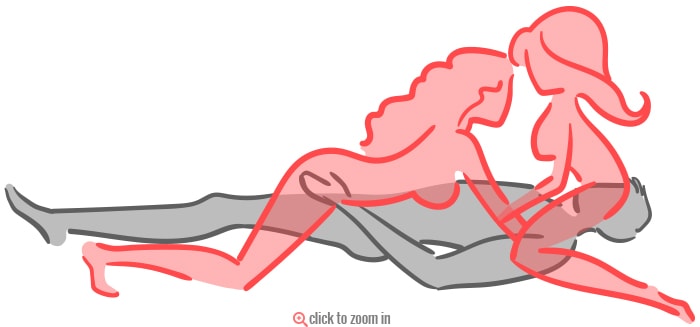 This is the simplest position for a threesome. The guy lies on his back, better with a pillow under his head for more comfort, with one woman taking a position of a cowgirl and another one sitting on his face, and he performs oral sex on her.
The double cowgirl position is a lot of fun since all three participants can play with each other. Women can be kissing and touching each other as they sit face to face. Moreover, they have an option to turn around for a different stimulation angle.
2. The Voyeur Position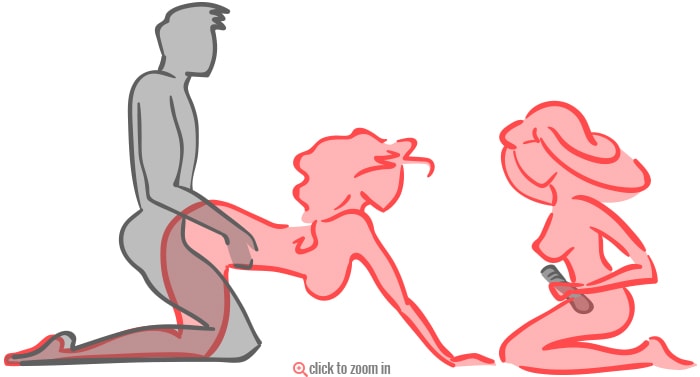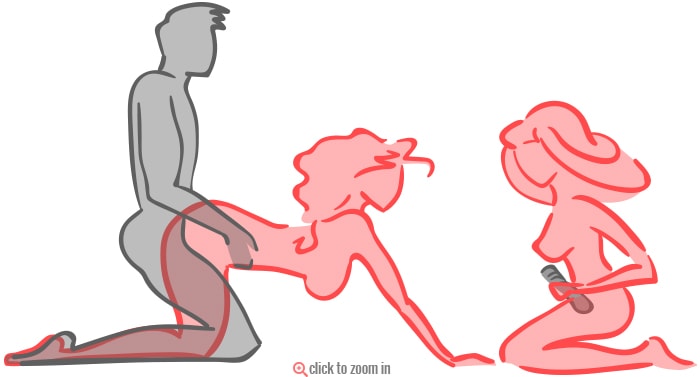 This threesome sex position requires a male participant having sex with one of the female participants in any position while the second female participant watches them while masturbating.
This position is the best for those who are new to threesomes, because one of you may not be that eager to jump on that right away. You can use the voyeur position as a perfect warm up. As you slowly turn on, you can start playing with other participants and join them.
3. Strap On Train Position
While one female participant is being penetrated by the male participant, the other female participant is penetrating the male participant with a strap on. This is one of sex positions for a threesome for those guys who enjoy g-spot stimulation. The simultaneous stimulation of his penis and prostate will bring the guy one of the hottest and the most sensational experiences in his life.
4. The Double Dip Position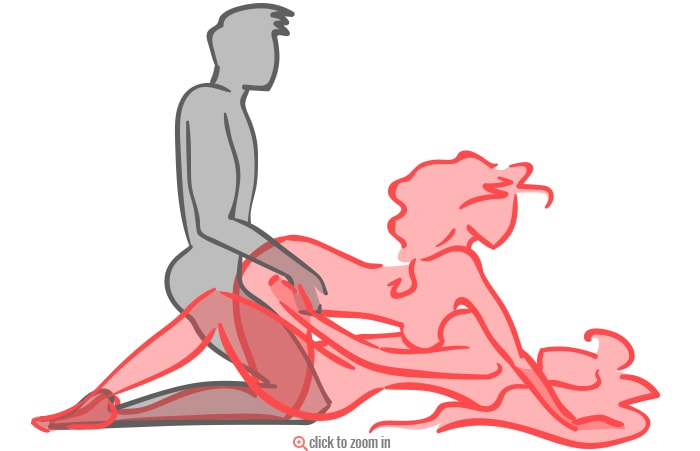 This threesome position requires a female participant lying on the other one in a missionary way. The guy sits between their legs and starts penetrating each of them. This position works best of all for ladies, as it gives them the opportunity to focus on each other. The male participant can join them or watch them for a while to turn on. It mustn't be necessarily an intercourse, as a male participant can finger both of female participants.

5. The Doggy Train Position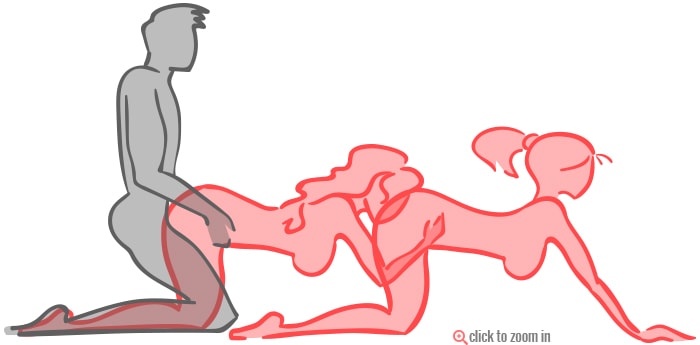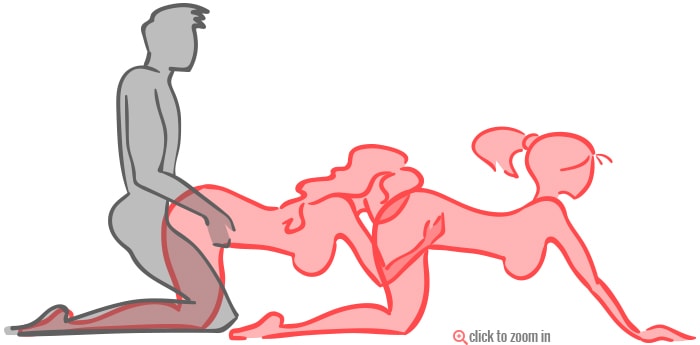 Both female participants get down on their hands and knees in a row. The woman at the back fingers or rims the girl in front of her while the male participant performs doggy-style sex with the former one.
All animalistic sex positions are quite intense. Add threesome to that, and your feelings will get naughtier and more intense.
6. The Tag Team Position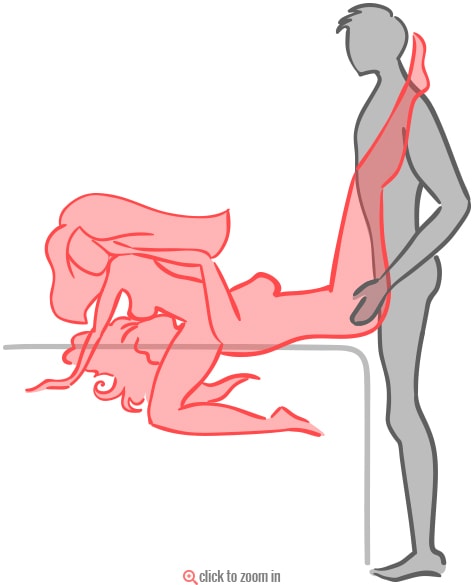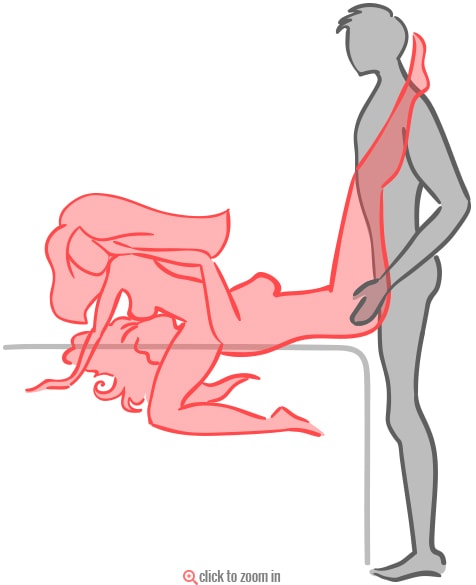 One female participant lays on her back on the bed, couch, table, or wherever you happen to have sex, with her legs hanging over the edge. The guy kneels between her legs and has sex with her while the second female participant sits on the first female participant's face, and the lying female fingers or performs oral sex on her.
This position works the best for girls who enjoy performing oral sex on other girls remaining the center of attention of her male partner.
7. The Spit Roast Position
The most common and the most pleasurable FMM threesome sex position is the spit roast position. All of the three participants experience the pleasure at the same time. The female participant is in the doggy-style position pleasing one of the male participants while the second male participant is penetrating her from behind.
8. The Doggy-Deluxe Position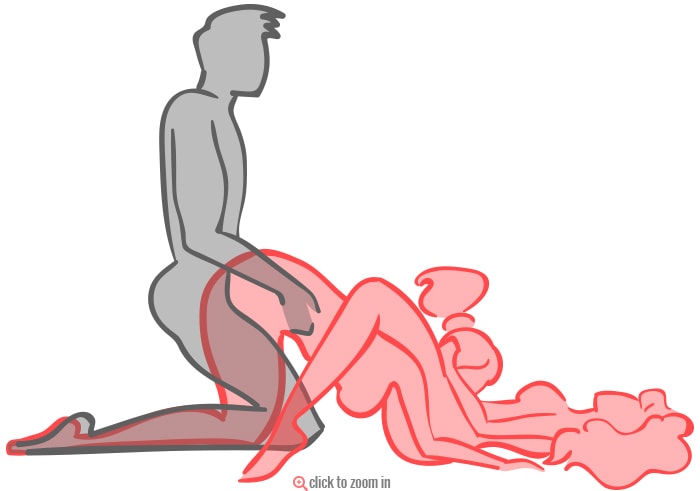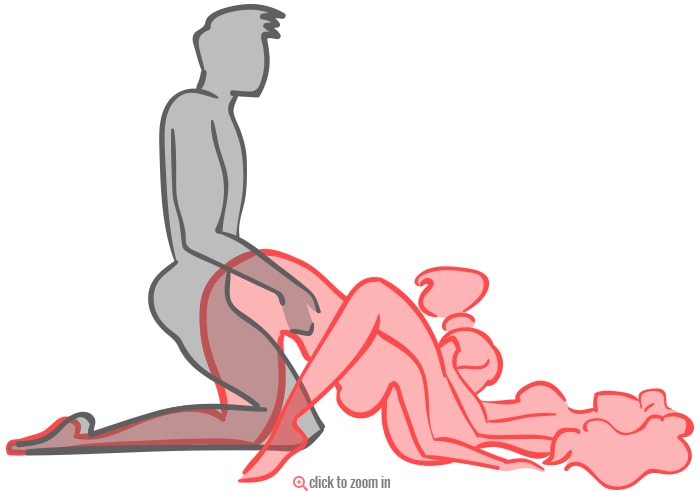 A male and one of the female participants having a doggy-style sex while the second female participant lies on her back in front of the couple. The first female participant, who's being penetrated, performs rimming on the second female participant.
This is another threesome position that will appeal to the fans of oral sex. It provides the great view for the male participants. Moreover, roles of the female participants are interchangeable.
9. 69 + 1 Position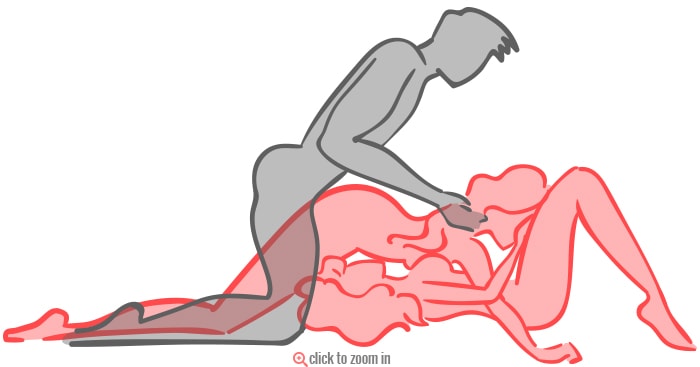 One female participant lies on her back while the second female participant gets on top of her in a standard 69 position, with the male participant penetrating one of them from behind.
First of all, so many bodies crammed into one place make it already hot. Additionally, this position requires certain balancing and juggling that will make the feeling more intense.
10. Double Penetration Position
One of the male participants is lying on his back with a female participant sitting on top of him while the second male participant tops her. One of the male participants penetrates the girl vaginally while the second male participant penetrates her anally. This is one of the hottest threesomes for females.
Should I Have Threesome?
Before having a threesome, you should really ask yourself whether a threesome is really for you. There is definitely a number of reasons, why people having threesomes. For someone watching his or her partner in particular or watching other people having sex in general can work as the greatest aphrodisiac. If it's about you then having a threesome is definitely for you. For others threesome is a way to know somebody else sexually, without cheating.
Moreover, threesome is always about double pleasure as when you having a threesome you may have sexual stimulation from two directions simultaneously. What can be more satisfying than that?
In the same time, you need to think about possible consequences of experience with threesome. You need to be ready for that mentally more than physically. Because in certain cases threesome may easily destroy your relationships.
As much as being thrilled by watching your partner having sex with somebody else, you may be traumatized by the view. Let's be honest, stupid thoughts and paranoia crawl into our heads out of the blue from time to time, but watching your partner having making love to somebody but not you is not out-of-the-blue kind of paranoia. While watching the scene you may start wondering whether your partner is satisfied with you as much as he or she is with the third person whom you or your partner brought in for threesome. If it is your partner who brought the third party in, you may start wondering is there anything going between them when you don't watch.
There is another more severe case, when you feel yourself more attracted to the third party than to your partner. You start comparing your partner to the third participant of your sexual adventures, but you are lost being unable to understand was it just the sexual drive or you don't really love your partner anymore.
That's why the first rule in how to have a threesome is picking the right partner for that experience. First and for the most, threesome should be a sexual experiment, there is no point in bringing romantic feeling to it. When it comes to emotions the luckiest person is the third partner, because he or she is not romantically involved with both of you. He or she gets sexual satisfaction and walks away absolutely happy, leaving you to the mercy of your paranoia. That's why it should be either someone whom you know pretty well and sure that neither of you are going to experience random love syndromes towards him or her, or someone whom you both don't know at all.
By the way, using threesome as a way to prevent your partner from cheating is not an option. That's not how to have a threesome. Threesome and cheating brings absolutely different emotions, thus they are absolutely different experiences, which are not substitutable.
Last, but not the least, threesome must be a desire of all three, so don't force yourself into having a threesome if you are really not into it. It will leave everyone unsatisfied, which kills the main idea of a threesome.