Content:
It's not a secret that FMF threesome sex is the most popular male fantasy. Women can easily notice that double and triple penetrations are a favorite genre of porn films for many guys. Why do men like it? Firstly, they feel like true males who don't have any complexes, who don't meet any rules and who don't feel shame.
Secondly, they can be attracted by the thought of domination if two men and one woman participate in a threesome, then, as a rule, a girl is defenseless and weak in comparison to the men in such a situation. She can neither lead nor direct. This raises men's self-esteem.
Thirdly, all erogenous zones of a woman are stimulated in full, allowing her to get maximum pleasure. Besides, a lot of men like watching lesbian porn movies, so the very idea of participating in this process makes them get excited. Perhaps, it is the basis of the desire to experience threesome sex, which can become an amazing experience if you have arranged it right, considering all the nuances. You should understand the basic principles of this experiment, for example, what should be discussed in advance and how to interact with the third participant of your love game.
About Threesome Sex
What does it mean to have a threesome? When a partner offers you a threesome, do not worry that your relationship is at a deadlock, and it's time to look for a new apartment. This does not mean that you have ceased to satisfy your partner. Often, this may mean that your beloved one trusts you so much that they have decided to share this desire. According to statistics, 80 percent of couples fantasize about having three-way sex, but, alas, only some of them fulfill this fantasy. When you are offered a threesome, be flattered because it means that they trust you and feel comfortable with you. If two people can discuss their desires without embarrassment, then the level of mutual trust of these two people is incredibly high.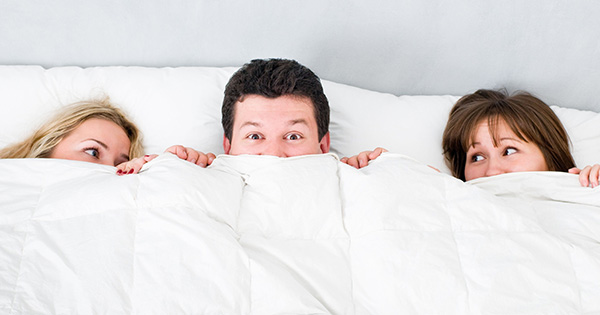 Talk to the girlfriend about a threesome, discuss possible scenarios, for example, whether you will do it at a time or try all the best threesome positions and how you will interact. For a deeper immersion into the process, watch more porn films and develop an action plan. Nonetheless, you should be ready for the fact that everything can be not as smooth as it seems at first glance. Remember that according to statistics, 95 percent of women would like to have sex with a "guest star."
Threesome Sex Tips
It's one thing to fantasize about a threesome, and it's completely another thing to make your fantasy come true. First of all, you should be mentally prepared for the process not to put at risk your relationship. Besides, you cannot do without a certain number of rules, otherwise, it's easy to cross the thin line between fantasy and reality with jealousy and other accusations.
It is important to understand that if your girlfriend seriously feels threatened by the third party, then you should forget about this idea. After this pleasant night, your relationship might change not for the better. One of the most basic and important moments is to decide whether you are going to kiss another girl? It is worth understanding that a kiss for a girl is always a very important and reverent moment, which marks a special connection with a person. Unfortunately, men do not think so, and therefore, they face difficulties. Certain restrictions are a must to prevent global conflict. This also applies to oral sex, petting, and anal sex, so you should discuss in advance what is permitted and what is prohibited.
Besides, girls much more want to enjoy the attention of each other. And if you don't pay attention to girls equally, then the only thing you can hope for is a lazy "handwork." Don't pay all the attention to your girlfriend or the guest star because in the first case, the third party will be offended and in the second case, you will hardly be able to avoid a serious conversation with your permanent partner after the party. In addition, note the following points.
You should understand from the very beginning that a threesome will not help save your relationship if everything hangs by a single thread. Nonetheless, it is still possible to spice up the sexual life of a couple who have already tried everything and got stuck in a man-on-top position. If passions run high inside you, then you can drop a delicate hint on your intention to invite a "third party." However, treat this sex as an experiment and not as a "safety ring."
In addition, this idea should excite all participants. The first rule of any sexual experiment is absolute voluntariness. When it comes to a threesome, ideally, all participants should be excited by this idea and not feel pressured. You should make sure several times that you really want it. A threesome is neither an anniversary gift nor a sacrifice but a way to get new sensations. If one of the partners is involved in this to please another one, then they should better abandon the plan.
Don't Exclude Your Beloved One
This experiment is for those who are confident in their relationships. Conservative people perceive a threesome as infidelity, and they can agree on it only if they are not satisfied with their own partners. In fact, only strong couples should be engaged in something like that, and only if they have a high level of trust. If any of you have problems with jealousy, it is not the best solution to involve other people in sex life. Both partners must understand that a one-time threesome does not give them the right to cheat on the partner. Besides, the fact that a threesome is proposed by a man does not mean that everyone must please him. Do not make your partner feel just like a part of your fantasy. The initiative is welcome, but let it apply to all participants of the process.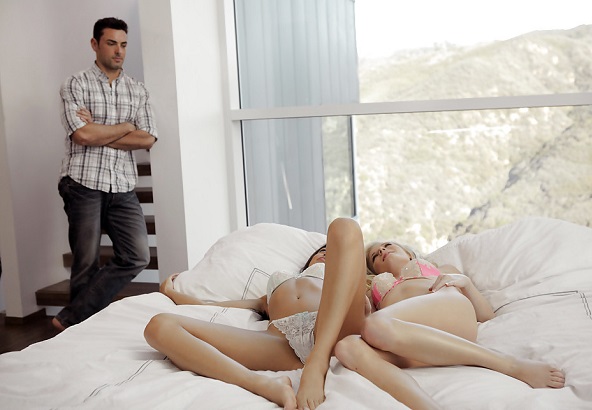 Safety rules must be discussed in advance, and the more specific they are, the better. You can first discuss your boundaries and expectations with a partner and then involve a third participant in the dialogue, but in general, everyone should understand what will happen. Let everyone express their preferences and designate what behavior is considered unacceptable. It is especially important to talk about your safety. Blood, saliva, seminal fluid is a great source of STD/AIDS infection, so you can either get infected or, on the contrary, infect someone. Remember that oral sex also requires protection. Use male and female condom wipes. Decide when it is more convenient for you to discuss the practical side of the issue, for example, in advance, so as not to spoil the mood or just before sex. Besides, one of the extremely important threesome tips is to change the condom after penetration into each partner.
Respect the Wishes of All Participants
Each of you should be involved in the process. One of the most difficult moments in three-way sex is to make sure that no one feels like the third wheel. Create a comfortable, trusting atmosphere in which everyone can admit what they like and want to try. The main rule is that any of the participants can join the process when they want. If you like to watch, it is fine, but if you feel that you are bored, it means that something is going wrong. You can study threesome sex positions and ideas beforehand and look for inspiration in movies.

If you have discussed with your partner that you want to try threesome ideas, then it's necessary to choose a guest star. The stage of choice plays a big role and will impact the whole process. On the one hand, it seems that it will be safer to ask someone familiar to try 3-way positions with you, but you should think about how this may affect your future relationship. The worst idea is to call the ex-partner even if you don't have any unsolved problems and offenses, and you are generally best friends. Ideally, it should be an unfamiliar but very decent person who doesn't have any STD and who will disappear from your life after this passionate night. However, everything is a little more complicated in life, but you can search for a partner, using an online dating app. Even though you don't have any feelings to a third person, you shouldn't show the door to them as soon as you are done. Be open-minded, polite and respectful. Besides, don't forget to discuss with your partner the process of communication with a third party after sex.

Mentioning threesome in Kamasutra
Being the most famous written work on love, sexuality, and relationships, Kamasutra is regularly used by couples as a resource of spicy ideas. Many people, actually, misbelieve that this ancient text is consisted only of sexual poses and techniques of pleasing your partner. The biggest part of Kamasutra involves instructions and recommendations for "happy and harmonious marriage and committed relationships". Indeed, love poses are the most fascinating part of the treatise, but we must debunk some myths about it, and Kamasutra threesome poses are not an exception.
So, officially there are 64 poses in the book. Each of them is called a "method to find and maintain harmony and happiness" in a committed relationship. Of course, ancient Indians knew a lot about different forms of sexual interactions between people regardless of their gender. For example, homosexual relationships are mentioned in the treatise.
The information that bothers us most is described in a part 4 of the book. In fact, it's dedicated to wife's duties and responsibilities in marriage, but the latest topics tell us about polygamy and possibilities for men to have a mistress or even a harem. Also, the later chapters of the book are focused on relationships after a divorce, sexual relationships with public women, and, as it was mentioned above, homosexual relationships of women and men. Despite flagrant sexism and old-fashioned views on man-woman relationships, there is still a lot of fascinating information about same-sex intimacy and other forms of interactions. But are there any threesome ideas in Kamasutra?
You will be surprised, but no – there are no genuine Kamasutra threesome poses. Polygamy, sex with multiple partners, and possible love triangles with future group sex are only mentioned in the book. Famous dirty pictures describe the intercourse only between a man and a woman. We can assume, that the myth about threesome Kamasutra poses could occur because of the incredible erotic architecture examples in Khajuraho – the ancient Indian city which is one of the most popular destination for tourists. There are a lot of Kamasutra poses, indeed, but the hundreds of men and women, that merge in one single love mass on the epic bas-reliefs, create a false picture of the biggest orgy in the word. It's funny, but it's only seems so.
10 Best Threesome Sex Positions
Almost everyone forgets about sexual etiquette, but when there is a third player, it is worthwhile to mark the bounds. Tell the new partner about your plans because a properly adjusted communication will help avoid misunderstandings and awkwardness. However, it is not necessary to go too far.To keep the "chemistry," do not limit yourself and your partners too hard. If everyone starts thinking about strict implementation of threesome positions, sex will turn into a mechanical act, which is unlikely to bring the desired pleasure.
1. The Double Cowgirl Position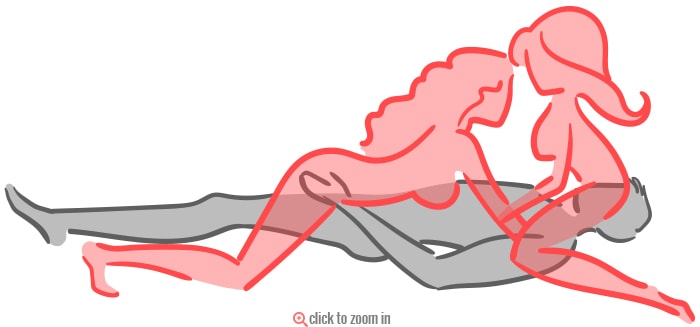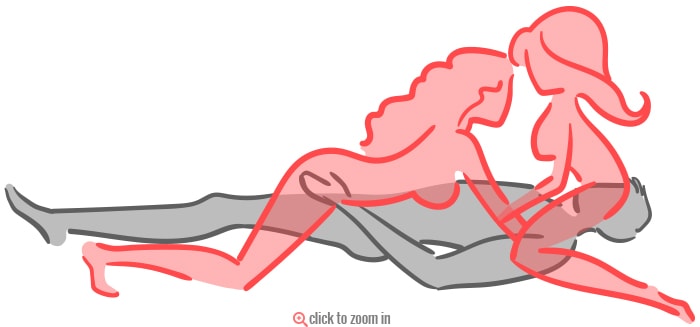 This is one of the easiest and most pleasant FFM sex positions for girls. To perform everything right and get the best of it, a man should lie on his back, having put a pillow under his head to create a little more comfort. One of the girls take a cow-girl position while another girl sits on a man's face, and he starts demonstrating all his skills in oral sex on her.
Advantages. All the participants are as close to each other as possible. In addition, women can kiss and caress each other, sitting head-to-head. And if they change this position a little, they will be able to change the stimulation area. Many men like to make cunnilingus, so the man will get double pleasure.
Disadvantages. There is a danger of injuring a man. If girls get carried away very much by each other, one of them can hurt him, and he may do the same to the girl who sits on his face. So, FFM positions are not only about pleasure but also about joint responsibility, and all the partners should be quite careful.
2. The Voyeur Position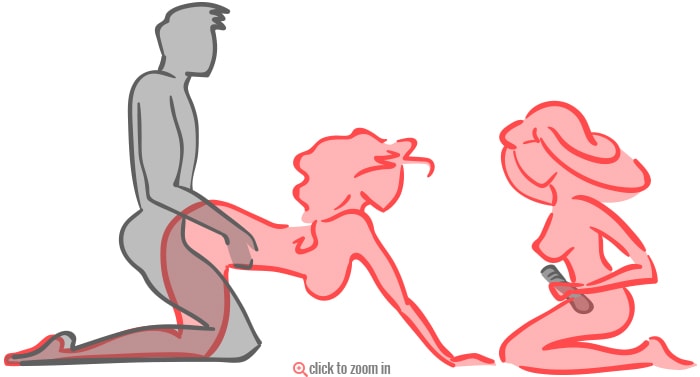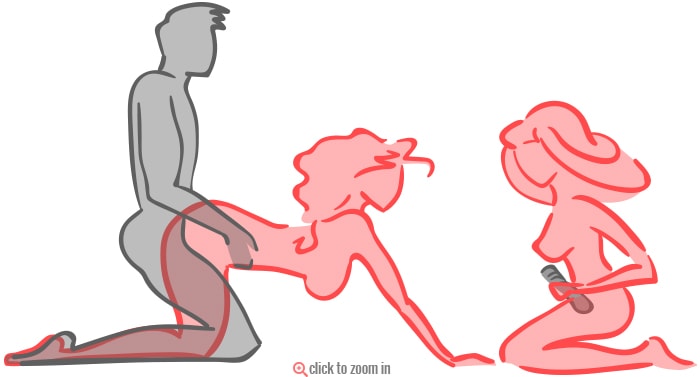 This position will be most appreciated by people who like to watch other people while they are making love as well as by those who like to be watched by others. So, a couple can choose any position they like to have sex while a third participant will watch them, masturbating.  If the third player is a girl, then sex toys will come in handy.
Advantages. This position is a real safety ring for those who are new to three-way sex and especially for a girl who plays the role of a guest star. This can become perfect foreplay if she needs time to turn on. When she reaches the required level of excitement, she can start actively participating in sexual intercourse.
Disadvantages.  Of course, if a couple feels embarrassed when someone else is looking at them or if a girl cannot completely relax and masturbate in the presence of strangers, then it's better to choose some other 3-way positions. Strangely enough, but some people prefer to dive right into the process not to get time to feel awkward.
3. Strap On Train Position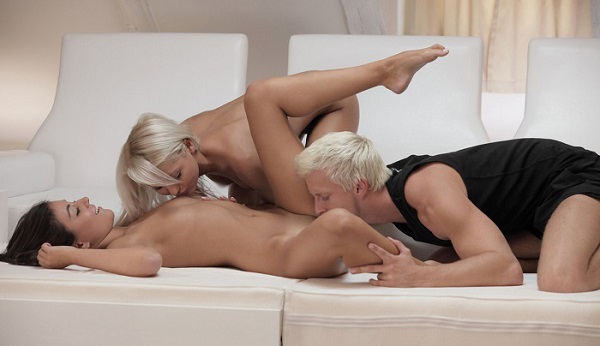 If you are a man who likes to get the most out of any process, then you should definitely try this position. A woman lies on her back, and you penetrate her vagina in a man-on-top position while another girl penetrates you with a strap on. It sounds exciting, doesn't it?
Advantages. If you prefer stimulation of G-spot, then you will surely enjoy it. The parallel stimulation of a penis and prostate will bring you one of the brightest experiences in your sex life. Besides, there are girls who always dream of performing a male role in sex. So, you kill two birds with one stone.
Disadvantages. If a man believes in untouchability of his G-spot, then there are 9 other positions to different taste. In addition, despite the whole extravagance of this event, some people have the prejudices that will not allow them to perform this threesome position. And it can be just inconvenient since a man can lose his concentration.
4. The Double Dip Position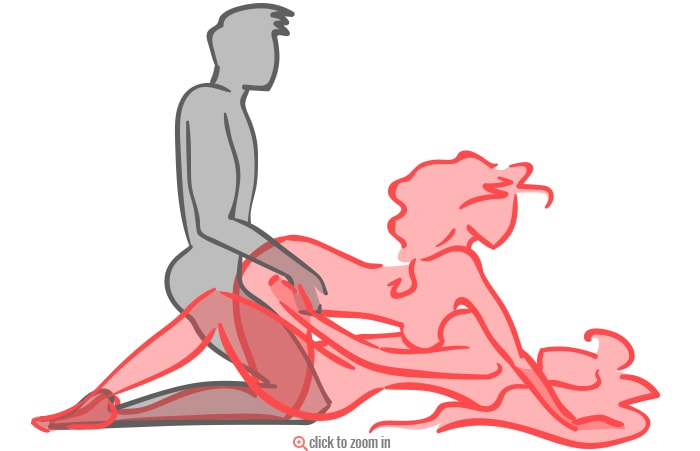 If you like something unusual, and you don't get used to staying aside, then you will like the double dip sex position. One of the girls should lie on her back, and another girl should take a man-on-top position. A man should sit between their legs so to be able to penetrate each of girls.
Advantages. Girls who want to play with each other will surely like this position since they are face-to-face and have an opportunity to focus on each other. If a man is not ready to take an active part in the process, he can watch the girls for a while to get excited. A man can penetrate one of the girls with his penis, caressing another one with his fingers.
Disadvantages. If the girls prefer more classic positions and don't feel any excitement about caressing each other, then all the partners should choose something else. The same applies to a man who doesn't want to play a little bit passive role.
5. The Doggy Train Position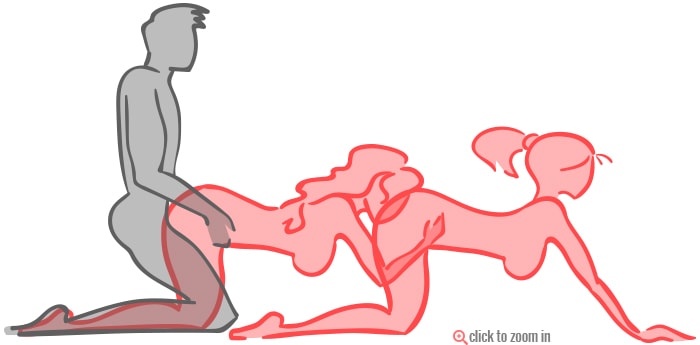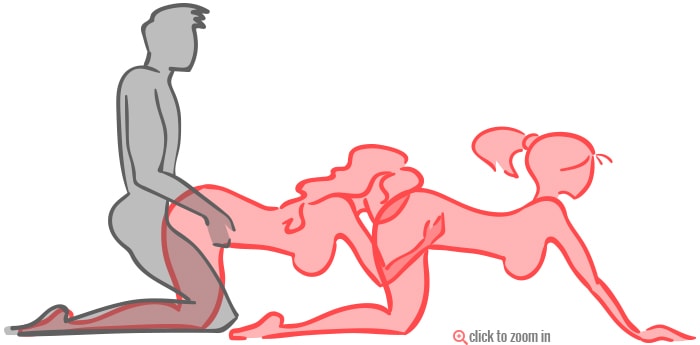 Girls and a man take a doggy-style position, getting down on their knees in a row. A girl who is at the back can start fingering or rimming a woman in front of her, while a man penetrates the former one, having sex with her in the classic doggy-style position. The fans of the doggy style will get pleasure, and none of them will feel left out.
Advantages. This is an excellent position for those who do not like vanilla sex at all. In addition, if a permanent partner wants to keep the man's contact with the invited girl to a minimum, then this is the most suitable option. Nonetheless, of course, it is necessary to discuss the degree of closeness with a new partner in advance.
Disadvantages. If you don't like too intense sexual intercourse, then this position is not for you. Besides, if the girls are not very interested in rimming or fingering, then they can feel uncomfortable. Doggy-style disposes to pretty deep penetration, so if a man has a big penis, then he can hurt a woman.
6. The Tag Team Position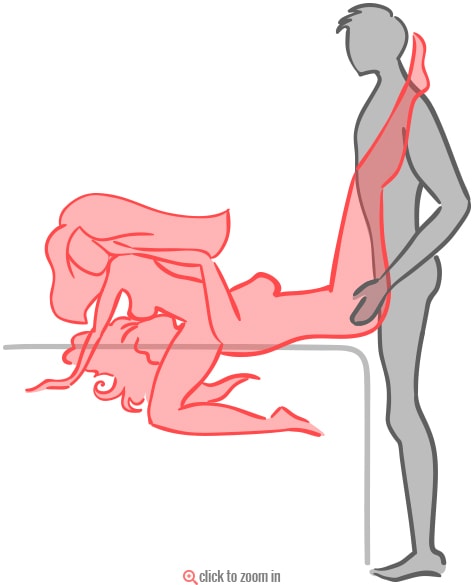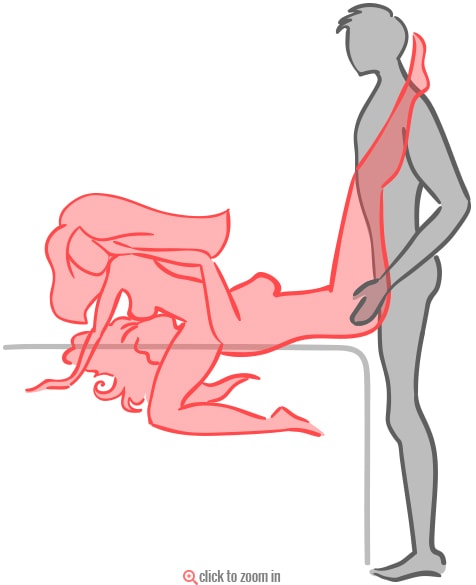 One of the girls lies on her back on the edge of the bed, a man should get down on his knees between the girl's legs and penetrate her. At the same time, another girl sits on the face of the first girl. The lying woman can either make oral sex or finger the second girl.
Advantages. This position will be most suitable for women who don't want to "share the penis" of their permanent partner and who, at the same time, don't mind having oral sex with a girl, whose pussy is on her face. Besides, a man will be able to enjoy a great view, having sex with the partner.
Disadvantages. It can be quite uncomfortable for girls to stay in this position for a long time. So, it can be a great interim position but not the main one. There are not so many heterosexual girls who like oral sex with the representatives of the same sex.
7. The Spit Roast Position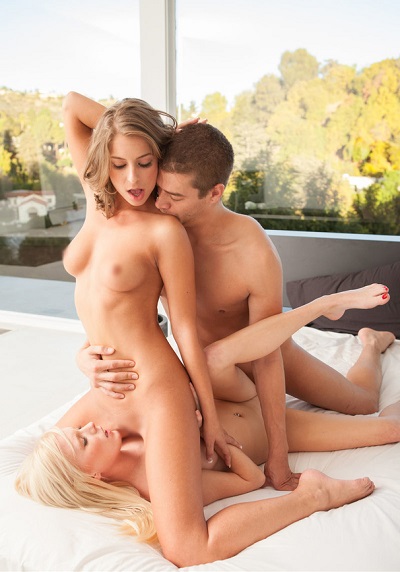 This position requires two men and one woman, and it is considered one of the most common and pleasant positions with two male participants. A woman takes a doggy-style position and starts caressing one of the men, while another man penetrates her from behind. It's the great circle of getting pleasure.
Advantages. None of the partners will remain disadvantaged, and each of them will get their portion of pleasure.  Besides, men who like watching such a process will be especially excited. This position is often used in porn movies since it is easy to perform, and it includes two types of sex.
Disadvantages. If a man who penetrates the girl behind will move more intensive, it can complicate oral sex with another male participant. So, everything should be mid-tempo. If you prefer more rough sex, then it's better to look at some other MMF sex positions. Besides, it will be quite hard for a girl to relax since she needs to keep balance and give a blow job.
8. The Doggy-Deluxe Position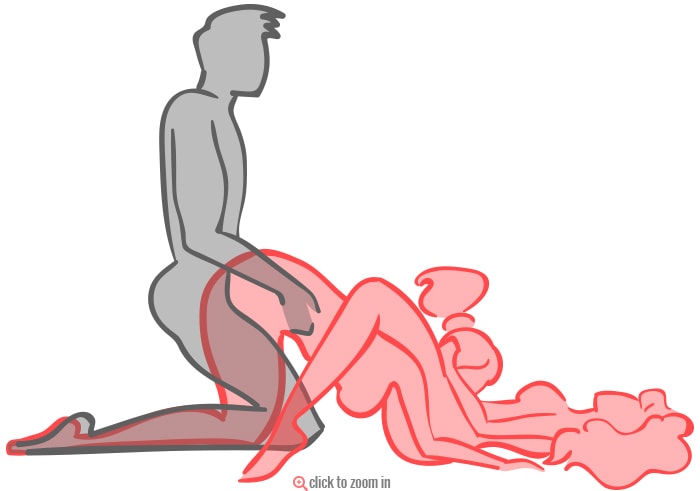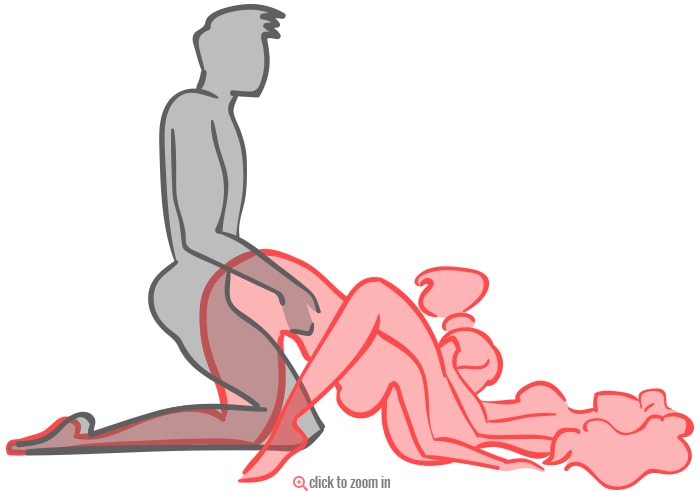 Two partners make love in a doggy-style position, and another girl lies on her back in front of the partners. A girl who has got down on her knees can start rimming or fingering the girl who is lying in front of her. What a great view can be seen from the man's place!
Advantages. As it has already been mentioned, one of the pros of this position is a stunning view for the male partner. Besides, girls who like lesbian sex games will also like their part of the entertainment. If they want to spice up the process, it is possible to use different sex toys, for example, a vibrator. Both girls will be pleased.
Disadvantages. It's not the most active position, and a man must be very careful, picking up the pace, otherwise, the girl who is penetrated can hurt another girl who is lying in front of her. Besides, forgetting about the amazing view for a man, this is an ordinary doggy-style position.
9. 69 + 1 Position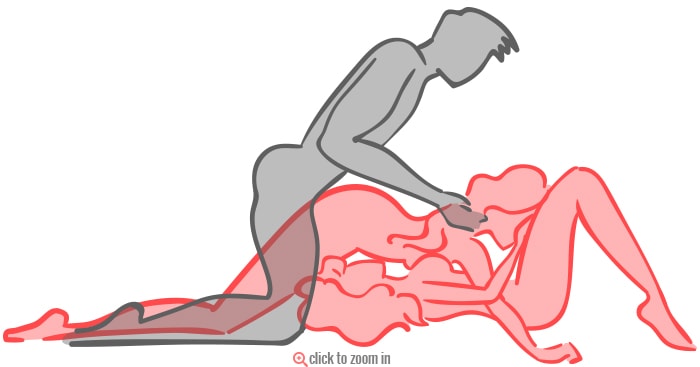 Who doesn't practice 69? So, you know how it is done in a classic version. However, when you are involved in a threesome, there are several differences. One of the girls lies on her back, and another one takes a man's standard place, getting on top of the first girl. A man penetrates a chosen girl from behind. It's like a very tasty and spicy sandwich.
Advantages. Although this threesome position may require some skills, it allows partners to be as close to each other as possible. However, women in this position are more concentrated on each other, and it's great if they like fingering or standard oral sex. Besides, for many men, this is more rather an advantage than a shortcoming.
Disadvantages. However, if you are one of the guys who adore 69 position, and you don't want to have sex in a doggy-style position, then this option is not for you. The same applies to girls who don't like pussy eating and prefer a blowjob or any other entertainment with men. Besides, as it has been mentioned, this position requires certain skills without which it will be difficult to achieve the desired result.
10. Double Penetration Position
You might not argue that double penetration sex position is the hottest position ever! To perform it, there should be two men and a girl. One of the guys should lie on his back, then the girl takes a cowgirl position, and another man penetrates her anally. So, the girl is between two men, who stimulates both of her erogenous zones.
Advantages. It's obvious that all the participants get pleasure since none of them stands aside. If you like experiments, then this position is surely for you. The girl can achieve both vaginal and anal orgasm at the same time.
Disadvantages. The performance of this position requires a certain number of skills. If the anus of the girl is not prepared for penetration in advance, then it will be difficult to make everything right and not hurt her. Only a girl who has anal sex experience should participate in a threesome with two men.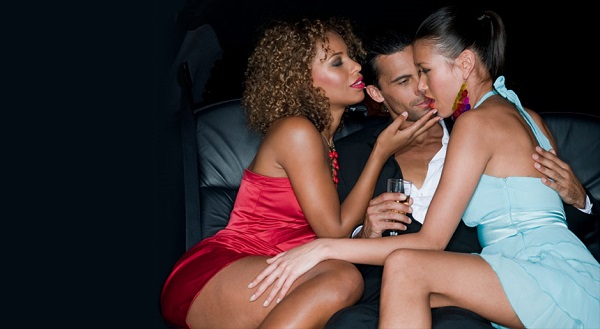 Don't Forget That This Is Not a Relationship
When you lie after sex, embracing your beloved one and a guest star, you may think for a moment that if the three of you feel so good together, then you can continue this relationship. Don't even try to put into practice this idea because the continuation of such a relationship is a real disaster. Firstly, it is unlikely that your girlfriend will like it because she doesn't want to share you with anyone. Yes, you had a great time together, but this is only an experiment that can easily ruin your relationship with your partner. This is about the emotional attachment that will appear most likely between you and the new one. Your relationship will crack because you've lost control. The experiment shouldn't grow into anything else. So, drink some tea, wait until a guest star takes a shower, gets dressed and leaves, and go back to your old life where there is a place only for you two.