Why do we love young girls so much?
The youth is highly attractive: beautiful skin, smooth lines, gentle faces… Not to mention all the beautiful young bodies. Esthetics is important in any relationships. Then, what is wrong with the desire to be surrounded by beautiful and young people? Actually, there is nothing wrong. It is a natural desire. So don't worry. Don't listen to those fools telling about some kind of twist in your sobriety. You are not a child molester just because you are attracted to young pretty girls.
The ability to value youth and beauty in women is an art. Don't think of it as a kind of instinct. Different epochs dictate different fashions. It does not seem to me that being with sexy young girls has the only purpose – the offspring! Not a chance.
Furthermore, dating a young girl makes you feel like a young guy, as well. The energy given by the girl in her 20s is far from those negative emotions and requirements that we sometimes receive from mature women. Now, compare four texts and guess which of them were written by a mature woman and which were written by a young girl:
"Sweetheart, I miss you so much. I want to see your eyes. I miss that look…"
"We are out of carrot, tomatoes, rice and salad."
"I miss you even when you are right next to me. Will I see you in my dreams tonight?"
"and a L'Oreal shampoo against hair loss, the red one. Don't mess up."
Now, isn't it obvious why we DO enjoy dating young girls?
Besides, dating a young girl includes some kind of unwritten rules. For instance, young Russian girls are often treated gently, so that they don't think about becoming ambitious and serious women too fast. Men do their best to show that they want their girls to preserve their playfulness, lightheadedness, naivety. An older guy, who is dating a young girl, wants her to look at him not as an adult woman but as a little girl. Trust me, it is adorable and sexy.
Here's a diagram showing how many men in their 40s actually prefer young girls to mature women:
Are they really that attracted to mature men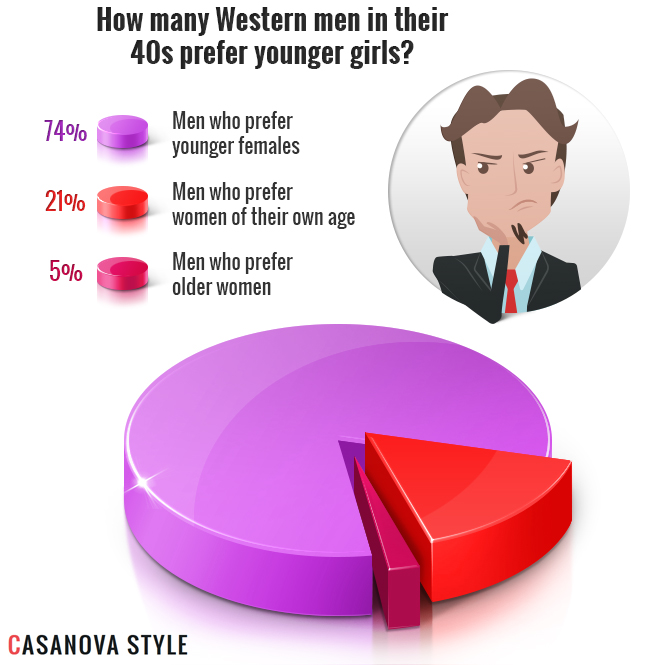 Let's think… What makes young girls dating older men?
They are easier to impress, in the first place. Think about, what a young Russian guy can offer to a pretty Russian girl? Not much… Now, what can YOU offer to this pretty Russian girl? That's right – experience, intelligence, and money are some great benefits for those, who are dating after 40. It won't be difficult for a mature man to attract a young girl with all these things.
Another key thing is that a young girl in her 20s, unlike most young men, is sure enough about her desires. What she wants at this age is family. This is quite obvious and reasonable that she is likely to look for a senior man, who will become a good father for their kids.
She does not want another kid to take care about. She wants a real man who will be there for her when she needs it. And even when she does not need it.
Besides, the chances that a senior man will want the same thing are really high. I don't want to sound rude but what the hell a young, pretty and smart girl will do with a knee-high cowboy at his 20s? She doesn't want to waste her time on a young guy, who will probably be dishonest with her and will try on 10 more girls before he finally decides to marry someone.
If you are still hesitating about whether to date a young Russian woman or not, consider some statistics.
How many Western men in their 40s prefer younger girls?
How to make a young girl like you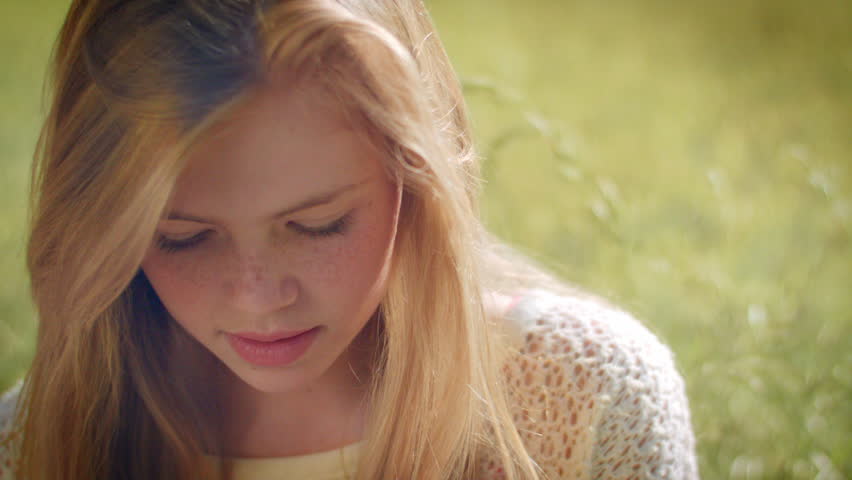 Be confident
Ask 100 Russian women how they imagine the perfect man and they (all 100% of them) will say that he should be confident, in the first place. Yes, everything is correct. It's not about being handsome, rich, or sexy – it's all about being confident.
First of all, a mature man should prove or show that he is sure about what he is doing. Such a man will be a perfect match for a young Russian woman. Young girls adore when they feel comfortable and safe with their man.
However, make sure you distinguish confidence and insolence. Simply show her that you make decisions on your own and you are not afraid of taking responsibilities for your decisions. There is no need to push her. Remember, she is in her 20s and we don't want to freak her out.
Develop a sense of humor
This is quite general thing actually. Not matter how old you are and not matter how old she is – sense of humor has always been important.
It is a well-known fact that girls fall in love through their ears. They love listening to all the gentle words and all the compliments you say. Another thing you should show when you date a Russian girl is a sense of humor. You're 51% succeed if you are able to make your girl laugh or at least smile.
Be masculine
If you want to date a Russian woman you should know that they love masculine men. I cannot say that all Russian girls without an exception want their men to dominate in their life. Okay, maybe in sexual life they do, really. However, they are not fond of strict men and rude men in their everyday life.
If a young Russian girl is looking for a senior dating, it does not mean that she is looking for a daddy to punish her. The thing is that all she wants is feeling safe and comfortable. So, don't be too sensitive and don't hide your masculine side.
Show you well-bred behavior
Young girls are thrilled when senior men respect them and do some really romantic gestures for them. Just imagine how excited a young Russian lady can be about dating a foreign gentleman. Get rid of bad habits. Do not chew, while talking; hold a door for your lady, don't spit, etc. You know all this stuff, don't you? It's not difficult to follow the rules. The thing is that a great number of Russian men are far from being gentlemen, so you have already won this race.
Be responsible
I believe, women should be responsible, but men should be twice more responsible. It is not so easy to find a young guy, who is mature enough to feel all the responsibility, nowadays. It seems like young men mature slower than previous generations nowadays. So, don't be surprised with the fact that you are so popular among young Russian girls. From this point of view dating for seniors is quite reasonable. Give it a shot.
Show your cared-for look
We have mentioned that young Russian ladies love mature men. However, it does not mean that they are fond of sweaty men with a huge beer belly and a long beard. No one will pay attention to you unless you pay attention to yourself first. Make sure that you look great. Of course, you don't have to run to a hairdresser begging him to dye your white hairs. White hair may look really sexy, by the way. The key thing is to show that you take care of yourself and mind how you look.
If you believe that have all the above-mentioned features, go one of those senior dating sites and make a make a young woman happy.