Alcohol is an ambiguous stuff when it comes to dating, especially in the beginning of the relationships. Both women and men may have either firm or open views on the matter of alcohol consumption during the date. In most cases, dates come to an adequate solution if the alcohol issue appears, although some couples are too stubborn to solve it before it turns into a real conflict. Let's take a look at alcoholic and non alcoholic dates and how they influence further relationships.
An Alcohol-Free Life…
Alcohol-free life is a cool and healthy thing, unless you are single and trying to start a romantic relationship.  People who don't consume alcohol at all, usually, don't deal with those who do. Thus, if you prefer a healthy lifestyle and it appears that you have a date with a lady who enjoys both dating and drinking, it may become a problem. Try not to judge your date but to explain the reason for you being against alcohol consumption.
So, what to do on a date if the usual alcohol drinks are excluded from the menu?
1. Culinary master class. Around the joyful people wearing chef's hats; the smell of delicious food; you cook together something exotic under the guidance of the chef; your fingers touch – everything is clear. Don't forget to take pictures of the process. Your date will be unforgettable.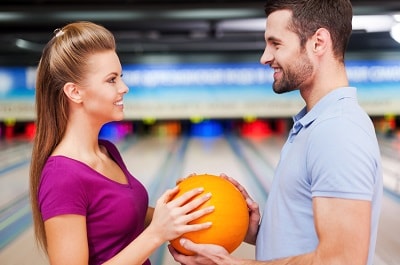 2. Cooking at home. Almost the same but in a more intimate atmosphere. Together choose a recipe that both of you like; buy ingredients (together); dress up in aprons (put them on your naked bodies) and … cook, and not what you thought! Although sex in such an atmosphere is more likely than cooking.
3. Bowling. Take a couple of non-alcoholic cocktails, a pair of funny bowling shoes and enjoy the process. If you are skilled in the art of knocking strikes, hold your skills for at least half an hour and give the man the opportunity to show you how to disperse, twist and everything else. Then your strikes will strike him (in a figurative sense), because he will turn out to be such a good teacher!
4. Bicycle ride. It is not necessary to go far – in most cities there are parks where you can always find solitary paths, which are so perfect for couples, without hurrying and talking about everything in the world. And if you accidentally (or almost accidentally) tear off the chain or puncture the wheel – well, then you'll find out what your knight is capable of. Or incapable.
5. Concert of an unfamiliar band. Together choose the nearest musical event and go for new impressions! The option is win-win: either you will like it and add a new artist to your playlist (and you will definitely have a "your" song); or you will not like it, and then both of you can go without a pity from the concert and then, for a long time, mock at what you saw and heard there. And this brings people together as well!
6. The climbing wall. That's where you can shine with dignity in all senses (especially if you picked up the right clothes to climb above the man). Well, besides this, this kind of joint rest will give you the opportunity to get closer and learn to support each other in difficult times, sometimes literally.
7. Paired training. Do both of you love sports? Then this is the option for you. Mankind has long come up with a lot of fun and useful pair lessons that will cheer you up. It is also a pleasure to discuss the experience afterward, well, don't forget about the production of endorphins.
8. Just take a walk. Make an approximate route to the places of your native city (surely there are many interesting places you have never visited) and go. What to do in the process? Communicate, of course! Well, enjoy the unexpected beautiful views around. And if this is not your first date, then the city will provide you with intimate and at the same time romantic corners, trust me!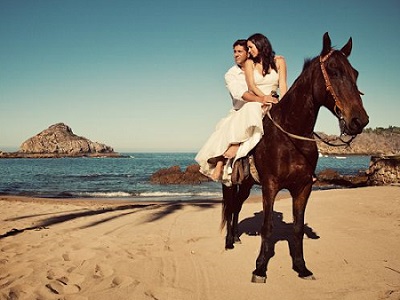 9. How about a talk? Leave the tablet at home, turn off the phone. Choose the place – a cozy alley in the park, the top of a mountain, a shore of the lake or the ocean, a bench in the forest or a meadow with flowers. Put a veto on the discussion of work and children (especially common ones) and talk about everything else – about childhood, dreams, friends, about the difference and similarity of worldviews, about the meaning of life, finally. This is really the best way to get to know each other, even if you have been together for a long time.
10. Horseback riding. Go to the nearest stable, touch those cute noses together and go for a walk on horsebacks. Make sure none of you are afraid of horses.
11. Boating. There are places in parks and out of towns where you can rent a boat and go together in a romantic mini-trip. Imagine: nature, you two together, your man handles oars confidently, the boat dissects the water … Are you still at home? Really?
12. Quest. This is the ocean of options, different themes and formats – choose the one you like most! Participate as a couple or arrange a date with friends. In any case, you will have a great time, and at the same time you will get to know your date much better – in such situations a person often reveals himself from an unexpected side.
13. Watch the game! Football, hockey, basketball, boxing – whatever. The main thing is for at least one of you to understand this game and tell the second one what is happening. And if the main fan is you, try to restrain furious cries and foul language to the enemy. And if you cannot, better go there with a friend instead.
14. Catching Pokémon. Yes, exactly. Think of your last summer and the excitement you had – the application is still working.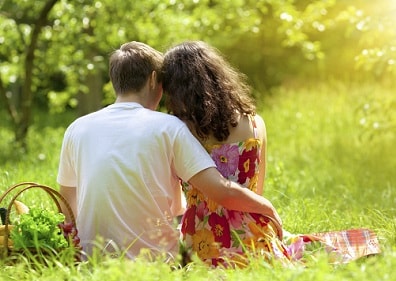 15. Dancing! Choose a dance master-class of the basic level (they are free), put on an eye-popping (but suitable) outfit and with graceful movements go to the heart of a man. However, it is possible that he will win in this plasticity contest. It is even better. No wonder that paired dances are often compared to sex!
16. Karaoke. Do both of you enjoy singing and your musical tastes are similar? Then it's a great idea – to listen to how a person you like sings your favorite song – a real buzz. And you can do it together as well! This is also almost like sex, by the way.
17. Non-alcoholic picnic. Take beautiful baskets, put some delicious stuff, a cozy blanket and go to a park or a forest. And candles, do not forget candles. Or a fireplace.
Drinking And Dating: What, How Much And What For?
Let's admit that sometimes we are weak and feel nervous in a difficult situation. Thus, we need something or someone to support us. The first date is a great example because, usually, it feels good but stressful. By the way, the better is the date; the higher is the anxiety level. You definitely have to do something about it. Here is when alcohol comes to mind.
Whiskey
When we mention whiskey we imagine an elegant man, sweetly drinking the strong drink and ranting about the high matters. But whiskey is a dangerous beverage: due to the high content of congeners, this drink can put your body out of action in a few hours, and in the morning it can give you a bad hangover. Therefore, it is better not to risk and to refrain from drinking whiskey on a date.
Beer
Beer is considered to be a light alcohol, but this is exactly what makes it so dangerous. Due to the fact that you can drink a lot, most people miss the moment when they should stop. As a result, you are turning from the soul of the party into a sleepy and dull creature that cannot say a word. In addition, girls should not drink beer, especially on a date in a restaurant.
Champagne is a suitable drink for a date at least for the reason that most people drink no more than two glasses because of the bubbles, eternally pinching nose and tongue. In general, champagne is suitable for a romantic evening, but there is even a better one.
Wine
And here it is, one of the best first date drinks. According to a study that was conducted in Italy in 2009, women who consume red wine become more emancipated and are more likely to communicate, and also feel more confident than those who have chosen another alcoholic drink or even refrained from alcohol. Wine will help you relax and do what you have been dreaming of. The main thing is not to over-consume it.
Of course, in general there should be no alcohol on a date, because otherwise it will be difficult for you to adequately assess a person. But none of us are perfect and if you decide to drink, then choose the alcohol drink carefully and watch the amount. Otherwise, a romantic night may turn into a nightmare, and a morning hangover. Remember the rules of decency and common sense, and any date will be just perfect.
Alcoholic Dating Or How To Behave On A Date?
Your girl does not need to study the wine menu. Dating and alcohol often come together and she needs to know what kind of drink she likes, and just tell you what she will drink.
Here are a few tips for ladies, who love to have a drink on a date:
For the first date, I would advise girls not to drink alcohol at all – it will help them to maintain the soundness of judgments and behavior, as well as to show their positive side of a sober and decent girl.  However, if you still want to drink, then it should be not more than 1 glass of wine or champagne. Do not choose expensive cocktails or wines – just tell your date what color of wine you prefer (white, pink, red), sparkling or not. He can choose a suitable drink from the menu himself. Say that you trust his taste.
This way your date will not be upset that you ordered too expensive wine – because he will have the opportunity to choose the one he can afford. At the same time, you will be able to check what he values. Stretch the wine for the whole evening, until dessert. A girl swallowing alcohol like fish drinks water – is not the most pleasant thing to watch on a date.