The fitness industry shouldn't just move with the times, but also outpace them, developing new directions, offering non-standard ideas, and applying innovative technologies. What are the latest fitness trends?
The IT market is overwhelmed with fitness trackers and smartwatches that have long reached the top spots of fitness trends. Due to their popularity, the functionality of these wearables becomes more diverse. Gadget screens show the number of steps you take and squats you make.
The list of super-effective training exercises, helping you achieve maximum results in the shortest time possible, is getting longer every month.
But are all the innovations that helpful? Here's a list of ten the most successful and not so great fitness trends in 2017.
The best fitness trends 2017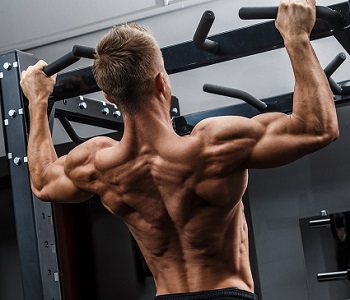 Bodyweight exercises
Reaching the 3rd place on the list of trends for the first time in 2013, bodyweight exercises have crawled up to the 2nd place in 2017. This type of workout hadn't appeared in the ranking until 2013 because it got its popularity (and recognition as one of the hot fitness trends) in fitness clubs around the world only in the last few years. But you can't say that this kind of training appeared recently. In fact, it has long been a part of various exercises with extra weight. And now, formed into a single system, these exercises became the basis for training programs in fitness clubs.
Normal exercise programs that involve your own bodyweight require a minimum of equipment, which makes this effective form of fitness simple and easy to do at home. Most newbies believe that the variety of bodyweight exercises is limited to push-ups and pull-ups, but in fact, the choice of exercises is much broader. In 2015, this trend took the 1st place, moving to the 2nd in 2016, and since then, it keeps developing further.
High-intensity interval training as one of the best latest fitness trends
HIIT workouts are short-term intervals of high-intensity loads followed by short periods of rest. Typically, the duration of such is less than 30 minutes (although some programs can take much more time). Before 2014, HIIT workouts couldn't break through into the top 20 newest fitness trends, but they were recognized as one of the promising ones. In 2014, despite numerous warnings about the potential danger of these exercises, HIIT exercises took the first place on the list.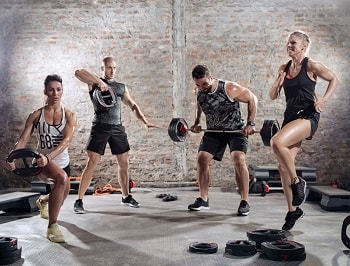 Even after HIIT workouts spent several years on the top-10 fitness trends list, some professional trainers say that this type of program attracts new people only for a short while before they begin looking for something else. Others admit that these programs are still very popular, but they consider them potentially traumatic. Specialists working with people with disabilities prefer to use these programs in their practice, but with moderate intensity. Despite the warnings of health professionals and fitness specialists about the potentially higher risk of injury during high-intensity interval training, HIIT's remain popular in fitness clubs around the world.
Health and fitness trends: Exercise is Medicine
Exercise is Medicine is a relatively new direction in international healthcare that offers generalists and other medical professionals to include physical activity in the treatment programs, directing patients to fitness professionals. This trend is based on the idea that physical activity is an integral element in the prevention and treatment of diseases, and its methods should be evaluated regularly from the point of view of medicine.
But the Exercise is Medicine program isn't limited to the recognition of the beneficial effects of physical exertion on patients' health. It also invites doctors both to encourage patients to use physical training and work with fitness specialists to develop more effective treatment programs. Besides, the program allows trainers to develop close cooperation with medical organizations so that they can send their patients directly to specialists. The goal of Exercise is Medicine is to make fitness trainers important participants in the process of patient treatment.
Top fitness trends 2017: personal training
Personal trainers keep improving the professional level of their field of activity. Since entering the list of top fitness trends in 2006, personal training has never left it. Thanks to the efforts of the independent Commission on Accreditation of Allied Health Education Programs and the National Commission for Certifying Agencies, the process of education and certification of personal trainers became more thorough. Several states (California, New Jersey, Massachusetts, Georgia, and several others) and the District of Columbia consider giving licenses to personal trainers.
Although some professionals admit that there's a difference between trainers' specializations (for example, working in small groups or holding individual classes), they agree on one aspect – personal trainers will remain the most important part of modern fitness and healthcare. Personal trainers are required in all areas of the fitness industry, including commercial and public institutions, corporate fitness programs, and providing the right conditions for training according to medical programs. Also, some coaches found their own companies and work independently.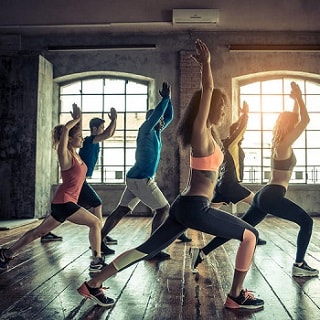 Personal training in small groups
Latest fitness industry trends and statistics show that personal training in small groups was quite popular in 2017. While trainers haven't come up with anything radically new to offer, the trend is that a lot of people now prefer exercising in small groups of 2-4 people. Such format of training allows trainers to offer each member of the group a significant discount on their services. This motivates clients to get together into small groups, refusing more expensive personal training.
In 2007 this trend was in the 19th place. In 2008, it strengthened its positions and moved to the 15th place, after which it again returned to the 19th place in 2009. But already in 2010, group training moved to the 10th place on the list. Over the next 7 years, this trend has been moving from 9th to 14th place, until in 2016, it took 11th place, and since then, it has been holding its position. Personal trainers should creatively approach the organization of training and the promotion of services for working with mini-groups. Training in mini-groups, consisting of 2-3 people, is beneficial to both clients and coaches.
The worst new fitness trends
Functional training
What is basically functional training? Nothing but a bunch of mindless exercises and complex terms that make this newest fitness trend seem like a real deal. For example, you're standing on a shaky surface with a ball in one hand and a dumbbell in the other and doing squats in this totally uncomfortable position. If you ask a professional trainer with more than 20 years of experience, he will tell you that he has never seen such a stupid exercise.
You don't need to stand on the fitball and throw the ball to make your body more "functional." The paradox is that these "functional movements" aren't used in real life. Functional training means that all the skills you develop during it can easily be transferred from the gym to the real world. So an old-fashioned strength training with the right balance between the front and back parts of the body, with the basic complex movements, like squats, pulls, pull-ups, and things like that, will develop your functionality better.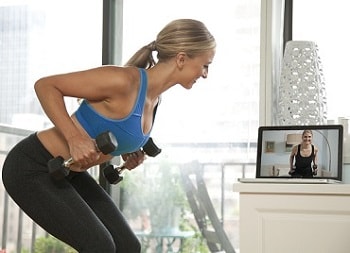 Worst trends in fitness: Instagram-trainers without experience
You can train a person online. We now have a lot of modern tools for this. But it's pretty hard and requires a lot of experience. Being a truly effective online coach is much more difficult than being an effective "live" coach. It's not easy to determine what your client needs when you don't see them in person. And being unable to see if your client follows your tips and does all exercises properly makes things even more complicated. To train people online effectively, you need to be a really good coach and have the right skills for this. You should be able to predict all possible problems and know how to fix them.
No wonder why people who have a beautiful body want to monetize it. The training program you use can bring easy money if you sell it to subscribers. But training yourself and getting noticeable results and getting the same results when working with others are completely different things.
Many online trainers believe that their physical characteristics are not different from the characteristics of their clients. They train them using the same techniques that work best in their case. Some get results, and others don't. We are all different and respond best to different methods. To understand this and train people, so they get the best result, you need to work a lot with a variety of people. That's why the incompetence of Instagram trainers makes fitness training trends like this a waste of time and money.
One perfect technique for everyone
Another harmful fitness trend in 2017 is applying one exercise technique to everyone without taking the characteristics of each individual person into account. As we said before, all people are different: they have different goals, different histories of injuries, different experiences and physical training. And, more importantly, each has their own arms, legs, and torso length. No man can be squeezed into some ideal exercise.
Top fitness trends you shouldn't follow: no pain – no gain
Training until you spit your guts on the floor is another bad trend. People think that slowly killing their body with an exhausting workout every time they come to the gym is the only way to get results. Some trainers just don't have enough knowledge and experience to give the client a scientifically grounded "recipe" for building muscles. They rely on exercises that simply make people choke and sweat, because "sweat means that calories burn." Although, in reality, effective training has nothing to do with the amount of sweat you lose.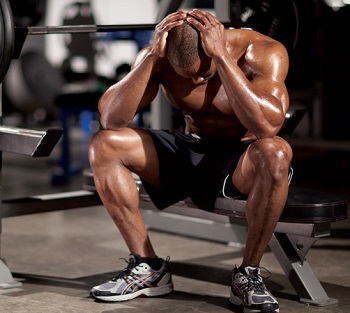 The main problem is that many support this idea. We see more and more hardcore workouts like CrossFit, and more and more beginners begin to believe that fitness should be hardcore. Big weights, technically complex exercises, heavy breathing, a lot of sweat, and an inexplicable amount of self-satisfaction in the air, like a profuse sweating is the only thing that determines a good exercise.
But here's the thing: you don't need to have a trainer's certificate to make a person sweat and choke. Anyone can do this with a hundred or two of squats, but that doesn't mean that the training was effective. Effective training always corresponds to the goals. If someone wants to become stronger or get some muscles, you need to lift weights. People can get results without working their guts out. Even if you want to lose weight, there's no need for spending hours and hours in the gym.
Fitness marathons on social networks
Participating in them, people don't take their abilities and current physical capabilities into account. Previous trends acted as an idea that took people away from the basic concept of amateur strength training – improving health and well-being. They also introduced an element of competition, which makes newbies work above their limits, which becomes a ground for future trauma.
That's about all the health trends of 2017. Some of them show that fitness brings not only health benefits, but also joy, but you don't need to chase all trends. Consider the characteristics of your body, the season of the year, and your age. Only right exercises can help you in your quest for a healthy life.
Fitness can do a lot of good for you, and all experienced professionals advise active engaging in fitness to strengthen your health. Once you feel full of strength and energy once again, you'll understand that all that training is worth the time you spend on it.