They are risqué but never over the top. They are flirtatious but fiercely self-sufficient and independent. They are 'flammable' but always safe to work with, making a wonderful combination of their naughty teenage brother and a prudish mother. They are the pin up girls, the all-natural American sweethearts created with a purpose to win the adoration of thousands of men across the country and even beyond its borders.
You'd definitely recognize one of those sexy pin up girls if you saw her — her rosy cheeks, light bouncy curls, super hot hourglass figure in addition to penchant for thematic lingerie — but how exactly did a pin up model come to be? Today, join us as we have organized a journey back in time to explore the early years of pin-up model culture, as well as take a look at some of the most beautiful modern pin up actresses. Just believe it, it's going to be a peculiar trip, overlapping with both females' liberation and their objectification along the way.
Pin Up culture: Origins and early development
The 1800's certainly saw a massive shift for women's lives in terms of style and fashion: Women of that time freed themselves of all-out male influence having begun using bicycles as a means of transportation, as well as styling themselves in all types of pin up girl clothing, such as bloomers and boots instead of large skirts and petticoats. Generally, all these significant changes surely caused them to be considered as way more masculine, still more sexual.
Charles Dana Gibson, a popular illustrator working for Life magazine, rocked the world of women's fashion back in 1895 when Gibson began to create images of voluptuous ladies featuring hourglass figures, lush dark (mostly black) curly hair, and full lips. Partly inspired by Gibson's beautiful wife, these illustrations then became commonly known as the "Gibson Girl"— the most accurate personification of the feminine beauty.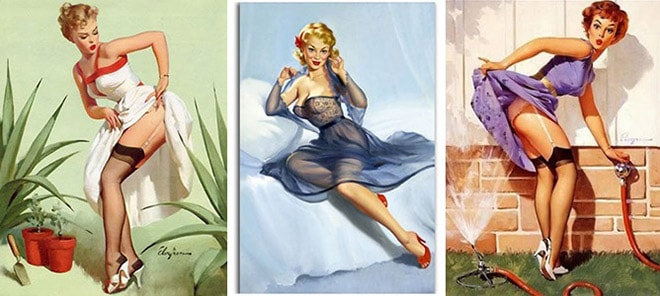 The beginning of WW1 in 1917 marked the entrance of a full-scale pin up propaganda. The US President Woodrow Wilson founded the Division of Pictorial Publicity, which was charged with an objective to conduct some kind of a PR activity to hike up patriotism among the Americans and inspire the US troops fighting in Europe. The Division printed posters that featured young sexy women, often styled in kinky military getups with some messages reading, "Be a Man and Do It." and "If I Was A Man. I'd Join the US Navy!"
While their husbands were off at war, hundreds of women across the country had experienced freedom and did not want to give it all up — hence the Jazz Age's typically shortened hems, large intake of illegal alcohol, bobbed hair, and a strong spirit of rebellion. In a nutshell, the wild and now independent flapper generation certainly used their chance to slide to the forefront.
Later one, the vents of World War II swept the 40's and the American government resultantly scrammed to find a new way to advertise the global war boosting soldier morale by entering the quintessential vintage pin up girls. Numerous photos of the classic American beauties were put literally on every wall inside barracks, hung in tanks and submarines, and even tucked into the US soldiers' helmets.
At long last, when the war came to its end, the government realized that marketing pin up girls nude (well, almost nude) images to the masses makes a pretty effective way to make the necessary amount of money. Soon after, the pin up tactic was even more expanded to advertise anything during the 1950's.
In 1953, Hugh Hefner used to launch his iconic Playboy magazine, clearly understanding that the future of print media industry rested in photography. Two years later, most erotic magazines had duplicated Playboy's nude girls concept instead of more modest pin up covers, which resulted in the overall decrease in popularity of the modern pin up trends.
By the 70's, Western society had lost a good deal of interest in pin up culture — but not Charles Martignette. This highly obsessive collector was lucky to acquire his first vintage pin up girl image at 27 and spent the 80's traveling around and purchasing every single piece of pin up artwork he could, which eventually lead to a spectacular 4,3000-piece collection. Unfortunately, it was later stored away and never exhibited.
In 1982, the pin up style resurfaced once again when Louis Meisel organized a large exhibition and then worked on the 1996 publication of "The Great American Pin Up" alongside Martignette.
In 2008, when Martignette unexpectedly passed away of a heart attack, the massive collection went all the way to the Heritage Auctions in Dallas, Texas. There it took 12 auctions over four years as the works were finally dispersed among the pin up culture lovers.
Top 10 Pin Up models you definitely need to check out
Even today, there are plenty of those who consider the pin up genre lewd. However, pin up has managed to somehow make its way into the mainstream, staying easily visible. And we certainly owe those advances to all the incredible actresses constantly challenging the status quo, remaining secure enough in their strength to demonstrate the world that the real beauty always walks hand in hand with bravery.
These women are always willing to embrace their beauty and sensuality, and during many decades when females all around the world needed liberation, they turned out ready to help equal the playing pitch between the sexes as they have proven that women were something more than just objects in the power of men. In the act of bravely portraying their subtle sensuality, these courageous girls reminded many of modern women that each one of them is multifaceted, and that there is absolutely no shame in the loveliness of the female form. So, here comes our list of top 10 both modern and 50s pin up girls.
1. Kay O'Hara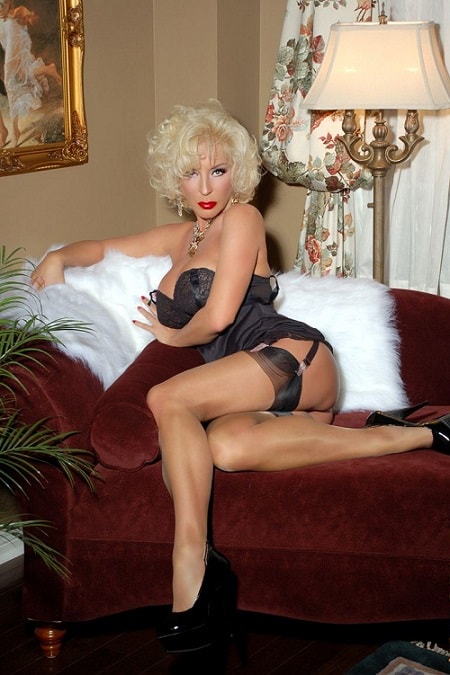 Kay O'Hara is an astonishing buxom blondie with a pretty devout internet following. On the woman's pay-to-enter official website she often admits to owning a contemporary look mainly inspired by Marilyn Monroe herself, but she also makes it even clearer that she has worked hard enough in order to maintain her own special style, and literally the legions of modern pin up actresses fans may vouch for that.
2. Cleo Moore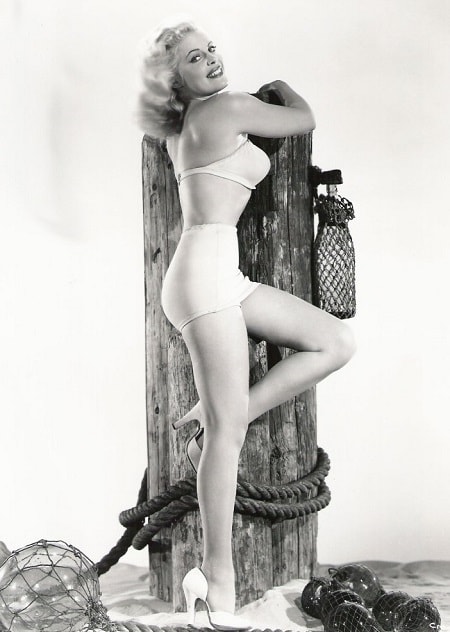 A popular actress and model, Moore was sometimes hailed as the "Blonde Rita Hayworth." This wonderful pin up model was cast mostly for her attractive looks and super attractive physical features, explaining some of her mindblowing success as a pin up actress. With that being sad, Cleo Moore was less than satisfied with all this, and definitely wanted to be taken seriously enough.
3. Marilyn Monroe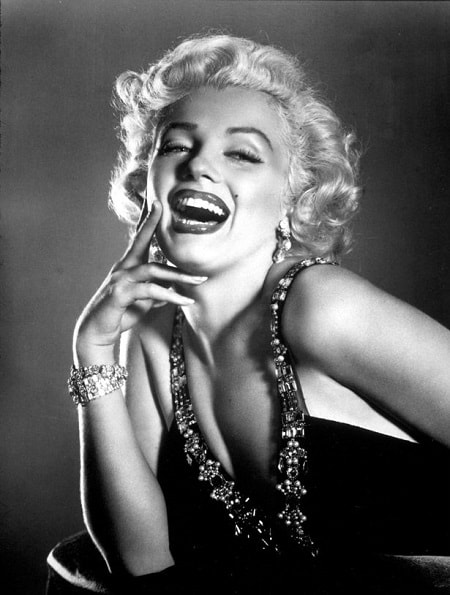 One of America's quintessential plus size pin up models and sex symbols, Norma Jeane Mortenson also known as Marilyn Monroe was one of the most famous and easily recognizable personas of her time. The woman delved into the world of acting early on, as she began her movie career alongside 20th Century Fox. Nevertheless, her movie appearances were somehow limited to those roles with few lines only, and in 1947, Monroe was released from the contract.
It was after the woman's return to modeling business as she worked with a handful of pin up photographers when Monroe finally found success. In a series of quite weird events, some of her nude images were discovered, and Monroe ended up featured in the inaugural issue of Playboy.
Marilyn Monroe's life was a stunning mixture of both great highs and crushing downfalls, still her career as a movie actress, pin up model, and singer was exceptionally admirable to say the least. During her life Monroe inspired hundreds of artists and photographers, despite her crippling struggle with drug and alcohol addiction.
4. Kim Falcon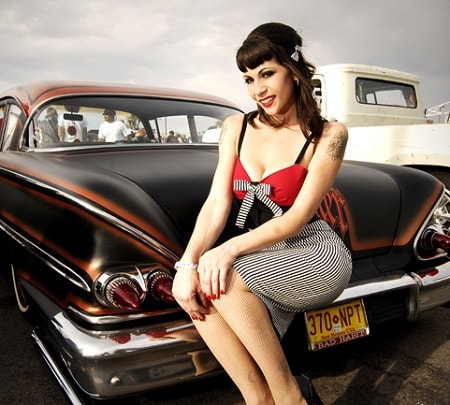 The raven-haired Californian beauty has helped champion the modern pin up scene revival as she has appeared in a number of magazines and on numerous billboards across the United States. If you are extremely lucky, you may even spot Falcon cruising around in the lady's black '62 Ford Falcon — indeed the type of car everyone expects her to drive!
5. Zoe Scarlett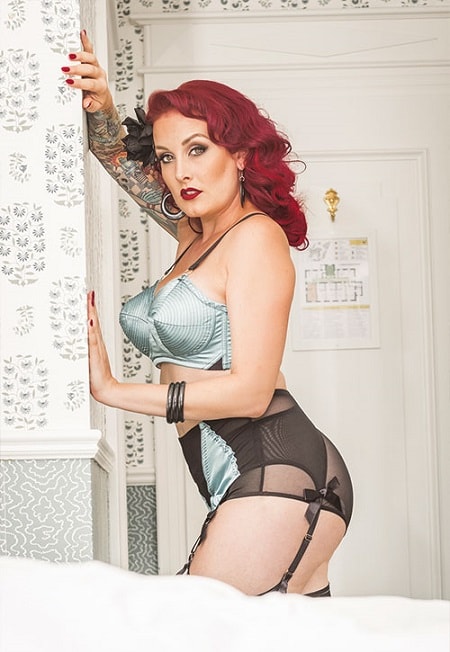 Hailing from the Alpine land of chocolate and cheese, this Swiss contemporary pin up actress was born in Basel, Switzerland in 1984. Scarlett dabbles in fashion and fetish modeling being a bona fide pin up queen. Zoe can often be seen at different pin up makeup shows and other fashion events around Europe, so consider looking out for her.
6. Bernie Dexter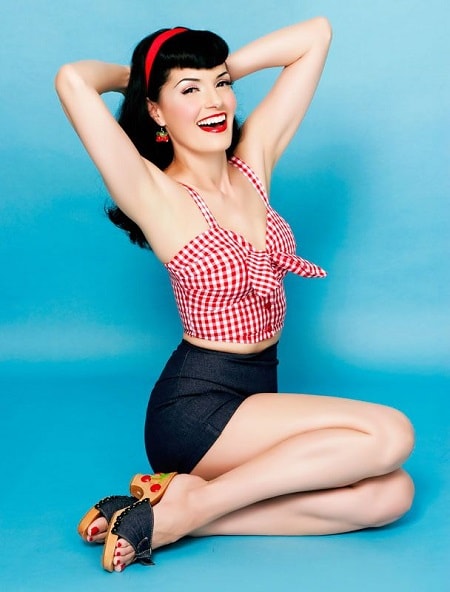 Bernie Dexter is popularly known in the business as the "rockabilly girl," and Dexter herself claims on her own website to be living the rockabilly lifestyle. Married to a musician, touring around the globe and thus constantly being on the move doing almost endless fashion shoots as well as attending promotional events, this is perhaps a pretty logical explanation.
7. Betty Grable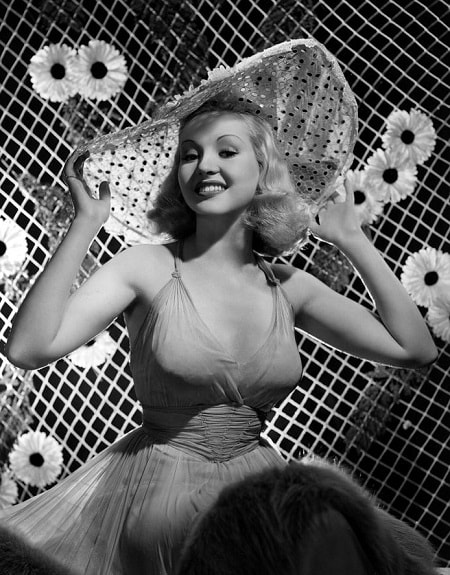 Another popular actress and model from the Hollywood industry, Betty Grable even surpassed Hayworth's fame, landing herself the title of the most famous pin up photograph during the time of WWII, as well as the position of the highest paid female in America at her time.
8. Eartha Kitt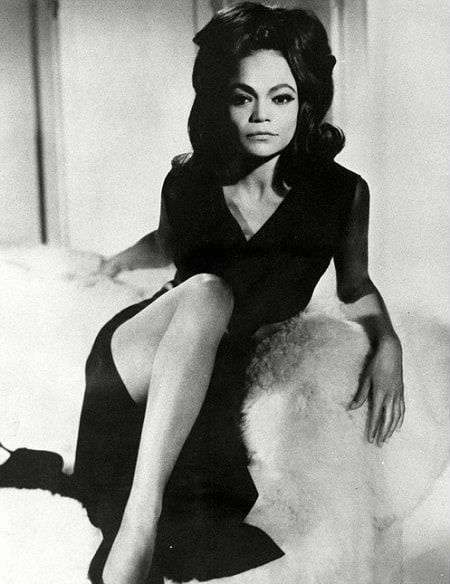 With a background in cabaret, theater, and music, Kitt is easily one of the performers nominated for a Tony, an Emmy, and a Grammy. Eartha even toured worldwide, and was pronounced "the most exciting female in the world." Her fabulous beauty and fierce gaze have landed the lady on a magazine cover in some cheeky pin up poses.
9. Miss Tayva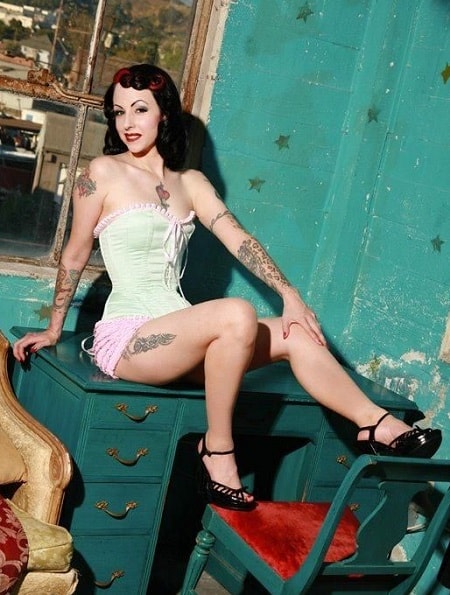 This raven-haired vixen is most accurately described as owning the classic pin up look with a bit of a rockabilly touch. Her tattooed skin makes the girl standout in the modern pin up world dominated by pristine-looking fashion models. At the same time, this modern pin up actress still manages to possess a great amount of attributes of the cheesecake model.
10. Jayne Mansfield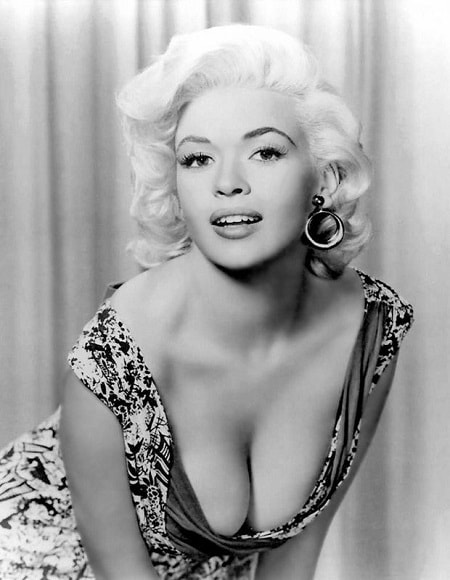 A cute and genuinely kind lady, Jayne Mansfield valued her family, career, and, after all, the wellbeing of those people she cared about. Mansfield also happened to become quite an entertaining actress, and a sensational pin up model, boasting the title of one of Hollywood's blonde bombshells.