Wind in your hair, uncharted corners of the world, and the enjoyment of freedom – a road trip can be a perfect vacation for two. Rent a car and go exploring countries you've never heard of before. Visit breathtaking spots without limiting yourself in time and being attached to a noisy group of strangers. Just you, your special someone and the endless road ahead.
Memories from a road trip will stay with you for life. A car will allow you to see not only large tourist hubs but also small, cozy towns and villages, unexplored locations, and natural attractions. It gives freedom of movement and can even save you a few bucks. Where to go, when to head out, and how much money to spend? All this is up to you. We've pulled together some fresh road trip ideas for couples and key tips that'll come in handy when traveling across any country.
What's So Great About a Road Trip Date?
Why bother and spend days spinning the wheel when there are much more convenient options? Well, first of all, it's all about complete freedom of choice. You can plan a trip yourself and deviate from the route whenever you want. Plus, the variety of directions is entirely at your disposal. The cities you'll pass through, the number of meal breaks, and rest-ups – no one will tell you when to schedule your next stop. And if you want to bring pets with you, nobody will object. Moreover, traveling with cats and dogs is no less interesting and fun than living with them. The main thing is to properly equip your car so that every passenger, including the smallest ones, is safe.
When traveling by car, you can take as much luggage as you need. It all depends on the size of your car. You can also bring along some food that may be prohibited on an airplane or train. Or large items like a bicycle or a skate, as well as any equipment. All in all, there are no payload restrictions.
Wonderful views open in front of you. When traveling by car (especially if you're not driving), you can spot plenty of amazing places that you would've never seen on purpose. When you travel by train, you mostly observe nature (mainly forests and fields, maybe mountains). And you can admire cities, small villages, and, of course, beautiful natural landscapes through the car window.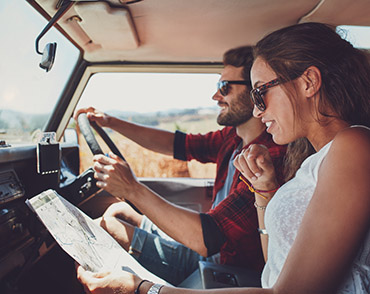 Moreover, during a road trip date, you have the opportunity to get out of the car at any time and capture the moment you like or take a walk around the place.
Road trips are often more informative. When you spend more time in places of interest, you can come into closer contact with them, as well as locals or fellow travelers. Group tours are usually high-paced, and tourists depend on the guide, each other, and the working hours of local venues. If you're lucky, you can get a couple of hours of free time tops. How can one feel the energy of a place and enjoy being in it in such a hurry? It's unreal.
When you travel by car, especially several thousand miles from home, you observe a constant change of scenery outside the window. The orderly rows of pines, then the picturesque meadows, then the forests, then the mountains and the road, winding among the peaks and going into the distance – the variety of eye-catching views is stunning. The climate also changes slightly: you wake up one day to realize that it has become a little warmer or colder, or there might be even snow outside the window. The amount of experience from road adventures is much higher than from casual trips.
10 Tips to Make a Couple Road Trip Work
Most road trip enthusiasts plan a route according to their estimated travel budget and free time. Ideally, you need to make a rough plan for your trip and add a little more to it. As for the minor details, the list of road trip tips for couples below will help you enjoy the trip as much as possible.
Google maps
The journey must begin from somewhere. Enter the start and endpoints and calculate the approximate path length. Compare different routes and the approximate duration of each. This way you may also notice if your route lies just a few hours away from the place you weren't originally going to but would like to visit. Make sure that the main route from point A to point B is laid but not scheduled to the last mile. Leave room for unexpected turns, spontaneous decisions, and those "I wonder what's there" moments.
Pick the right car
Planning to rent a car, but struggle choosing the right type? Keep the destination and mood of the trip in mind, as well as the number of passengers. Maybe you need all-wheel drive and high ground clearance, or a convertible is better? Book the wheels in advance, preferably with unlimited mileage (if you don't know how long the trip will be), and buy insurance! If you're planning a long trip that would take a couple of months or more, consider buying a used car to sell it once the trip's over.
Surf the web
Apart from googling fun things for couples to do on a road trip, be sure to check out sites like Roadtrippers and Via Michelin. Roadtrippers works better for the USA, and Via Michelin is mainly European. These are route planner sites to help you find everything from fancy roadside attractions to lodging. Spanning the entire globe, they include tons of great spots and sights.
Eat like locals, be local
Give local food a chance, even if you have no idea what it's made of. In the end, maybe you'll no longer have the opportunity to try it. Visiting local supermarkets will help not only save on food but also see what they sell there and how much it costs. The same goes for housing. The prospect of staying at a brilliant new resort is tempting, but why not give a chance to a unique mini-hotel with breakfast or a cheap motel by the road?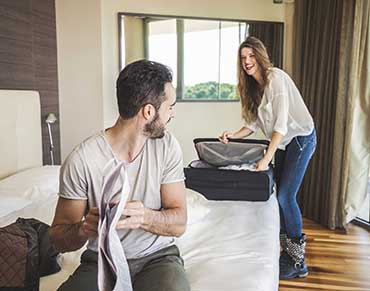 Play games
You've prepared for the road trip: packed everything you need, downloaded the map, and checked with the navigator. It tells that you have a very, very long trip ahead. You can listen to music, have fun chatting all the time, or you can play. There are dozens of road trip games for couples out there – find a couple on the web.
Music
Few things are as closely related as music and the long road. There's a lot of time ahead, so make up several different playlists to spice up the experience. If you want to delve into the atmosphere, check out the local radio. It's a great opportunity to hear the music you would never hear at home. Hours of driving exhausts, so the music should be energetic.
Take the weirdest routes
Sure, going along the highway is convenient and fast, but there's a great chance to miss a lot. If time and terrain allow, choose less popular roads. You'll see much more, meet the locals, and follow the path few people walked around. Here's a tip: always go around! See the signpost of a ghost town or a strange tourist attraction? Follow it! This is your chance. All couple road trip ideas should be a bit spontaneous.
Go offline
Yes, Google Maps is a cool thing, but it only works when connected to the Internet, which can be very expensive or non-existent in some places. You can download maps to use them offline on your smartphone or even buy a physical one. There's something special about paper maps. Remember those faded dust collectors in the back seat of a taxi or your parents' car? You'll be surprised at how useful they can be.
Buy a GPS navigator
Don't rent it. Daily fees will soon become too high, much higher than buying a navigator and using it again and again at home and abroad. The navigation program can be downloaded to your smartphone too, but make sure it will work properly along the way.
Gas stations
These are a real treasure during a car trip. Those that are larger have toilets and even showers, quite decent food and coffee, as well as all kinds of goodies for a tired traveler. Some may even let you use their car parks for an overnight stay.
10 Fun Road Trip Ideas for Couples
In some countries, a driver's license is almost like a pair of wings. You just show it and take the journey to a new level for only $20-40 a day. And our list of romantic, exciting, and cheap road trip ideas for couples will tell you where to go.
From Sydney to Melbourne, Australia
If you want to get the most Australian experience in just a week, head out from Sydney to Melbourne along the coast. You'll find Kangaroo Valley and Pebble Beach, where marsupials effectively pose against the backdrop of waves and also explore the uninhabited Phillip Island with penguins and koalas. Feel free to stop at campsites at nature reserves or in tiny towns along the way.
Garden Path, South Africa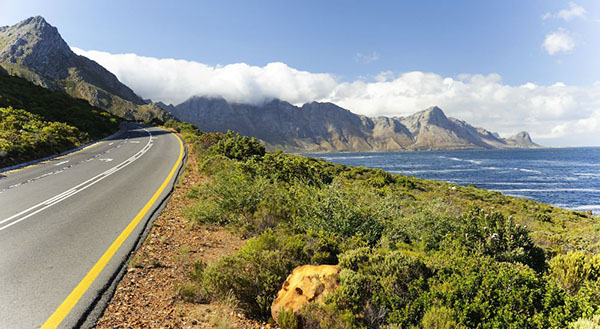 If you dream of traveling by car through mysterious and exotic Africa, try the famous "Garden Path." It runs along the coast of the Indian Ocean: from Cape Town to Tsitsikamma National Park. Even the Africans themselves, who are hard to surprise by sandy shores and tropical forests, prefer to the resorts along the Garden Path.
Around South Island, New Zealand
Dream of truly exotic corners of the planet? Welcome to the largest island of New Zealand – South Island. Its roads were made for road trips. But don't forget that the further south you move from Picton,
the cooler the climate will be. Having passed along the ring road of the South Island, you'll see fantastic landscapes: lakes, forests, and sea coasts.
The Icefields Parkway, Canada
If you are a fan of Jack London and want to see a really harsh north, buy a ticket to Canada. Between the two national parks, Banff and Jasper runs a route with the romantic name – "The Icefields Parkway." This is only 142 miles long, but every mile is unforgettable.
The best castles in Germany
The most romantic route in Germany begins in Wurzburg: heading south, dine in one of the towns of the Tauber Valley – for example, in the spa resort of Bad Mergentheim. The rest of the day is best spent in Rothenburg with its German Christmas Museum, where the holiday lasts all year round.
From Salzburg to Vienna, Austria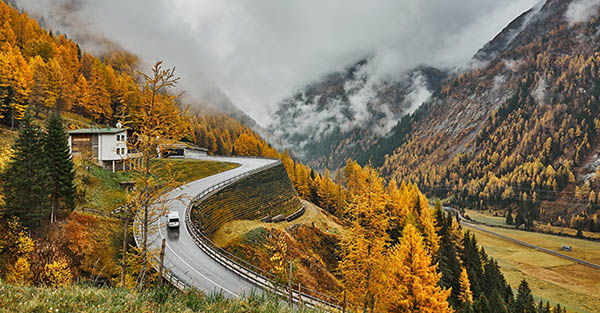 Combine walks in historical cities with a pleasant car trip, traveling from the old Salzburg to the beautiful Vienna. This route takes 4-6 days to finish, but free up space on your smartphone's memory card in advance because you'll surely want to photograph literally every inch of the surrounding beauties: alpine meadows, glaciers, lakes, as well as gorges and medieval villages.
See the USA without skyscrapers and fast food
America is full of cinematic roads. But classic routes like The Great River Road, which stretches along the Mississippi through 10 states, or the iconic Route 66, are very long. Among dozens of tempting options, the road from San Francisco to Portland is probably the best. Along the rocky edge of Highway 1, it spreads along the coast of the Pacific Ocean to Mendocino County. Stop in the quiet town of Trinidad with giant sequoias or in Bandon and try the local soup with smoked salmon. Pay tribute to Cannon Beach with its 70-meter Haystack Rock.
Feel like a Viking among the Norwegian fjords
A road trip from Bergen to Trondheim is arguably the best destination Norway can offer. You'll see fabulous mirrored fjords, mountain lakes, and waterfalls, including the 110-meter twindefossen, alpine landscapes, and glaciers.
From Edinburgh to Highlands, Scotland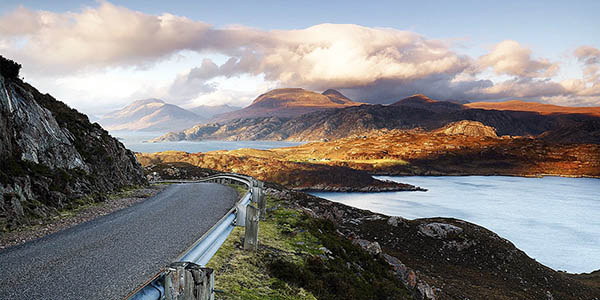 Scotland is an animated desktop screensaver. To see for yourself, rent a car in Edinburgh and drive to Highlands. Check out the Oban Resort: explore the local distillery, take a walk along the promenade, and find out why this town has earned the title of Scottish seafood capital.
From France to Spain
Can't decide where to go – France or Spain? Why choose? Take a car in Lyon and head to Barcelona through the Basque Country, Navarra, and Aragon. On the way, meet the Port of the Moon, as the wine capital of Bordeaux is called for the graceful bend of the Garonne River, and the resorts of the Silver Coast of France, including Biarritz.
Get Ready for a Trip of a Lifetime
North or south, east or west – these are probably the most common road trip questions for couples who love long car journeys. But no matter what your trip will be like, or where it will take you, the main thing is who you spend it with. When you go somewhere with your loved one, you must reckon with their interests and desires. If the trip is long, conflicts and annoyance can easily spoil your relationship. They're exhausting since you have less energy left, and the journey itself doesn't feel so happy anymore. It's necessary to take possible conflicts with your partner into account and prevent them to protect an excellent trip experience. In any case, the pluses of a road trip often outweigh all the disadvantages.