Don't Know Whether It Is Worth Using?
Romantic online dating is interesting in different ways. Nowadays, it is a product for mass consumption that can satisfy your needs for communication, saving your precious time and allowing you to stay yourself. There is a monstrous number of sites where you can get acquainted. This is a huge ecosystem with its mathematical and cognitive laws, which work on you from the very moment when you open the site or run the app on your smartphone. Many people, who suffer from loneliness but don't have opportunities to meet new people offline, decide on using a dating site. Nonetheless, very often, before registration, they conduct a big investigation, studying all the pros and cons as well as reviews of "seasoned" users. Often it looks rather like creating a script for some funny series: you read the ​​stories, most of which are absolutely ridiculous and disastrous, you collect them and draw conclusions, forgetting one important fact – all these people are not you, so there are high chances that in your case, everything will be different. In general, people who use Tinder for the first time, feel like a god because it is in their power to affect the creation of a Tinder match just with one click.
The Psychology of a Tinder User: Are They Really Looking for Relationships?
As you know, Tinder is a very popular and simple dating application. You don't need to be Jedi or have a degree to be able to use this app. It is minimalistic, and nothing will distract you from the search for a future partner. How does Tinder work? The system only needs to be integrated with your Facebook, but don't be afraid, your friends will not find out that you put a "super like" to an extremely attractive Indian.
Your phone works like a locator, and depending on what distance you set (10, 80, 160 km), you will see who are at a given distance and eager to get acquainted. What is a match on Tinder? When you scroll through the users, you swipe right or "into the abyss," depending on whether the person attracts you or not. If the preferences coincide, you get a "match" and can start a chat, where, in fact, you agree on further actions. So, now you know the answer to the popular question, "How do you match with someone on Tinder?" Facebook allows you to see in the Tinder system whether you have common friends with a person or not. This allows you to draw some conclusions.
Many people are sure that Tinder users want only to urgently fulfill their physiological needs, so to say. Because it's convenient: you turn on the geolocation, you see that a person looks nice, you like their pic, you get a match, you make an appointment right away and so on. It's necessary to be ready for the fact that many young people are looking for a one-night stand and all types of casual relationships. This is a kind of competition.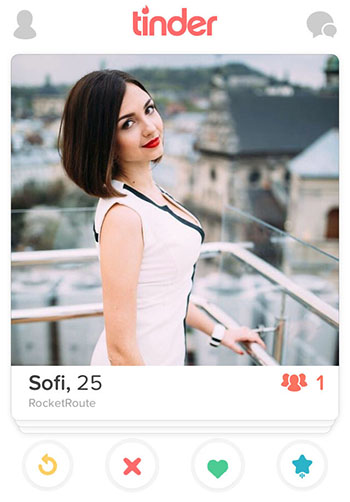 Nonetheless, some romantics have not yet met a partner of their dreams on the way to work and decided to register in the hope of finding the love of their life here as well. While others use it just to kill their time and get a new topic for discussion with friends over a glass of wine.
So, there are different people there, and everyone has different goals. Someone just wants to find an interesting interlocutor, another one is really looking for uncommitted relationships, while the bigger number of users are purposefully searching for their love and life partners. However, the problem is that sometimes it happens that the latter category has a checklist of qualities and hobbies that the person they are looking for, must correspond to. Communicating with them can resemble a job interview. Anyway, most people here are really looking for a healthy committed relationship, communication, trust, and acceptance.
How to Get a Lot of Matches on Tinder
The algorithms of the app encourage users to be picky. This is one of the reasons, why users who have free accounts can view only up to a hundred profiles per day. That gives at least a small guarantee that you are really studying profiles, and not just get random matches. Obviously, the app is interested in a big number of matches, but the developers want to make sure that the app is really useful, and the matches are real and have big chances to result in real communication and a date of their users.
Above you have already got the answer to the question, "How do you match on Tinder?" And it's just necessary to highlight that people pay attention to a visual component, and it's your pic that can affect their final decision. And as soon as it comes down to dating apps, people need just a few seconds to decide on swiping left or right even without reading the description. So, there is a question, "How to get a match on Tinder?"
You should have high-quality pics of your face
For some reason, many people neglect this advice, or it seems incomprehensible for them, but, anyway, the quality of your pics is of great importance when it is about online dating. Besides, the same goes for a prohibition on the excessive usage of numerous filters. You may believe that the photos processed with many filters or those in which you cover your face with your palm or something else are a mysterious and conceptual option, but most people who use dating apps just want to see your face. Your main pic should attract attention or at least not cause many ambiguous emotions.
Diversity is the key to success
In some applications, you can upload more photos, in some others, the number will be lower. Here you can upload up to six pics. Of course, it's not necessary to use all of them, but if you are going to use all the possibilities to the fullest and upload all the 6 pics, then choose different photos, each of them should display some side of you. On the one hand, you will show yourself from different sides and increase chances to attract a potential partner, on the other hand, your gallery will not look boring and all in the same key.
You can use a pic with pets
According to Tinder match statistics, users pay much attention to high-quality pics with pets. So, if you are a happy owner of a cute domestic animal that makes everybody want to cuddle them, then you can safely add a pic with it to your gallery. This will increase your chances to get more matches. Girls are very emotional creatures, and very often, animal-friendliness is among the main requirements for the future partner.
Wear something bright in your main pic
As we have already said, people pay too much attention to your appearance and image in general. And while more than 70 percent of users of the dating app choose some neutral colors like black, white, gray, navy, you should better put on something bright for your main profile pic. This will help you stand out from the crowd and catch the attention of many people. If you don't look like most people – your chances of getting a lot of matches are pretty high.
Fill in your bio
The fact that anyway, most people don't read a bio before swiping left or right, doesn't mean that you should leave these lines completely empty or write a general phrase there. Try to avoid clichés or any weird info that has nothing to do with your personality and that will hardly help you meet a worthy person. You never know who can become your partner and whether this person will open your profile before making the final decision. There is a category of people to whom appearance is of secondary importance.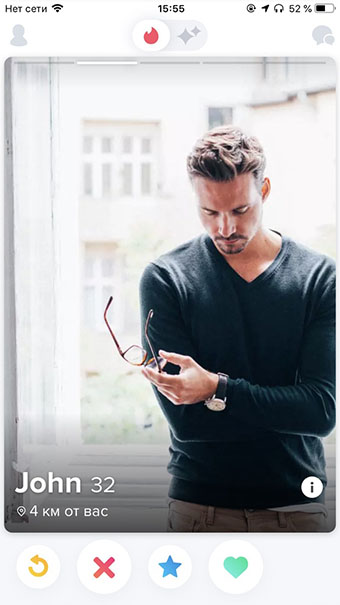 Use at least one full-body pic
When people are looking through the photos of the girls or boys they like, certain things force them to make a final choice. One of such things is a full-body pic because when they visit your profile, they want to get the most complete picture of your appearance. Accounts that contain a full-body photo can receive up to 207% more matches than those that have only face pics.
Take advantage of the algorithm and be active
This year, Tinder posted crucial information on how they had updated their app, so take advantage of it. How to match on Tinder? The first thing that the algorithm considers is your activity. If you often use the app, exchange messages with your matches, then your chances to get acquainted with active and interesting users will become higher. This means that the famous lifehack "swipe right everyone" to get more matches does not work anymore: the application algorithm considers whether you exchange messages with all the people you have already matched with.
How Long Does It Take to Get a Match on Tinder?
As a rule, people are very impatient by their nature, and they want to get everything at once even without making any efforts. However, to get something, first, it is necessary to do something. If you have registered on Tinder for several weeks already, but you haven't got any match yet, then you may start wondering, "How long does it take to match on Tinder?" However, you might already know the right answer. Everything depends on many different factors. Firstly, have you taken into account all the tips to improve your profile and increase your chances? If no, then it's high time to work on the attractiveness of your profile and pics. Nobody will start studying your inner world if they don't like your pics or appearance. Are you living in a big megapolis or a small town? If you are using a free app, then everything will depend on your geolocation, and if a few people use this app in your area, then your chances to get a match are pretty low. In this case, it's better to think about a premium account that will allow you to meet people worldwide and help eliminate unnecessary restrictions. Everything is up to you. Besides, don't forget that if you have already got a match but decided to not get in touch with that person, in general, and your activity on the app is low, then you decrease your opportunity to get another match.
It's a Match: What Do You Do Next?
As it has already been mentioned several times, nowadays, it's very important to be an active user and start communicating with potential partners. Of course, it is better when a man takes the first step and sends the message. So, if you have got a match, and the girl has given you a like, what else are you waiting for? You don't know what to say when you match on Tinder, do you? Despite all the tips on what to say to a Tinder match, you can start with the hackneyed, "Hi, how are you doing?" or come up with a cool icebreaker. The main thing is to be polite, ask questions, and make appropriate compliments. Just relax and imagine that you are talking with your good old friend. Do not answer in monosyllables as well as do not lead the conversation to a standstill. Choose new topics for conversations and stay positive.
The fact that you have got a match does not bind you to anything. If in the process of communication, you understand that a person is not suitable for you in some ways, it is always better to softly refuse to meet, or even remove a person from "matches."
However, if you like a person, and you enjoy your communication, then you can ask them out on a date. In 98% of cases, if you offer a person to meet in real life after communication on Tinder, it automatically means that you are asking them out on a date. It's not about hanging out or anything like that.
Trust Your Gut
As you know, there is an opinion that Tinder is an app for an easy search for a one-night stand, but in fact, it is just a very convenient service for dating, and everyone decides for themselves what their dates will lead to.
Trust your gut, it's never wrong. If you are uncomfortable on the first date, then there is no "chemistry," and it will hardly appear later. If communication is difficult for you, there are no common topics for conversation, and silence is awkward, then this is not your person. First, choose a friend and a like-minded person, then communication and everything else will be easy for both of you. Someone is lucky to meet the right person immediately. Another one will have to go on 50, or even 100 dates. And there is nothing wrong with that. Nothing terrible will happen to you if you learn 100 new life stories.
Firstly, you will cease to be afraid to go on dates and, as a result, will begin to communicate better and feel more confident about them. Secondly, you never know how these people can affect your life.